Milestone in Intel $20bn move to onshore chip production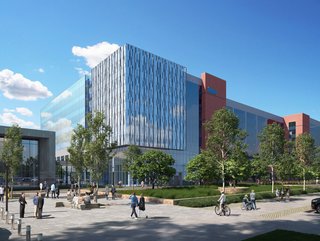 A rendering shows plans for two new leading-edge Intel processor factories in Licking County, Ohio. Pic: Intel
Intel says it has reached a milestone in its Ohio One site, as US chip manufacturers look to reduce reliance on Taiwan with the threat of China looming
As tensions between China and Taiwan continue, steps are being taken to reduce the reliance of the semiconductor industry on Asia and to onshore chip production.
American counties might design the world's leading chips, but since the 1990s, America's share of the global semiconductor market has fallen from 37% to around 12% at present.
Today Taiwan dominates the production of semiconductors, with its companies holding 68% of the global market share, and one company – Taiwan Semiconductor Manufacturing Company (TSMC) – is thought to produce around 90% of the world's leading-edge semiconductors.
But with supply chain disruptions caused by the COVID-19 pandemic and recent geopolitical issues in the region, companies have recently sought to expand their production of semiconductors into the US and Europe.
Intel announces milestone in semiconductor 'mega site'
Chipmaker Intel announced recently a milestone in its Ohio One project, with the construction of the 1,000-acre site moving into its next phase.
Announced in early 2022, Intel is planning to invest more than US$20bn in the construction of two new leading-edge chip factories in Ohio to boost production to meet the demand for advanced semiconductors, power a new generation of innovative products from Intel, and serve the needs of foundry customers.
Intel says the 'mega site' in Licking County, just outside Columbus, can accommodate a total of eight chip factories as well as supporting operations and ecosystem partners.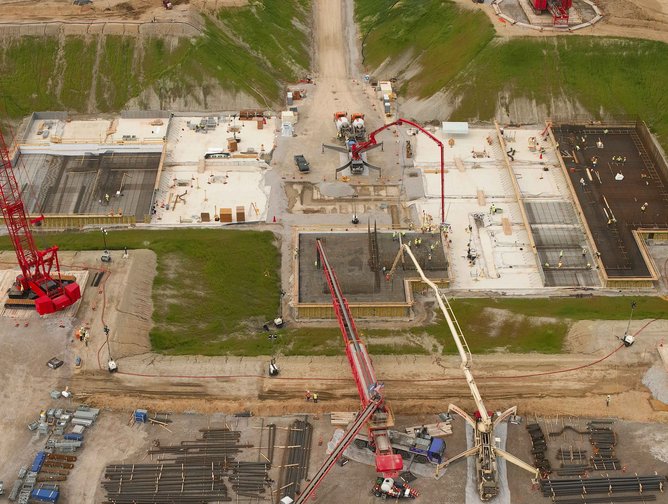 Intel's Ohio One construction teams begin the concrete pour in May 2023, marking a major milestone and moving the contruction into the next phase. Pic: Intel
"Our Ohio One site is reported to be the largest single private sector company investment in Ohio's history — one that will create tens of thousands of jobs across the state," says Keyvan Esfarjani, Intel's Chief Global Operations Officer. "This site is critical to our strategy to expand U.S. leading-edge semiconductor capabilities and develop a more resilient semiconductor supply chain."
Onshoring semiconductor production
According to Reuters, a Chinese invasion of Taiwan could potentially halt production by the world's largest advanced semiconductor chip maker, wiping out up to US$1tn per year from the global economy per year in the first few years.
As a result, in recent years moves have been made to expand semiconductor production outside Taiwan.
TSMC announced in 2020 its plans to build one or more chip plants in Arizona, with the US$40bn project starting production last year.
In late 2021 TSMC and Sony said they had officially entered into a joint venture to build a new US$7bn fab in Japan, with the goal of mass-producing chips in that facility by 2024.
Micron Technology, which is already based in Boise, Idaho, has a planned investment of US$150bn in the production of memory chips over the next 10 years, with the potential for operations to be situated in the country.
And in 2022, as part of its IDM 2.0 strategy, Intel announced it had signed a purchase agreement to become a landowner in Magdeburg, Germany, the planned site for the company's next European semiconductor manufacturing facility.