Q&A with Exterro's CEO & President, Bobby Balachandran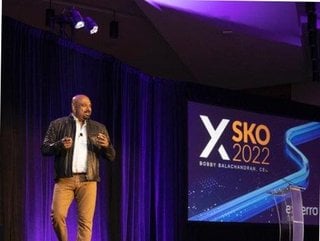 Exterro are the industry's first provider of Legal GRC software, which unifies digital forensics, cybersecurity compliance, data privacy and e-discovery
CEO & President Bobby Balachandran leads Exterro in building a comprehensive platform for global corporations that mitigates risk, controls costs, and provides them with complete end-to-end visibility of their Legal Governance Risk and Compliance (GRC) processes.
LegalTech Breakthrough, a leading independent market intelligence organisation that evaluates and recognises standout legal technology companies, products and services around the globe, last year announced Balachandran as it's "LegalTech CEO of the Year" in the second annual LegalTech Breakthrough Awards program.

He spoke to Technology Magazine about his industry-first technology for the legal industry and his great ambitions to break into the Fortune 500.
What is your point of difference as a business?
When I showed decision makers what they could do with Legal GRC the immediate reaction was "I need that now". We recognised that company workflows and data were siloed but were being used to satisfy the same demands for different compliance laws and regulations. So, by focusing on the synergies that exist between privacy, digital forensics, incident response and e-discovery, we were able to generate efficiencies and pave the way for the better utilisation of that data. We now unify and automate those workflows across the entire business via one holistic solution and we're the only company doing that.

What technology are you most looking forward to using more of?
Managing data in an intelligent yet defensible way requires the use of cutting-edge technologies and I'm excited by how Exterro is changing the game with regards to how organisations now view and manage their Legal GRC objectives. In litigation and E-Discovery, Exterro has recently launched Exterro Review the fastest, smartest, most secure document review software in the industry which incorporates next generation artificial intelligence. In Digital Forensics and Incident Response (DFIR), our new innovations with FTK Central are reshaping how organisations and public sector bodies conduct their investigations – dramatically increasing speed to justice and reducing the backlog which has built up for everyone. In Data Protection and Privacy, our latest additions of Exterro Consent, Smart Breach Review, and Incident and Breach Management technologies are helping companies, law firm and legal service providers to meet their (and their clients) regulatory and compliance challenges and create defensible positions to mitigate risk.

What has been your career highlight prior to your current role?
I previously worked as an Enterprise Architect building mission critical applications but making the leap was definitely the highlight for me. In 2008, the four of us quit our jobs and sat down at our dining tables and took turns to develop the code, before hiring our first employee and getting our first customer – a Fortune 100 pharmaceutical company. In 2018 we secured a record USD$100mn investment and have gone from strength to strength. Growing it from that seed of an idea into a global unicorn has been phenomenally exciting.

What has been your highlight in your current role?
Undoubtedly, being able to give back. Growing up in India and in America, I've seen so many people who have the desire to do things but they don't have the opportunity. I'm privileged enough to have done what I wanted to do and I want to extend that to other people. So as a company we have multiple philanthropic initiatives.

We directly support charities such as the Women Entrepreneurs of India, Operation Child in the US, and the Safe Escape refuge in the UK and founded The LifeRay Foundation in 2019. We pay our employees for their hours spent volunteering for good causes and match or double match their donations. And we actively try to make the world a better place through our technology, by subsidising FTK licenses for forensic students in colleges and universities and providing free training in FTK Imager to law enforcement officers worldwide.

What is your leadership style?
I operate best in an open, respectful corporate culture. We have a diverse company with a fairly flat hierarchy where everyone is treated with respect. People need to feel valued and invested in and safe enough to make mistakes. Innovation can only happen if people dare to try out new things and have the luxury to learn from their mistakes.

What exciting plans do you have coming up as an organisation?
We've made a couple of acquisitions in the privacy and forensics space with Jordan Lawrence and AccessData and we've actively sought to integrate and invest in both. Consequently, we're now ideally placed to help our customers with CPRA in the US and the convergence of DFIR and e-discovery worldwide. Being ahead of the pack is key for us and we dedicate a quarter of our R&D to innovation. We've rapidly expanded our presence worldwide, opening new offices in the US and UK, and are now readying ourselves for our IPO. I see no reason why we can't become one of the top Fortune 500 companies.