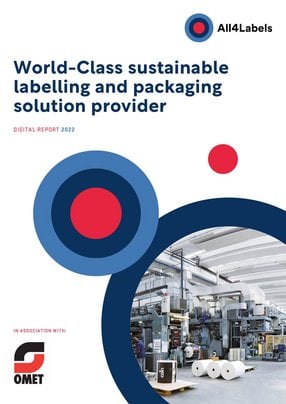 World-class sustainable solutions for labelling & packaging
All4Labels' CTO, Massimiliano Martino, reveals how technology drives sustainability across the entire value-chain for the packaging and labelling industry
All4Labels is a leader in labels and digital packaging production, as well as in solutions that focus on the food and beverage markets, home, pharma, automobiles and personal care. It is headquartered in Hamburg, Germany, where it has established one of the largest digital, innovative and most automated manufacturing facilities in the world.

A major digital transformation and automation programme was initiated in 2021, including the deployment of automated guided vehicles and automated packaging robots, augmented reality and remote operations visualisation and management.

As Chief Technology Officer at All4Labels, Massimiliano Martino holds the responsibility of leading an international and multicultural team for the management of Health, Safety and Environmental protection, Sustainability, Quality, Research, Development and Innovation, Engineering, and Operational Excellence. The team includes members of all genders, age and of several nationalities, with team members hailing from countries such as China, Italy, Germany, Nigeria, Korea, South Africa, Brazil, Ecuador, Austria, Lebanon, among others.

A company with more than a hundred years of history – starting with strong entrepreneurial drive in Brazil, Italy and in central Europe – core to how they do business is focusing on how to best serve customers and the society's incremental needs. It was this spirit that drew Martino to the company.

"I immediately noticed the entrepreneurial drive across the group. The company DNA helps us merge into a large corporation that operates worldwide sharing the same principles, vision, and strategy. Printing and packaging may seem simple to the untrained eye, but I can assure you that it is very articulated and each detail matters when it comes to customer satisfaction. It's this complexity that brings a lot of challenges, so we need to always learn and continuously develop," said Martino.

For Martino, there is no greater achievement than that of having a positive impact on the planet, society and the industry. As such, he is laser-focused on leading the packaging and labelling industry towards sustainability and eco-friendliness – a motivation that encapsulates several engineering and technical solutions, as well as the need to continuously innovate together with shareholders, partners, suppliers, and customers.

All4Labels has dedicated focus on the most sustainable usage of the conventional and digital printing technologies and their respective advantages, so Martino and his team have helped develop a roadmap on how the company can continuously evolve its digital footprint, from inbound logistics to pre-press, printing, finishing and distribution.

"We're now ready to shape the industry's future by making digital printing faster, seamless, and highly efficient in each of its aspects. While we are contributing to the development of latest generation presses, we have already implemented an advanced digitalisation program that includes a robust online portal where customers can directly order to press. We are connecting our printing and converting lines to automated vehicles and robots to drastically enhance safety and efficiency," said Martino.

Specifically, to industry 4.0, Martino also adds that "we have equipped operators with augmented reality glasses and headphones to visualise in 3D presses live for remote operations, support, simulations, and training. Majority of our presses are connected to monitor their production performance live, and we are establishing a central control room in our Hamburg headquarters to monitor, navigate and manage our digital production worldwide."
Driving sustainability throughout the entire value chain

According to Martino, the industry is complex as it evolves continuously, along with the changing regulations, the needs of retailers and consumers, shareholder's expectations and upcoming technologies that offer the opportunity to evolve continuously. He believes that leaders need to come together to positively challenge themselves, suppliers, and stakeholders on how to best develop and deploy the right technology to drive efficiency and sustainability throughout the entire value chain.

"We constantly interact with suppliers and associations, challenging each other to drive performance forward. When it comes to people, planet and resource protection and preservation – in addition to service in the communities – we actively engage all stakeholders to overcome that challenge collectively.

"As one of the main parts of my job, I engage with technological partners, machine and services providers, and with sustainability associations that promote circularity. This unique combination of factors brings the opportunity to have a concrete and tangible impact in both the mid and long-term, so I am passionately committed and engaged to All4Labels' sustainable journey," said Martino.

"We see in the market conventional printing technologies that continue becoming more and more competitive in terms of waste reduction, production speed and quality controls because of the evolution of fully automated and digital control systems. The technical production set-up of such machines is also being complemented with inline digital printing units to maintain high efficiency level on both short and long production runs to best satisfy customers while minimising CO2 emissions," he added.

All4Labels is expanding through direct and organic growth, acquiring several companies that share the same vision and understand the wider strategy to have a sustainability impact throughout the entire labelling and packaging industry value chain.
Priorities as Chief Technology Officer

The key priority for stakeholders is undoubtedly sustainability, which comes with a focus on three fundamental areas of All4Labels' sustainability strategy:

"Within engineering at All4Labels, we partner together with different suppliers to develop the most efficient machines and production technologies".

"We have opened several hubs with specialised staff to develop new sustainable products and we continuously research to maximise the efficiency of our existing products and services. We also have dedicated technical staff deployed at customers' locations to support the sustainable applications of these products," he said.

Martino is additionally responsible for global quality, ensuring that the business has the right performance across the entire value chain: customers, communities, end users, retailers, and brand owners.

"We really represent the brand of major companies, and we do our utmost for their market presence and reputation. We're committed to efficiently produce and deliver for them," said Martino.

Martino is also responsible for Health, Safety and Environmental protection: "I'm very passionate about this. I'm thoroughly into this topic because I truly believe that, to be successful throughout the industry, companies must have an outstanding safety performance".
A challenging market demand that continues to grow both in size and complexity

The demand is growing for functional and smart packaging solutions, which can really interact with brand owners, retailers, and consumers.

"We need to develop unique and tailored production solutions, coming together with machine providers and solution providers to develop the production equipment required to satisfy the needs of our customers."

All4Labels strive to stay ahead of the market by trying to predict what their customers will need and always challenge themselves by asking: 'can we produce in a more efficient manner?'

Martino insists that the answer is always 'yes', and it will continue to be as they continue to review and upgrade their machines and encourage two-way feedback with technology partners and providers ; conducting engineering reviews to achieve the most sustainable and lean production possible.

"As the market is becoming increasingly more complex and demanding, we have long production runs, but also shorter production runs that we include to best serve our customers. We have developed hybrid production technologies together with solid and reputed partners, which sustainably merge conventional methods of producing packaging together with the modern digital methods. We can therefore use the benefits of both for minimum environmental impact and maximum efficiency, at the same time," said Martino.

Here, he highlights an example of promotional products with complex graphic designs, where such hybrid machines and equipment have the unique capabilities to produce in quality short and medium runs, minimising the environmental footprint like it was never possible to before.
Industry 4.0

Martino is a strong advocate of the power of innovative in-line processes, robotic applications, and end-line automation to ramp up productivity and flexibility. And, with ERP integration alongside digital print, real-world data is incorporated for complete customers' satisfaction too.

"There are several innovations and digital transformations across the analogue machines that we have, all of which are being upgraded with certain tools like print bars that are coming into the market and having a significant impact in terms of sustainability, because they reduce waste and the need for additional printing tools. They reduce the setup times, as well as time needed to maintain the equipment, and they speed up the supply chain in a much leaner and sustainable way," said Martino.

Regarding Sustainability All4Labels has solid programs in place to minimise waste and to maximise the lifespans of equipment: "Life Cycle Assessments are constantly conducted to decarbonise as much as possible each printing and converting step with a great focus on enabling de-inking to accelerate the full circularity of substrates, including resins regenerations near-and-off-site. All4Labels is planning to launch a proprietary owned Life Cycle Assessment Tool specifically engineered for digital printing," said Martino.

The next part, according to Martino, is automation when it comes into transportation systems or smart manufacturing. Last year, the first automated guided vehicles were introduced around the plants including new packaging robots, limiting repetitive straining to reduce the impact on operators lifting loads and repetitive tasks.

"Automating our finishing and distribution operations across the manufacturing sites is one of the major achievements for All4Labels, with several patents and several engineering innovations already in the pipeline. At All4Labels we are committed to bring printing and packaging to the next level for a new and completely seamless experience," he added.
Holy Grail 2.0

Holy Grail 2.0 is about rationalising how packaging can be sorted, reused, and recycled. As an active member of this initiative, All4Labels provide special samples as well as technical advice and expertise across the industry.

Participating in the first industrial trials – which were successful, with a sorting rate above 90% – Martino stated that this was a "great milestone that shows how technology has the potential to improve the sorting of our packaging wastes to be reused, recycled and also upcycled".

Nevertheless, there are major challenges in the industry that remain, including removing the ink from the packaging – substrates are incredibly challenging. After conducting several R&D and lab tests, All4Labels are now collaborating with several solution providers to see which technologies could best increase the level of efficiency in the packaging de-inking processes to up-cycle as much waste as possible.

"Some production equipment can certainly be improved in terms of efficiency and emission reduction. Partners work with our engineering team on unique solutions that could upgrade our machines with innovative technologies. Digital embellishment is another upcoming technology, where instead of using traditional foil, we use an innovative technology, which is digital, to reduce CO2 emissions by up to 70% vs conventional processes".

"Through R&D, we drive customer and end-user satisfaction. We do this together with universities and external practices because we are also in the fundamental research of new adhesives and new substrates that are bio-based, or that can be upcycled with a much higher yield," said Martino.
Pioneering smart innovative solutions to solve energy and customer demands

All4Labels is also pioneers of innovative solutions that are more interactive – so not purely labels containing printed data, but with data that is digital and can be accessed via QR codes and RFIDs. It's an area they are heavily invested in.

"We have a dedicated business unit called Smart and Secure. This focus on the secure and sustainable consumer interaction with innovative labelling and packaging solutions, means it can occur through a mobile, PC or through data management, providing fruitful and useful data that can be fed back into our customer's database in order to really drive forward the sustainability and efficiency of supply chain, helping our customers to make the right decisions and also actively interacting with the consumers."

"Interactive packaging requires energy, but such energy can come from renewable energies, such as solar and we are investing into such technology; besides this, 100% of All4Labels electricity comes from renewables, and we're continuing to invest in that with further solar panels to support any incremental energy needs for our production".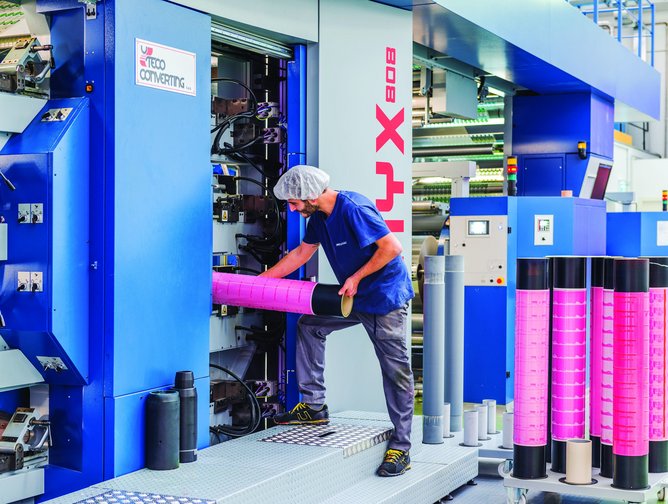 All4Labels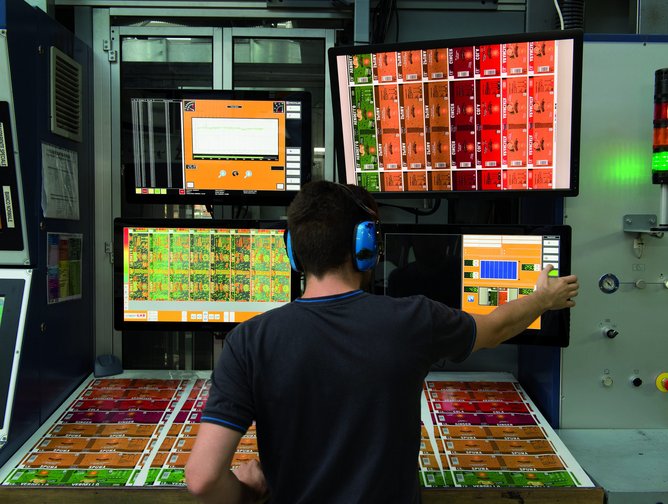 All4Labels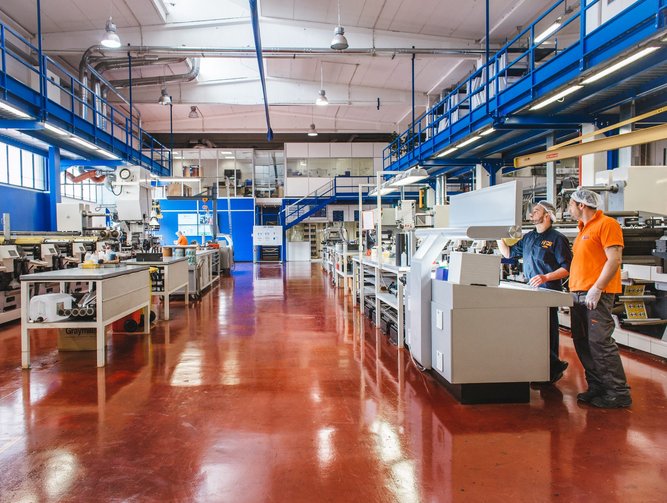 All4Labels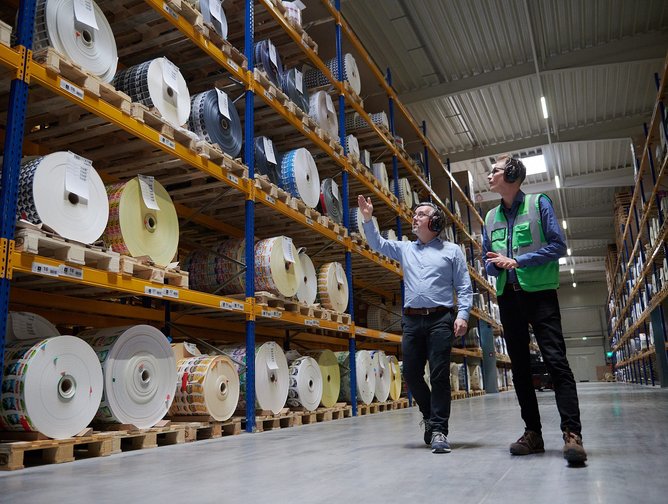 All4Labels