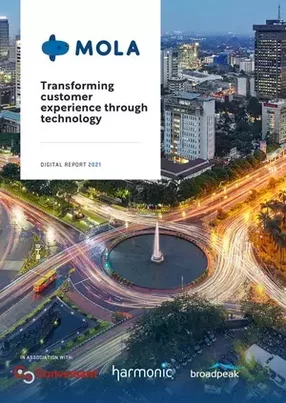 MOLA: Transforming customer experience through technology
Mola attributes its success in Indonesia to putting the customer first. We look at how they work with technology partners to drive progress
Mola achieved a breakthrough in Indonesia in June of this year, as it became the first broadcaster to provide 4K matches during its live streaming of the European Championships.
A football-mad part of the world, Indonesia has proven an ideal place to provide over-the-top (OTT) services. With speed and quality frequently an issue for football lovers across the country, in a land frequently whose infrastructure is regularly impacted by natural disasters, it isn't the easiest environment for a broadcaster. Despite this, Mola is the fastest growing entertainment network in Indonesia.
CP Lee, Chief Technology Officer for Mola, discussed how the Jakarta-based video on-demand and over-the-top streaming service saw an opportunity: "The OTT market is a very, very competitive environment right now, with all the big studios providing their own direct to consumers platform. It presents an opportunity for Mola, so we can compliment areas the studios are unable to."
Raising the bar through technology
As Chief Technology Officer, Lee was given the significant task of rebuilding Mola's technologies gradually from the ground up over the last 6 months. 
"In terms of quality, especially from the OTT platform, it is multifaceted. Right from the incoming source, to the encoding process, as well as distribution. This three part process has to be looked not just as separate parts, but also as one interconnected pipeline." 
Lee states that three components are necessary for in this pipeline:
Incoming source

Encoding process

Quality distribution to end user
He adds: "So what Mola is trying to do is to look into all these three angles, to make sure that we have the best technology in place for it".
The drive to raise standards in Indonesia is a collective effort, as Lee explains: "The ecosystem is always three tier. From a provider, the technology partners, as well as the end users, all comes back as a feedback loop. The more that we can actually work with all our partnerships, together with supporting the end users, will then make the platform stronger and they can stay with us consistently."
The English Premier League (EPL) has been a cornerstone of Mola's success, right from the start: "Historically, Mola has provided EPL matches not only directly, but also through our partners as well.
We want to serve what we call the 'football friends' community in Indonesia, so we introduced the 4K EPL matches on a weekly basis. This comes back to the story of us really wanting to provide the best experience for our users and our subscribers." said Lee.
The expansion into 4K has involved tight collaborations with the television platforms.
Lee continued: "Samsung Tizen, upcoming Apple TVs, LG, webOS, and Android TVs. These are all part and parcel of the plan to engage our end users, as wide as possible."
Tackling latency through key partners
As Mola operates many of its services live, this brings added expectation of high quality and increases the chances of things going wrong. As a big football fan himself, Lee explains that these reasons, such as a delay to the stream that may cause a key moment in a match to be missed, has led Mola to prioritise speed: "latencies are critical in terms of the video feed reaching the end users. Speed is critical in today's market. On the OTT side, it's about getting the content up to the users as fast as we can." 
A key partner for Mola in this regard has been French-based software company Broadpeak. Lee continued: "We started working with Broadpeak so we can bring the best quality, the fastest, as well as the lowest latency stream to the end user in Indonesia. This is a very tight integration partner between Mola and Broadpeak."
The comprehensive Content Delivery Network (CDN) solution from Broadpeak optimises the delivery of ABR live sports streaming content (including English Premier League football matches). With the CDN, BkM100 video delivery manager and BkS400 HTTP video cache servers, Mola can provide a superior quality of experience (QoE) for fans while reducing the video streaming costs.
"Mola has become a hub for EPL matches and other live sports streaming content, and as our video streaming service grows, we need a scalable video delivery network solution for all screens," said Lee. 
"Broadpeak provides us with a scalable, flexible CDN solution that sets a path for seamless OTT growth in the future. With Broadpeak's CDN, we achieve low latency and reduced buffering, which is critical for live sports," he added.
The 4K delivery is based on ATEME technology, a leader in video delivery solutions, due to its high quality and low latency from source, as well as playout partner Harmonic, which powers the encoding and the vault too. Harmonic's VOS®360 cloud streaming SaaS introduced live UHD HDR streaming, ensuring the highest level of service reliability and real-time scaling for Mola's streaming service, simplifying the live streaming workflow from source to screen
Another hidden secret behind Mola's success is how it's content works with Tizen, behind the multifaceted offering of the Samsung Smart TV from Samsung Electronics. Tizen is a Linux-based, open-source web operating system (OS) that supports a range of devices including TVs, mobile devices, home appliances and even signage.
These technologies, Lee explained, have been vital for Mola to introduce 4K to its EPL rights: "We are looking at 4K source so that we can get that high quality bitrate, HDR at the colour contrast to the end users, beyond what they are used to from the HD environment."
Prioritising the customer experience
As is typical in the world of subscription-based on-demand services, content recommendation plays a significant role in the viewer's experience. As Lee describes:
"Data is important from a platform perspective. We are trying to understand what the user wants, so we provide a superior offering through better content recommendations. And this is not just about content recommendation, it's about acquiring new content."
He continues: "Data has always been an important part in any organisation. Not just today, but in the past as well. But with the advancement of technologies, data is much easier to collect and faster to analyse. We want to understand our users better. The more we understand what our users love, the better we can give them what they really want."
In addition to the live rights, Mola creates original content – which it labels intoxicatedly as 'Home Brew' content – around football, up-and-coming musicians, and even live music shows, providing spots on the platform to showcase new talents. 
"Another direction for the company going forward is to embrace content creation, to increase our offering from a general entertainment perspective." 
Protecting rights holders and thinking long term
Given the importance of rights to broadcasters like Mola - as proven with Euro 2022 and the EPL - there is an added responsibility to protect the principle rights holder too.
The importance of cyber security cannot be overlooked, according to Lee: "We treat security very seriously. One of the partners that we are working with is Verimatrix, who allow us to protect all our live streams, as well as our video on-demand assets. So that the content that we acquire is adequately protected. This gives assurance to our end users, as well as our providers, that we are in this game in the long run. To me, this is an important message to potential broadcast rights holders we want to work with. We don't just come in, deliver and disappear. We're building long lasting relationships with everyone."
Describing the partner ecosystem, Lee says: "We are not a single cell. We work with all partners in one body. These partnerships drive Mola forward. With their technology roadmap, we'll be able to deliver more. It allows us to increase accessibility to more people in our key domestic market of Indonesia and to expand at speed into new markets - it's an exciting time for the company."
Despite the recent success with 4K, its improved artificial intelligence (AI) platform and the ever-expanding rights deals, Lee is not resting on his laurels when it comes to new frontiers and technology partners: "I think one of the key messages for Mola moving forward is providing a better quality experience, through technology, to enhance overall usage on the platform. That is what we are targeting, to serve our customers, the end users, better and faster." 
As Mola continues to raise the bar in it's own backyard, Lee has big ambitions for the future. Named after a gigantic sunfish commonly found in temperate, tropical oceans around the world, Lee says the company's vision is to boldly travel into new, more unfamiliar waters: "First and foremost, we must deliver a better experience to our end users and to our subscribers. But secondary is to look at the expansion plan. We must make sure that we are able to bring the platform beyond the shores of Indonesia, into the neighbouring countries as well as the rest of the world."