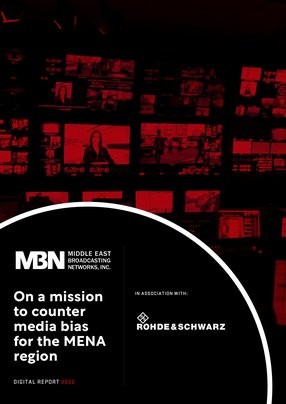 On a mission to counter media bias for the MENA region
MBN's CTO Mike Marno shares the broadcasting network's overarching mission, the tech changes enabling it, and pivoting for a new generation of media
Northern Virginia may seem like an unusual location for the HQ of a Middle Eastern and North African-focused broadcasting network, what with its quaint, colonial streets in certain parts and distinctly Georgian 'Old Town' vibes in others.
For Middle East Broadcasting Networks, Inc. (MBN), though, it makes perfect sense.
Just a stone's throw away is Washington DC, the capital city of the USA, which also happens to be the home of some iconic institutions: the Capitol, the White House and the Supreme Court. MBN, as a grantee of the US government and part of the US Agency for Global Media, therefore situated close to the centre of government while also sitting at the lip of the nation's rim, pouring its influence into the Atlantic ocean and beyond.
Though headquartered in the US, the primary recipients of MBN's television and radio programming and news sites live in the MENA region – the Middle East and North Africa – the very people for whom Middle East Broadcasting Networks was created, with the purpose of sharing honest, accurate and unbiased news about their own countries and the US.
In addition to the entirety of the Middle East, the North African region that forms part of MBN's broadcast remit consists of the following countries: Algeria, Egypt, Libya, Morocco, Sudan, Tunisia, and Western Sahara.
"MBN is a 24-hour, seven-days-a-week, live news service. We are the only one within the USA and our target market is specifically the MENA region, across 22 countries. And when I say North Africa, I mean the seven African countries in the north of the region, all the way over through Egypt, the northern coast from the ocean over across the Mediterranean," explains MBN's Chief Technology Officer, Mike Marno, who's a veteran of the media entertainment industry, having worked in it for around 33 years.
A wholly-owned, not-for-profit service, MBN currently comprises two television networks, a radio station, and several digital news sites, each providing an insight into the reality of Americana and American politics, which are often misrepresented the further afield you go. These media outlets also focus on in-depth analysis of topics otherwise maligned by traditional Arab media outlets, for the purpose of encouraging transparency and democracy.
And the creation of Radio Sawa back in 2002, followed by the television station Alhurra in 2004, was nothing short of revolutionary.
Middle East Broadcasting Networks' media mission
The Millennium arrived with a bang – as did a new technological dawn.
And with this came increasingly sour relations between much of the West and Middle East, which, while fluctuating over the previous two decades, had reached a new low. This culminated in the catastrophic events of September 11th, 2001, and the consequent US-led coalition's occupation of Afghanistan that same year and Iraq in 2003, only a decade or so after the Gulf War had liberated Kuwait from Iraq.
As you can imagine, there were simmering tensions on both sides that contributed to fear, lies, and nationalist or religious propaganda via news services and media outlets; counteracting these narratives was essential.
Marno therefore summarises MBN's mission as being "to provide accurate and objective coverage on, and to, the MENA region about Americans and American policy, with in-depth analysis focusing on topics not covered by other Arab media and providing an alternate viewpoint".
The aim was – and still is – to counter perceived anti-American bias peddled by leading Arab and international networks, while giving those living in the Middle East and North Africa a voice.
"A lot of Arab folks that are in a competitive position to us are actually state entities. And, being in that media space, a lot of them are told what to say, as well as when and where," Marno says. "On one digital platform, we actually have something called 'Raise Your Voice', which is an Iraq-specific programme and piece of content where people can post their own opinions; Iraqis themselves say it's one of the only places that they can freely express their opinion.
"So, in that respect, that's an example of what we do: we provide accurate and objective information – and, unfortunately, I say 'accurate and objective' because a lot of other media here isn't.
"We have a firewall between us and our government, which is not necessarily the case with a lot of our competition. And we like having an alternative opinion, because much of the Middle East's media is very self-serving, in that they give you the message that they want as opposed to having alternative viewpoints."
In addition to the 'Raise Your Voice' programme, MBN invests time and money into cultivating programmes that provide an honest depiction of life in some of these far-flung countries, while offering inhabitants the opportunity to engage with uncensored media.
"We have the Lebanese scene, which is a show that talks about Lebanon and life in Lebanon. We have the North Africa show, a show on the grid currently that will probably expand once we rebuild the Tunis bureau. We're also creating a US unit that will be multimedia journalists giving Arabs globally a view not only of Americans, but of the Arab experience in America," Marno says.
Changing world required MBN's threefold transformation
Prior to the 2020 COVID-19 pandemic, many companies, organisations, charities and not-for-profits had started to become aware of the necessity to overhaul company tech and digital processes, making moves to incorporate new digital pathways. For MBN, which began its own digital transformation around four years ago, the process consisted of more than one strand.
"MBN's evolution is threefold. One is taking legacy technologies, which, four years ago, still included analogue, and bringing them all the way up to current states, meaning that ubiquitous technologies – like IP and network infrastructure, bonded cellular, cloud-based, (whether hybrid or completely cloud-based), and virtualised desktop infrastructure – are future-facing, scalable and possess more of a predictable operational model than a hardware-based model," Marno begins, outlining the technological infrastructure required to cascade through the entire organisation to enable a full digital transformation.
"The second is realigning the people organisation, in terms of both the content requirement as well as the skill sets required for those technologies. And third is taking a look at how news is actually consumed, how people watch news – demographics are part of that. Now, in excess of 50% of the MENA region is under 40 years of age."
Across the globe, the result of a "diminishing older, traditional broadcast viewer demographic" has meant that the audiences consuming news are increasingly searching for news soundbites instead of long-form content – with this movement led primarily by Millennials and Gen-Zers, whom Marno dubs as "very vignette-centric, very snippet-centric, and very social media-centric".
"The news consumption audience is getting younger and, as a result, they're consuming it in a different way. So, we did the technical organisation, then the people organisation, and the final part of that is to have a 'digital media first' approach to all of our buildings. Network infrastructure is everywhere and requires a very widespread skill set, leveraging both the efficiency and low latency of those technologies to deliver content.
"And being able to simultaneously deliver that content to all the different platforms, as well as to a much younger audience, while encapsulating and formatting that material in a way that's meant to cater to this audience, is essential to MBN remaining competitive," he explains.
Expanding foothold and digital-first manifestation
A core part of MBN's transformation process has been extending its outreach as "an audience growth strategy", which means establishing offices and broadcast hubs in other MENA-based countries, as well as in Europe.
"We're in Morocco, Tunisia, Lebanon, Cairo, Beirut, Jerusalem, Dubai, Springfield, New York, and Washington DC, and that's just our own hard locations, a list that doesn't include all of the countries – Paris, Brussels, London, as examples – in which we have crews or utilise third-party resources to do coverage," Marno outlines, hinting at just a fraction of the broad reach MBN has across the globe.
Ultimately, this reach should enable MBN to challenge and outperform its industry counterparts, most of which are state-owned subsidies, thus subject to restriction and censorship.
"We will still offer the traditional broadcast medium for the traditional viewer while ensuring our new technology platforms are agile – this goes for both radio and broadcast," says Marno.
"As an example, we're building a digital radio platform to replace the FM infrastructure for Radio Sawa. Additionally, we're making sure that all of our broadcast platforms can now publish to all social media platforms simultaneously as we publish the broadcast product to news."
Though Marno states that MBN will continue to offer traditional broadcasts for traditional consumers, he is acutely aware of the importance placed on proffering alternative, censor-free media to tightly-controlled countries via a digital-first mandate. This not only guarantees that fewer in the MENA region will be regularly subject to sensationalist, factually incorrect information about the US as well as their own governments, but it will also equip MBN with "the technologies and the modalities" that give it an all-important competitive edge over "those whom it chooses to position itself against".
"And, by 'those we choose to position ourselves against', I mean those who we consider our competition in the Middle East media and news space – the Al Jazeeras of the world, AMIN, Middle East Media Network, Arabian Gazette, Sky News Arabia, CNN…and that actually includes some state entities, as well," Marno establishes.
Digitalisation has so far consisted of MBN migrating slowly onto cloud-based technologies, "going from a traditional base band broadcast modality to adopting IP workflows and file-based workflows on a phased-in basis" as it builds, "utilising the facility and capability of cloud-based services to be a more agile, more real-time news organisation".
To put this aim into action, MBN decided to utilise Amazon Web Services' (AWS) cloud capabilities, partially due to the large suite of products it has available.
"When we started this process, AWS also had the best existing integration, meaning they had current existing integrations with folks like Dell. They were furthest along at the time, in my view, for IP-based media services. And they were very easy to work with to create what's known as a VPC – virtual private cloud – within the AWS ecosystem, such that it allowed MBN to build a global, internally-managed network on the AWS backbone.
"AWS did that by carving out space for us in a lot of their data centres, using the physical hardware that they have to create virtual environments. We had a very large account team that basically 'shepherded us over the shoulder' to allow us to understand how those VPCs were created, how to build them, how to maintain them, and so forth. They also had availability zones in the regions where we were, so they had the best geographic availability for our needs at the time."
Taking on next generation broadcast and media trends
As older audiences diminish in number, it's critical to simultaneously "capture and build younger audiences" so that they can grow with you, direct your output, and remain loyal. A core element of this relates to streaming, the use of social media and digitised media organisations, all of which are on the rise.
"As an old guy, what I know of that has been the broadcast industry – in terms of equipment and workflow, as well as skillsets – is in its sunset. Broadcasting will be much more short-form and social-media-centric, so it will be much more influencer-based. There will still be a component of live television, though that will not be the primary focus, but the primary focus will be on content for social media platforms and that style of consumption.
"So, everything that we're building now is in support of being able to deliver content in a non-traditional way, meaning via satellite to a subscription service or receiver and specific channels to multiple outlets that are social media-based or radio-based, all on digital platforms."
Existing platforms such as Twitch (traditionally gaming-based), Discord, Facebook and YouTube have already pre-empted these trends by pivoting to integrate live, short-form content that can be news, entertainment, or education-based. Traditional media companies now need to follow suit to remain relevant – so it's a good job MBN began this process a few years ago, before competition had clocked on.
"What we eventually would want to do is have a reporter out in the field, reporting live to multiple social media platforms at the same time as a news service. That's what we're gravitating towards, which means the tool sets can be as simple as an iPhone all the way up to very expensive, high-res equipment, depending on what we're doing.
"The visceral impact for people is that it sets us apart, so it's where the virtual and extended reality technology is coming in," Marno says with enthusiasm, acknowledging the ways in which MBN can now hook audiences' attention.
What the future holds for Middle East Broadcasting Networks
As previously noted, part of MBN's ongoing digitalisation strategy is to have more than just Dubai as an additional point-of-origination for programming.
"So we'll be doing live content in all of the bureaus that we're building, and we're working on a new leasehold in Jerusalem to move and rebuild that bureau.
"I have a bunch of travel coming up in November, where I'll go and evaluate each of those locations, creating requirement documents so that we can procure the architect, the construction, and the integrative services needed. All of that will be part of the 2023 and 2024 calendar year.
"Eventually, we'll get to adding those additional locations – we currently have three studios in Springfield and the main news studio for the Pan-Arab feed, which has a primary and secondary news set."
Aside from new technology and locations from which to work, what else is on the agenda for MBN's future success?
"Well, much like some of the cable outlets, we will offer up our 24-hour, seven-days-a-week broadcast streams to the website and to social media.
"But we will also have digital-centric programming that's not available on the traditional broadcast product, which will be published live as vignettes, podcasts, long-form content, and short-form, headline-type news, as well as giving people in the region that we serve the ability to freely express themselves, much like with 'Raise Your Voice'," Marno concludes, remembering the core philosophy behind MBN: the freedom to see, hear and challenge unfiltered points-of-view and opinions from a range of perspectives.
And, in our contentious world always on the cusp of some conflict or another, there's little that's more essential to personal freedom.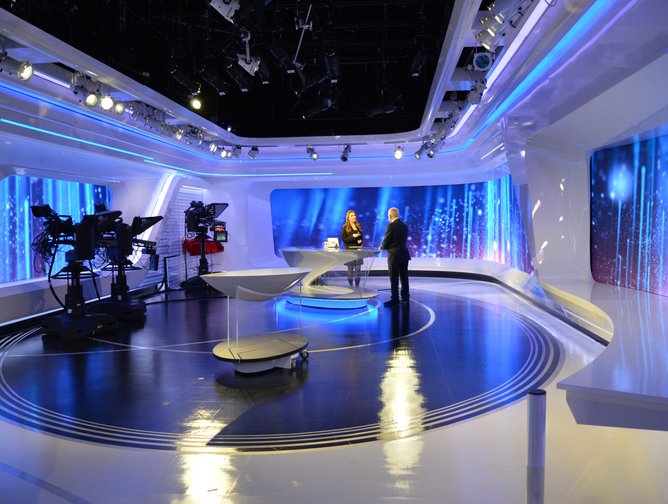 Middle East Broadcasting Networks, Inc.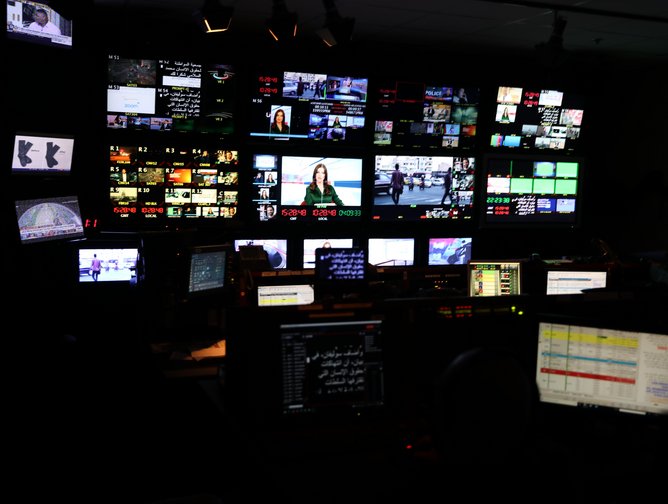 Middle East Broadcasting Networks, Inc.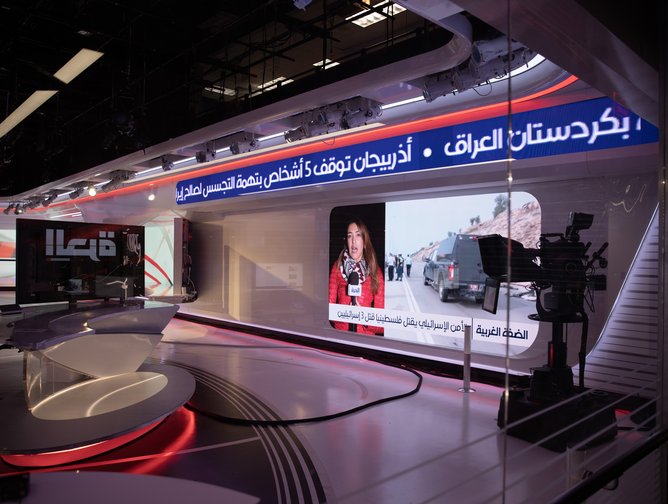 Middle East Broadcasting Networks, Inc.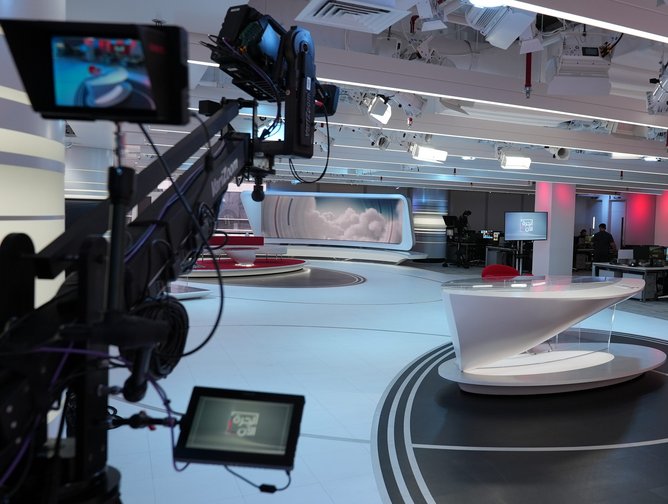 Middle East Broadcasting Networks, Inc.