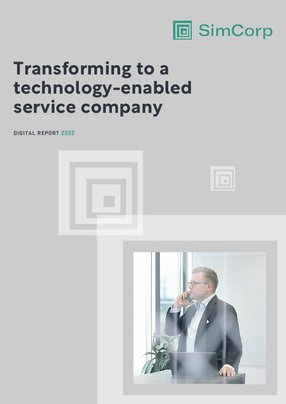 SimCorp:transforming to a technology-enabled service company
Jakob Højland, Commercial Director of Cloud Services at SimCorp discusses the company's transformation to becoming a technology-enabled service provider
Founded in Denmark in 1971, SimCorp is a leading provider of investment management software solutions and services for the global financial industry. With its winning aspiration, SimCorp puts its clients at the centre of everything it does and aims to become the leading provider of integrated front-to-back, multi-asset, investment management solutions to the world's largest institutional investors.
Jakob Højland, Commercial Director of Cloud Services outlined the company's customer base: "Our customers are the world's largest investment managers in what we call the buy-side industry – people who either have money or manage money on behalf of others, such as pension funds, insurance companies or asset managers."
The company has constantly evolved over the years to ensure its software is best-in-class. SimCorp's core solution, SimCorp Dimension can be deployed on-premise or in the cloud, as Højland expanded: "SimCorp Dimension has evolved over decades to become a world-class, front-to-back investment management solution. It gives a real-time overview of our customers' entire business on one platform."
Although the company's core product has changed over the years, SimCorp is dedicated to continuous improvement in order to meet the needs of the market. Despite in already being a SaaS company, SimCorp is now undergoing a company-wide transformation to become a tech-enabled services company.
"There is no doubt that the transformation from being a software provider is huge," explained Højland.
"For us, it's all about the value we bring to the customers and the responsibility we can take to their success. Two of our key strategic priorities, which are highly interconnected, are about taking leadership for customer experience and delivering everything-as-a-service," he continued.
This transformation means SimCorp will now take co-responsibility for its customers' businesses and act as a tool to help them solve key business challenges. The company aims to do this by delivering either tech-enabled services or complete business process services.
With its technology-enabled services, SimCorp will "take full responsibility for the entire technology platform including the running, management and operation," said Højland. It will also deliver continuous innovation and optimisation as part of the service.
Looking at its complete business process services, Højland said: "We deliver a complete business outcome, for example, clean data by combining our tech with our market expertise and industry expertise. Essentially, we deliver a complete 'Business Outcome as a Service'."
Meeting the changing needs of the investment management industry
SimCorp's transformation is underpinned by the recognition that the investment management industry is going through a huge transformation itself at present. This change is necessary "to overcome the persistent challenges the operating environment brings, like costs and fees pressure, regulatory burden, and complexity of managing new asset classes," Højland explained.
As a leader in the industry, SimCorp has been able to identify new and emerging technologies that can help manage these challenges.
Højland outlined that these can be innovations from "front-office augmented investment decisions with machine learning and natural language processing to back-office automation with robotic process automation."
This transformation to a technology-enabled services company is designed to make it easy and uncomplicated for investment managers to access new technologies. Højland said that this will allow companies to "focus on core business and innovation while providing them with a fast and hassle-free setup that allows them to consume these services at their pace and matches their preferences."
Its core service, SimCorp Dimension, supports the company as it looks to give its customers access to new technologies. As a front-to-back integrated investment management platform, it provides customers with a real-time overview of their entire investment cycle.
"With solutions for data management, trading, risk management, operations, accounting, and communications and reporting, SimCorp supports the entire investment management value chain of its customers and covers all their asset classes," Højland commented.
To ensure new and emerging technology is at the forefront of its product, SimCorp spends 20% of its revenue on research and development and ensures it has a clear roadmap in future investments.
Adding to this, Højland said: "The objective of this is to deliver great technology, keeping up with innovation areas that are the most important to our customers in their specific industry: asset management, pensions, insurance, banks, etc."
Moving to the cloud: a basis for buy-side innovation
To add to its cloud offering, the company built on its SimCorp Dimension product with SimCorp Dimension as a Service. This cloud-based version of SimCorp Dimension allows institutional investors to focus on their core business in the quest for growth and differentiation.
SimCorp carries out tasks such as running, operating and managing the investment-management technology platform. "Most of our new customers choose this delivery model of SimCorp Dimension and we are currently helping our existing customers in their journey to the cloud," explained Højland.
SimCorp believes many customers are transitioning to the cloud as it brings many high-value benefits. This includes "unmatched delivery quality, access to ecosystem-enabled innovation, scalability, and best-in-class security and compliance - as well as improved cost-effectiveness," Højland said.
This year, there has been a huge predicted growth in public cloud end-user spending and Gartner predicted it would grow 23% in 2021. This is due to emerging technologies such as containerisation, virtualisation and edge computing that are becoming more mainstream and as a result, are driving additional cloud spending. By responding to this growing demand in cloud technologies, SimCorp has shifted its strategic imperatives and embarked on this company-wide transformation.
The Commercial Director of Cloud Services believes that the company's cloud transformation is the foundation to realising the company's strategic imperatives. He explained: "Becoming cloud-based is a multi-year endeavour and the license to operate and compete in the future, as it is the basis for delivering software as a service, cost-effectively scaling our operations, and driving ecosystem-enabled innovation."
Højland added: "The public cloud is also putting us in a unique position to deliver speed, innovation, scale, security, cost-effectiveness, automation, increased connectivity through API's since we invest on behalf of all our customers."
Partnering with big technology players to push the boundaries of innovation
To support the transition to the cloud within the industry and boost the company's services, Højland outlined a new engagement platform: "We have also recently launched cloud-native services such as a SimCorp Digital Engagement Portal for self-service reporting, data access and gathering behavioural insights or SimCorp DataCare for clean, accurate, timely and ready-to-use reference and market data."
The company's focus on the cloud is part of its alignment with the Business as a Service initiative. To complement this, the company has developed its Investment Accounting as a Service.
"Some investment firms are seeking to outsource more of their back-office functions to service providers and we are responding to this demand by taking more accountability for processes and outputs," explained Højland.
"Our ambition is to become the preferred partner for these types of services, based on our technology platform, our track record in delivering operational services and our ability to create standardisation and scale across clients," he added.
SimCorp, to ensure its offerings are as beneficial for its customers as possible, has partnered with Microsoft and its cloud services, which have formed part of the backbone for its technology-enabled services. The company has also partnered with Oracle for its database technologies.
"We are working closely with both parties to push the boundaries for the innovation and efficiency we can deliver to our customers. The database technologies from Oracle have brought value to our business for decades, but in the more recent years we have experienced what the cloud can do for our own business growth as we have moved our internal systems to Microsoft Azure, and we want to offer the same benefits to our clients," said Højland.
"This includes solutions and services that are easier to consume, via a robust cloud offering, and open access to innovation that truly supports their success. In doing so, we take on increased accountability for solving our clients core business challenges and ultimately deliver a superior customer experience," he continued.
Along with Microsoft and Oracle, SimCorp has recently built a strategic partnership with Qontigo as part of its ecosystem-enabled innovation strategic imperative.
Qontigo creates solutions that empower investment intelligence to drive targeted sustainable returns. With its STOXX and DAX indices and institutionally-proven Axioma analytics, the company delivers solutions at scale backed by modern technology, open architecture and client focus.
"The goal is to offer optionality and strengthen our capacity to innovate and offer our clients optionality across their operations and the investment lifecycle, by leveraging an external ecosystem of partners," Højland explained.
Sustainable ambitions with a holistic approach
As with many companies across the globe, SimCorp is also dedicated to ensuring its operations are sustainable.
Discussing its sustainability ambitions, Højland said: "Creating a sustainable company is not only about taking climate action. At SimCorp, it's about taking a holistic approach to how we can make the biggest impact as a company and as corporate citizens."
"Leveraging cloud and new technologies is a key enabler of sustainability. Reducing our CO2 emission, expanding support for our clients' ESG investments, creating a truly diverse, equitable and inclusive workplace, and ensuring meaning in work constitute our current sustainability priorities," he added.
A key driver for reducing SimCorp's CO2 emissions is intelligent resource optimisation, which is enabled by modern technology and behavioural change. To help reduce its own and its clients' CO2 emissions, SimCorp is:
Gradually moving both SimCorp's and clients' operations from on-premises to cloud for improved data centre energy efficiency

Applying modern computing to improve overall energy footprint and utilise digital resources in optimised ways

Reducing air travel and increasing virtual meetings to reduce carbon emissions.
To support the first point outlined, in 2019, SimCorp started decommissioning its own data centres as part of a cloud transition to Microsoft Azure.
"Microsoft's public cloud services have been operating 100% carbon neutral since 2012 by applying a global internal carbon fee model that charges Microsoft business units for carbon emissions from their operations. Microsoft has pledged to reduce its operational carbon emissions by 75% by 2030, against a 2013 baseline, and to purchase 70% renewable energy for their data centres by 2023, on a path to 100% (60% in 2019)," Højland outlined.
Explaining how this aligns with SimCorp's own sustainable targets he said: "Our goal is to reduce CO2 emissions from internal server installations by gradually moving these to Microsoft Azure. Also, we offer clients to move SimCorp operations to cloud computing. Our goal is to move 35% of our client business to the cloud by 2025."
The road to becoming a technology-enabled services provider
With its extensive company-wide transformation to become a technology-enabled services company, SimCorp's winning aspiration is key to becoming the leading provider of natively integrated front to back, multi-asset, investment management solutions to the world's largest institutional investment management companies.
In doing so, Højland explained the company wants to "empower our customers' strategies through unmatched operational efficiency and investment enablement."
He continued: "In practice, for all our investments and priorities we decide, we strive to keep our customers in the centre and think about which values and outcomes we can deliver to them. For us, new innovative technologies within machine learning (ML), blockchain, high-performance computing, and general cloud technologies are the core tools and building blocks we use to deliver brand-new solutions or enrich existing offerings. In short, we strive to stay "on the edge" of all these technologies with our customers in mind."
"We also want to take more responsibility in all the areas where we can deliver scale and differentiation to our customers, allowing them to focus on core business and financial innovation in their quest for alpha generating activities," Højland concluded.