Swedish startup unlocking Industry 4.0's most valuable asset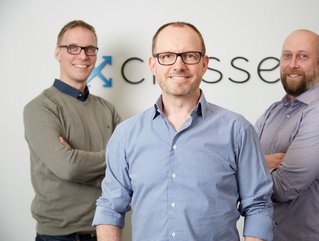 With installations in over 20 countries, software company Crosser develop a low-code platform for streaming analytics, automation, Edge and Cloud
Founded in 2016 in Sweden, Crosser designs and develops solutions to unlock the power of Industry 4.0's biggest and most valuable asset — data. Crosser's platform emerged when its founders realised that the increasing number of connected devices created a challenge for organisations — how can this data be used in real time to improve performance in a cost-efficient way?
Crosser's platform enables real-time data collection, standardisation and analysis to create actionable insights for a range of use cases. Crosser's vision is to enable a sensor-rich connected world to accelerate digital transformation and adoption of the Industrial Internet of Things (IIoT). By enabling data analysis at the edge, on premise and in the cloud, Crosser's platform enables increased business value, enhanced quality of life, a lower carbon footprint, and a more secure world.
Crosser was included in the "Cool Vendors in IoT Edge Computing, 2018" report by Gartner, Inc. and was named among the Top 10 Smart Factory Solutions in Europe 2020 by the industry magazine Manufacturing Technology Insights.

What is unique about Crosser?
Crosser's platform is built to fight complexity with simplicity. IT empowers all members of an organisation to digitalise and automate processes. The platform is low code, which means it uses visual interfaces with simple logic and drag-and-drop functions in place of extensive, complex coding languages. This makes it accessible to every team of an organisation: automation engineers, IT staff, enterprise architects, developers, data scientists, product specialists and maintenance personnel.
The Crosser platform is uniquely hybrid-first, meaning that you can run data flows at the edge, on-premise or in the cloud using the same concept. The platform serves as a one-stop-shop for all real-time data needs, eliminating the need for additional systems for different data flow deployments.
The platform's machine learning capabilities are also unique. No other platform offers users the ability to integrate third-party machine learning (ML) frameworks in a visual flow, providing unlimited flexibility to innovate and optimise business processes. In an part of the network, it's possible to host any ML framework, including Python and Native ONNX. In this way, the Crosser platform gives its users the opportunity to 'bring their own AI'.
What are the major challenges Crosser solves in the industry?
Crosser aims to eliminate IT bottlenecks by harmonising and standardising data to make machines and processes more efficient, enable faster collaboration within an organisation and reduce unnecessary downtime. Machines across an organisation could use data from many different sources including PLC, historians and databases, using many different protocols including OPC, Modbus, MQTT and Siemens S7. Crosser's platform makes this data uniform, eliminating unwanted data silos between departments.
Through the Crosser platform, it's possible to connect the whole organisation in one system for data collection and real-time integration.
Who are some of the key partners Crosser works with?
Crosser manages a partner program, which unites knowledge and departments, software and solutions, technologies and organisations. Crosser's partners are divided into three subcategories: platform partners, technology, AI and ML partners and industrial system integrator and deployment partners. Its platform partners include Microsoft, AWS, SAP and Oracle. Technology partners include Intel, Advantech, Moxa and Ericsson, while industrial system integrator partners include Afry, Wonderware and CGI.
Are there any major clients or projects Crosser would like to share?
Crosser works with a range of industrial companies to streamline their data infrastructure. Some key projects include GEBHARDT Fördertechnik, where Crosser enabled data acquisition and processing, and used AI algorithms to learn from the data collected to enable predictive maintenance.
Crosser also conducted a project with leading mobile crusher manufacturer Rubble Master, where it employed edge analytics to monitor machines both on the factory floor and remotely for predictive maintenance and to obtain real-time feedback from customers on usage and machine performance for ongoing product development.
What's next for Crosser in 2022?
With the IT digital skills gap still rife across all industries, Crosser will continue to build on the accessibility of its platform by building on its low-code usability, with the aim to allow anyone in an industrial organisation to build automated workflows regardless of their IT knowledge.
Crosser will also continue to develop its Intelligent Process Automation (IPA) offering — a new capability of the platform launched in 2021, which seeks to empower asset-rich organisations to achieve hyperautomation. Gartner predicts that 85 per cent of organisations will implement some level of hyperautomation throughout 2022, and Crosser IPA is a powerful tool that enables everyone in an organisation to automate processes, not just IT departments.
Major industry players are implementing Crosser's platform to enhance business value in industrial automation applications. In terms of the platform itself, more connectors and analytics modules will continue to be built to enable an ever-increasing number of integrations, automations and use cases.