International Women's Day - Life in technology post-pandemic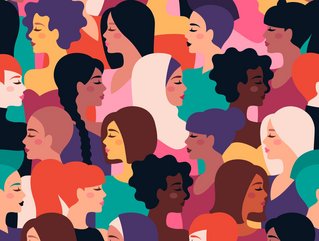 Women tech leaders from Juniper Networks and Western Digital discuss effects of the pandemic on their attitude, mental well-being and future career plans
Deloitte Global predicts that large global technology firms, on average, will reach nearly 33% overall female representation in their work-forces in 2022.
While these signs are green shoots of encouragement, the fallout of the COVID pandemic is still being felt around industries and in some cases, caused a regression in gender roles.
Technology Magazine invites leaders from Juniper Networks, Western Digital and Griffin to share their thoughts on how the pandemic has altered women's attitudes toward their career and growth - and what the consequences have been on their mental well-being.

The pandemic makes matters worse
According to Sharon Mandell, CIO at Juniper Networks, a networking products company with 9,000 employees in 70 countries and nearly US$5bn in revenue, the amount of women leaving the tech industry is concerning:
"It's frightening to read about the number of women who have left the workforce since the pandemic. I had hoped that the pandemic and the increased flexibility it provides would make life easier for women, but it appears that it has made matters worse. I believe many women bear a large portion of the home workload – with children out of school, I'm sure it was nearly impossible without help – which was also a challenge to obtain during a period of social isolation. Visibility was most likely a problem as well. Everyone must put in more effort to be seen given the current circumstances. And I think that's been my challenge as a leader – seeing my team and having my team see me in the same way they would if we were in the office together," she said.
Sally Bament is VP, Service Provider & Cloud Marketing at Juniper Networks, insists that she can see the toll on families, despite calling her and her husband "empty nesters". She comments:
"I know that the pandemic has had a particularly negative impact on women young children and/or elderly family members. For mothers, there was no book-ending the day with school or childcare, making it even more difficult for them to divide their time between family and work responsibilities. The domestic burden ultimately still falls on us, the women much of the time. The question that remains is can women continue to do it all, or should we back off? Many women try to compensate by working longer hours. Companies must be aware and sensitive to this. The good part is that the pandemic has compelled us all to pause and consider what is most important in our lives.
Bamet admits her own struggles with mental health, saying:
"In terms of my work and mental health, I'd be lying if I said I didn't struggle at first. It was difficult to bookend the day, as I was always on and accessible. Before the pandemic, I used my commute time between home and work to wind up and wind down, but that vanished. There has been no "face time" to check with others if what I'm doing is correct and on point. I certainly had some doubts about myself along the way. But now that we've been doing this for so long, I'm not sure what it'll be like to return to the office – for anyone!
One interesting side effect of the pandemic has been that it has served as a great equaliser. It doesn't matter if you don't walk the halls and work at "Corp HQ," because no one is bumping into each other for impromptu meetings any longer. In addition, everyone behaves much better on conference calls/zoom calls. Better etiquette. So, if you are not someone who is comfortable speaking up in a meeting, it is easier in some ways (on or off camera).
Plus, it has meant less travel. This new paradigm has provided us all with more flexibility, which I believe is a good thing," said Bamet.


Taking work breaks is crucial
Cecilia Regolo is Senior Business Development Specialist at Western Digital, a hard disk drive manufacturer and data storage company, headquartered in San Jose, California who had a fiscal year revenue of US$16.9bn in 2021. Regolo believes that the pandemic introduced additional challenges for everyone, but especially women. She added:
"In many cases women may be largely responsible for childcare in their families and juggling between working from home, and home schooling has put more pressure on working mothers. In addition, it has become increasingly difficult to take care of mental health during the pandemic. When working remotely it's crucial to take breaks, step away from the laptop and enjoy some time outside".


Women deserve a seat at the table
Maria Campbell is VP of People at Griffin, who help provide compliance and banking as a service. She adds that diversity is equally as important as gender representation:
"This International Women's Day is a reminder to celebrate and empower women. Women deserve a seat at the table, and until gender equity is achieved we need this reminder. But "more women" is not the gateway to genuine diversity – it's just one limited and often binary axis. We need to focus on full representation, both by demographics and perspective, across the board. Until leading businesses represent the rich makeup of society, we need to keep demanding and making change to get to a more equitable state. Technology continues to change life as we know it, as such, it's crucial that decision-makers in the technology industry can understand and represent the vastly varied experiences, interests and needs of society.
"We all know that companies who have a strong, focused approach to D&I perform stronger as a business. Gender, ethnicity, socioeconomic and cultural diversity in leadership teams help to reflect and serve society, but only if those voices are heard and respected. In a practical sense, this means pay parity, equal opportunities for career progression, psychological safety, and a fair playing field in all work matters. We have made some progress, but there's a lot still to be done considering the pay gaps and unfair biases that persist.
"Being able to attract and retain talented, motivated people is contingent on opportunities being available to all. In the wake of a huge shift in how we work, we can't assume that people are available and willing to work for a company just because the company has a job opening. This poses a serious commercial risk to every business, and will take action to mitigate. The companies that are successfully navigating the shifting labour market are those which ensure everyone is heard, appreciated and able to make a genuine contribution. When there is a genuinely inclusive culture that lets people flourish, people stick around," said Campbell.