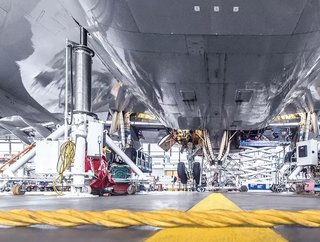 The aviation giant reveals all about it's maintenance, production and design division...
Can you tell us about the division and why it exists?
We have been providing providing technical aircraft services for more than 65 years. More than 25 years ago Lufthansa Technik became a division of its own within Lufthansa Group to strengthen and focus on our core competence: technical services for aircraft, its engines and components. Currently, we have more than 4,500 aircraft under exclusive contracts. 
With some 35 subsidiaries and affiliates, the Lufthansa Technik Group is one of the leading providers of technical aircraft services in the world. Certified internationally as maintenance, production and design organization, the company has a workforce of more than 22,000 employees. Lufthansa Technik's portfolio covers the entire range of services for commercial and VIP/special mission aircraft, engines, components and landing gear in the areas of digital fleet support, maintenance, repair, overhaul, modification, completion and conversion as well as the manufacture of innovative cabin products. 
The design concepts - such as 'Explorer' - are stunning. How far away are you from making this a commercial reality?
EXPLORER is only a concept study with which we are inspiring the market. Since all its technical gadgets are technically feasible, the cabin could be produced as shown. However, we do not expect the cabin to ever be built exactly as it is depicted in the renderings. The reason is that the VIP Completions business, especially for wide-body aircraft, is highly individual. Most aircraft we complete for real customers are thus truly unique. Our customers usually do not buy their cabins "off the shelf". Instead, they often bring their own designers into play, who (together with us) then create the owner`s "signature" interior. In doing so, we might see one or more of the technical gadgets shown in EXPLORER find their way into real customer projects, but the whole cabin might look different, individually adapted to the customer´s personal taste and individual requirements.
"When designing an Airbus A330 as a versatile EXPLORER tool - whether for private owners or also for charter agencies for this type of travel - we paid particular attention to feasibility. Therefore, our experts have already developed detailed implementation proposals for many technical features and innovations," said Jan Grube, Sales Director in VIP & Special Mission Aircraft Services at Lufthansa Technik. "A great example is the cooperation with Diehl on large-scale projections. Here we were able to fulfill a long-held wish, so we are very grateful for this outstanding cooperation.
What are the key market challenges for the business?
During the pandemic many airline customers used the opportunity to restructure and transform their Tech-Ops departments and approach to MRO (maintenance, repair, overhaul) procurement and management. This has led to an increased demand for data-driven MRO services and for digital solutions. We see this in the number aircraft now on our AVIATAR platform. We believe the digital transformation of Tech Ops and MRO is one of the positive changes to have come from the crisis and will last well after the recovery.
Nevertheless, digitalisation still also is a gigantic challenge, especially in an industry with such high safety requirements. The MRO industry must accurately fulfil complex tasks. Due to this complexity, digitalisation will help us to further optimise and also stabilise our in-house processes while reducing cost and enhancing customer experience. 
What separates Lufthansa Technik from the competition?
There is a lot to say, here is a small selection: 
Worldwide network with some 35 subsidiaries and joint ventures  

Broad product portfolio, covering complete technical services for the whole life-cycle of aircraft with detailed knowledge and understanding of aircraft operation  

Well prepared for latest aircraft, engine and component generations by strategic partnerships with the leading OEMs  

Comprehensive MRO related R&D activities, significant investment in this area and a focus on "MRO goes digital" to create innovative and optimal customer services 

More than 65 years of MRO experience with one of the world's leading airlines  

800+ customers with different business models in our portfolio: LCC, Cargo,    




  Leisure, VIP and VVIP, Air Forces, Governments, big and smaller airlines.  




  There is no one size fits all – we offer respective services for each business model

The integration of a maintenance, production and design organisation  

Size and resulting scale effects 

 
What exciting plans have you got coming up in the next 18 months?
Again, COVID and the political reaction to it will be a very defining factor for 2022. Lufthansa Technik is anticipating to keep a high level of flexibility to deal with this situation. In Europe, we will have a bigger discussion about sustainability where we as an MRO industry have to find answers as well. Lufthansa Technik as part of Lufthansa Group has significantly increased its activities in this field. A very prominent product, we just launched together with BASF, is AeroSHARK, a SharkSkin film, reducing drag and therefore fuel burn. 
The shortage of skilled labour and its regional impact will also be a huge topic. Since the beginning of the crisis, Lufthansa Technik is actively managing this topic and we will continue to do so. Qualification of our staff was, is and will be one of our most important strongholds. 
With thanks to Julia Michaelis for arranging the information for Technology Magazine.