Top 10 most influential technology companies in the world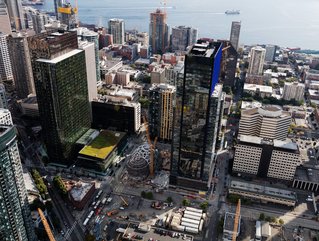 As the great enablers of worldwide digital transformation, these ten giants of the technology landscape are helping tackle virtually every kind of problem
After a tumultuous 2021, businesses reflect on a world ravaged by the pandemic. Those who made gains adapted fast through technology, that has enabled an accelerated digital transformation to provide green shoots of recovery and prosperity for those on this list.
Hybrid working — so long frowned upon by so many — proved to be highly critical to keeping up productivity. This resulted in questions being asked over the need for so much office real estate too, as Microsoft reported that 70% of workers wanted hybrid working to stay.
With so many confined to their homes, the huge surge in web traffic through ecommerce gave rise to many unicorns (the London Stock Exchange reported a record year for IPOs, raising £16.8bn) and some of the main online players such as Amazon benefited hugely from marketplace fees.
Hyperscalers also used the extraordinary circumstances that gripped consumers and businesses to put cloud technology at the forefront of digital transformation strategy, as the need for handling data capacity grew and stakes were raised from the clandestine threat of cybersecurity.
But it is in the emergent power of augmented reality, artificial intelligence and automation that we see the widest impact. It's through these tools that our customer experience will reach new levels, sustainability goals can be reached and intelligence can create operational efficiencies at scale.
We look at ten of the most influential technology companies by the measure of their global impact.
10. Meta/Facebook
Year Founded: 2004
CEO: Mark Zuckerberg
Industry: Multinational technology conglomerate
At the organisation's own Connect 2021 conference, CEO Mark Zuckerberg introduced Meta, a new company brand that brings the 'metaverse' to life and helps people connect, find communities and grow businesses. A hybrid of today's online social experiences, this new metaverse allows sharing of immersive experiences with other people, opening up possibilities to do things together that you couldn't do in the physical world. The company also announced tools to help people build for the metaverse, including the mixed reality Presence Platform for Quest 2, and a US$150 million investment in immersive learning to train the next generation of creators. Meta has also officially launched its Horizon Worlds metaverse app in the US and Canada, that lets users gather with others, play games and build their own virtual worlds using an Oculus 2 VR headset.

According to Zuckerberg, the metaverse will be "an embodied internet where you're in the experience, not just looking at it".

9. Alibaba Group
Year Founded: 1999
CEO: Daniel Zhang
Industry: eCommerce
Alibaba Group's mission is to make it easy to do business anywhere - operating commerce, cloud computing, digital media and entertainment, and innovation initiatives. While their main business comes from their 912 million consumers in China, the company has 265 million consumers overseas served by Lazada, AliExpress, Trendyol and Daraz, making a total well in excess of 1 billion active users. Unconsolidated related party Ant Group also provides digital payment services and offers digital financial services to consumers and merchants and other businesses on our platforms.
8. TCS
Year Founded: 1968
CEO: Rajesh Gopinathan
Industry: Consultancy
A global leader in IT services, consulting and business solutions with a large network of innovation and delivery centres, TCS has 500,000 of the world's best-trained consultants in 46 countries; generating consolidated revenues of US $22.2 bn in the fiscal year ended up to March 31, 2021. This consultancy is part of Tata group, India's largest multinational business group.
They have recently been announced as the title sponsor of the Jaguar Formula E racing team, a multi-year deal which will see the consultancy provide technology and data services, as well as appearing on the side of the team's car.
7. SAP
Year Founded: 1972
CEO: Christian Klein
Industry: Information Technology and Services
Initially called System Analysis Program Development, later abbreviated to SAP, the company has grown from a small, five-person endeavor to a multinational enterprise headquartered in Walldorf, Germany, with more than 105,000 employees worldwide. Today, SAP has more than 230 million cloud users, more than 100 solutions covering all business functions, and the largest cloud portfolio of any provider.
77% of the world's transactions revenue touches an SAP system. CEO Christian Klein is, at 41, is the youngest CEO of any major enterprise on Germany's DAX blue chip market index.
6. Deloitte
Year Founded: 1845
CEO: Punit Renjen
Industry: Consultancy
Deloitte is a leading global provider of audit and assurance, consulting, financial advisory, risk advisory, tax, and related services; with approximately 330,000 people in more than 150 countries and territories. Such is their impact in the enterprise IT environment and technology as a whole, they simply had to make this list.
Their culture and purpose is to make an impact that matters. The WorldClass initiative aims to support 50 million people by 2030 to develop job skills, improve educational outcomes, and access opportunities to succeed in the digital economy. Their WorldClimate sustainability strategy is committed to responsible climate choices and their culture is underpinned by their ALL IN diversity and inclusion strategy.
5. IBM
Year Founded: 1911
CEO: Arvind Krishna
Industry: Information Technology and Services
The mainstay of any IT environment, the iconic IBM refuses to lie down in the battle of Big Tech. Back in 2019, the business unveiled the first circuit-based commercial quantum computer, Q, allowing users, researchers and developers to explore the potential of quantum to solve real-world problems. Quantum is a major focus moving forward for the organisation - and one many believe the company's future may hang on. Sustainability efforts are also at the forefront of corporate strategy, as IBM also recently committed to net zero greenhouse gas emissions by 2030.
4. Apple
Year Founded: 1976
CEO: Tim Cook
Industry: Consumer Electronics
Financial results for its fiscal 2021 fourth quarter ended September 25, 2021. The Company posted a September quarter revenue record of US$83.4 bn, up 29 percent year over year. This year, they launched the M1-powered Macs and an iPhone 13 lineup that has set a new standard for performance. Tim Cook, Apple's CEO. "We are infusing our values into everything we make — moving closer to our 2030 goal of being carbon neutral up and down our supply chain and across the lifecycle of our products, and ever advancing our mission to build a more equitable future."
The rumours suggest that we could see Apple's AR - or Mixed Reality product by the end of 2022, and the old rumour of The Apple Car is a slow burner, with the company is said to have had up to 1,000 developers working on the so-called Project Titan, with front companies including Faraday Futures and Sixty Eight Research.
3. Microsoft
Year Founded: 1975
CEO: Satya Nadella
Industry: Computer Software
It was an eventful year for Microsoft, with the planned phasing out of Windows 10, the birth of Windows 11, and a new version of Edge.
Even more significantly, back in October 2021, Microsoft had a market cap of nearly US$2.49 tn at market close, while Apple's stood at about $2.46 tn, temporarily making it the world's most valuable company. Microsoft last topped Apple in market cap in 2020 as the coronavirus pandemic wreaked havoc on supply chains. In October, Microsoft's Intelligent Cloud business unit, which houses Microsoft Azure, reported revenue reaching US$17 bn during the first quarter, marking 31% year-over-year growth. Additionally, server products and cloud services revenue jumped 35% driven in part by the 50% jump in Azure revenue. Microsoft has said that in the first half of next year, users of its Teams collaboration software would be able to appear as avatars in video meetings, signalling a shift to the metaverse.
2. Google
Year Founded: 1998
CEO: Sundar Pichai
Industry: Computer Software
This year, Alphabet X (formerly Google X), the experimental arm of the business, has conjured a novel way of delivering high-speed internet via beams of light through the air. Project Taara could lead to faster and cheaper internet in areas with poor infrastructure. Other projects include 'Mineral', new technology to build a more sustainable food system, 'Tidal', that works on improving ocean health, and 'Everyday Robot Project' - that aims to develop robots that can do useful tasks to help in daily life.
As of October 2021, the company grew its revenue 41% year over year to a record $65.12 billion and record profits of US$18.94 bn, or $27.99 per share. Additionally, Google's cloud revenue jumped 45% to US$4.99 bn, while operating loss narrowed to $644 million from US$1.21 bn a year ago.
Industry rumours suggest that rather than the metaverse, the company might focus on AR and their Google Project Glass.
1. Amazon
Year Founded: 1994
CEO: Andy Jassy
Industry: E-commerce
Amazon were clearly massive beneficiaries of the pandemic. Even back in the Spring of 2021, revenue rose from US$75bn (£54bn) at the same time last year to US$108.5bn for the three months to the end of March. Profit was up US$8.1bn, up from US$2.5bn a year previous.
Former CEO Jeff Bezos, who stepped down after 27 years at the helm in July last year.
"As Prime Video turns 10, over 175 million Prime members have streamed shows and movies in the past year, and streaming hours are up more than 70% year over year," he said.
AWS had also grown in its first 15 years to deliver US$54bn annual sales.
At COP26, Jeff Bezos announced a pledge of US$2bn to 'help nature', as Amazon-backed electric car firm Rivian raised almost US$12bn and Blue Origin, launched six rockets this year in a flurry of spaceflight activity.