Qualcomm leader discusses future plans at MWC Barcelona 2022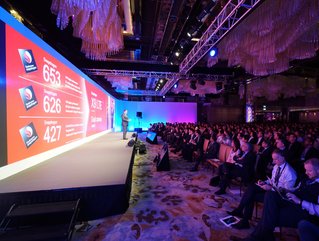 Qualcomm President & CEO, Cristiano Amon, announces innovation and connected intelligence in the Edge, industry 4.0 and the 5GmmWave Accelerator Initiative
One of the world's leading wireless technology innovators, Qualcomm today shared their plans for the future today at the Mobile World Conference 2022 from Barcelona, where BizClik employees are also in attendance as they represent the company on behalf of Mobile Magazine.
Among the highlights shared by Qualcomm President & CEO Cristiano Amon were new capabilities for Snapdragon semiconductor products for mobile devices, increased wireless connectivity in the Edge, new plans for industry 4.0 applications and even a surprise move into automotive.
There were also guest appearances from key partners including CEO of Ericsson, Borje Ekholm, President of Intellugent Devices Group at Lenovo, Luca Rossi, and Rubo Liang, CEO of Bytedance (and the owners of the Tik Tok platform.)
MWC Barcelona is the world's most influential event for the connectivity industry, where world-leading companies and trailblazers share the latest thought leadership about the progression and future of connectivity. It provides a great place for networking opportunities with mobile and tech industry influencers. The conferee is attended by global mobile operators, device manufacturers, technology providers, vendors, and content owners exhibiting ground-breaking products and technologies.
Inventors of breakthrough technologies that transform how the world connects, computes, and communicates, Qualcomm are largely responsible for many products and technologies used every day by consumers, including 5G-enabled smartphones that double as pro-level cameras and gaming devices, connectivity solutions in remote areas, 5G that makes cities safer with smart infrastructure, and the technology that powers smart, connected factories behind manufacturing.
Cloud growth requires the connected intelligent edge
One of the Amon's key points was on increasing data at the edge. The President and CEO said in order to do so, this requires more local processing and intelligence.
According to Qualcomm, cloud is growing 35% year-over-year, with 64% of data to be created outside of data centres by 2025.
Outlining the future of the modern network over the course of an hour, Amon presented a full rundown of a raft of new newest technologies and joint efforts; all designed to power next-generation experiences while accelerating innovation and digital transformation across key segments. These include XR, automotive, wireless fibre, mobile computing and more.
Amon insists that with "connectivity, high-performance, low-power computing and on-device AI, Qualcomm is positioned to become a leader of the connected intelligent edge."
Two of the key messages were the evolution towards open, virtualised 5G RAN with the likes of Hewlett Packard and Fujitsu and the 5GmmWave Accelerator Initiative, a global collective with founders Ericsson, NTT Docomo, Verizon, Deustche Telekom, Telstra, China Unicom and Qualcomm themselves, who are focused on readying the market with the devices to handle 5GmmWave and fixed wireless networks.