Sustainability LIVE preview - Technology speakers on day two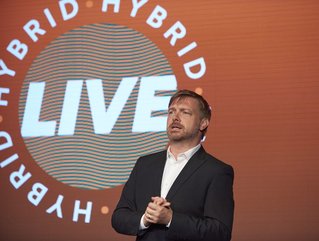 Continuing our build up to Sustainability LIVE on 23-24 February, we preview speakers from Siemens, European Space Agency, SAP, Capgemini and many more!
Once again, some of the world's largest companies are coming together to showcase their ESG strategies and create actionable change and real-world partnerships on February 23rd - 24th, as we invite a huge roster of speakers to lighten up Sustainability LIVE 2022 from London's Tobacco Dock.

The two day event is already the largest ever hosted by BizClikMedia Group and will be attended live by thousands, both in-person and joining the event broadcast live via a fully interactive virtual platform. The conference agenda includes several stages of talks by global industry leaders, centred around a fully catered networking area.
To celebrate technology's role in tackling sustainability initiatives and programs, we preview day two highlights from some of the biggest names in the business.

Below is a rundown of all the key technology companies that will be in attendance on day two of Sustainability LIVE, Thursday 24th February.
These are the tech leaders shaping the future of sustainable business - so don't miss out on this great mixture of fireside chats, panel discussions and keynote speakers.
For those unable to attend the event in person, make sure to note those speakers that can be caught virtually with the live broadcast and on demand after the event.


IAC - Mind the gap - navigating the sustainability talent market
Technology Stage (Virtual)
10:00
Chris Brooker is Director of IAC, a global recruitment consultancy dedicated to Corporate Governance. He explains his role in providing specialist sustainability search capability to clients across professional services, corporates and financial institutions. Themes discussed include: ESG, net-zero, UN SDGs, climate risk, reporting or any other area of sustainability. Solutions for the Planet
Capgemini - Solutions for the planet
Main Stage
10:30
Global Head of Corporate Sustainability, James Robey, leads the sustainability agenda for Capgemini Group, a global leader in consulting, technology services and digital transformation. He is a long-term advocate of ambitious and transparent targets as a mechanism to drive innovation to ensure continual improvements. Robey shares how he is leading Capgemini's bid to become carbon neutral no later than 2025 and net zero by 2030.
SAP - Accelerating a circular economy
Main Stage
12:30
Global Head of Circular Economy Solutions, Stephen Jamieson is founder of the SAP's Plastics Challenge and has been working collaboratively with industry, NGO and regulatory stakeholders to develop design-led solutions aligned to SAP's 2030 Clean Ocean Vision. This has now culminated with the launch of SAP's Circular Economy program, a portfolio of solutions that deliver Sustainable Business Processes aligned to global impact.
SAP - Sustainable E-Commerce & coding
Main Stage
13:00
One of our Top 100 Women in Technology, Global VP of Cross Mobile Engineering, Nicole Berg builds, develops and grows teams into autonomous, self-developing and award-winning organisational units. Berg is a customer and end-user focused, energetic, goal-oriented and empowering leader with 16 years+ experience in consulting, application implementation, process optimisation, agile transformation, project management, global escalations, training and mobile engineering.
Sustainability Stage
15:00
Pip Squire is Head of Sustainability Head of Energy, Design & Innovation for Ark Data Centres. Starting as employee #1 at Ark, he has helped Ark become the first company to deploy fresh air free cooling data centres at scale, with industry leading energy efficiency metrics. He'll discuss how the company procures 100% renewable energy, harvests rainwater, utilises on-building PV arrays and biodiverse landscape management.

Main Stage
14:00
Global Health, Safety and Sustainability Associate Director, Ben Clifford, has been working in the Health, Safety and Sustainability field for over 15 years across an number different sectors including Aerospace, Defence, Technology, Transportation and Finance. Clifford will talk about sustainability in the financial industries and Fidelity's own journey to carbon neutrality.
European Space Agency - Sustainability of space activities – the role of ESA in the European space ecosystem
Main Stage
15:00
Last year, Andrea Vena was appointed Chief Climate and Sustainability Officer to ensure that ESA and its programmes contribute to the Paris Agreements on Climate Change and the European Green Deal. He's in charge of elaborating and implementing an ESA Green Agenda, which identifies actions and activities needed for the Agency to achieve the GHG reduction Science-Based targets in line with the Paris Agreements.
Siemens AG - Accelerating the sustainable transformation and creating value for all stakeholders
Technology Stage (Virtual)
15:30
A huge role model to Sustainability Magazine, Senior VP for Sustainability and Operational Excellence, Jenny Bofinger-Schuster, has worked closely with BizClik before and we're delighted to welcome her back to the stage. Bofinger-Schuster will share her work on resource and energy efficiency, sustainability management and Siemens' Business to Society approach, addressing the challenges caused by urbanisation, climate change and globalisation.