Kate Maxwell
Chief Technology Officer for Microsoft's Worldwide Defense and Intelligence Industry

As the global landscape evolves at an unprecedented pace, Microsoft is helping defence and intelligence clients with game-changing capabilities
Technology leader Microsoft has been a key partner in supporting the allied defence ecosystem for four decades, helping organisations all around the globe in securely harnessing data as an asset and delivering technology solutions to meet mission-critical needs.
As the technological landscape continues to evolve, developments are now coming faster than ever. As Kate Maxwell, Chief Technology Officer for Microsoft's Worldwide Defence and Intelligence Industry, explains, the pace of change – particularly in recent years – has been extraordinary.
"If we look at where the world is right now, there's just an incredible pace of change in so many ways: technological, geopolitical, an ever-growing threat and opportunity list – I've never seen anything like it," she comments.
"Our defence customers face adversaries who are increasingly taking an integrated offensive posture – with traditional kinetic effects now married with cyber effectors and disinformation campaigns. That is modern warfare, and it is playing out in real-time."
Maxwell has spent her career working as a civilian technologist in the defence and intelligence space.
Today working for Microsoft as CTO of its Worldwide Defence and Intelligence Industry, Maxwell previously spent 17 years working with Raytheon Technologies. "I don't come from a military background. A lot of people who work in this industry have a direct tie to the military, but that was not my situation," she tells us.
"I was a computer scientist studying at a US university. Raytheon came and recruited at my school, and I initially thought, 'I don't know what aerospace and defence is, but I'll check it out because it sounds interesting.' Fast forward and I ended up spending 17 years with the company. It was the most amazing experience, and it changed my life."
The belief that the future of defence is largely software-driven and software-centric is what brought Maxwell to the world of commercial tech: "I wanted to support the mission from the commercial side. I have now been with Microsoft for almost three years. My team supports "Five Eye" customers, NATO member states, and allies all over the world on a daily basis, in the midst of some incredible times and challenging geopolitical events. There is such an opportunity to create impact and make a difference – at a global scale."
Working with Microsoft also presents opportunities to invest in game-changing technology early on, and explore the "dual-use" opportunities for Public Sector customers. "A number of years ago, Microsoft had its eye on a company called OpenAI, and we saw an opportunity to do big things together. This is going to change the world, and we wanted to be a part of it.
"In 2019, we invested a billion dollars in OpenAI to support their research and development efforts. We gave them access to Microsoft Azure as their exclusive cloud platform. We have supported them in their journey – and it's an incredible one! – and the world is now seeing the fruits of this partnership really coming to life.
"It is these sorts of initiatives that make it amazing to work at Microsoft, and to work with Microsoft if you're a partner or a customer. We have early access to world-class and world-changing innovation. That innovation is happening at an incredible pace, in large part because of the resources that we have available to us, and with Azure as an incredibly powerful platform for accelerating these partnerships."
As Maxwell describes, Microsoft aims to empower customers and partners to do more through the power of technology, digital transformation, and culture. "That's our mission statement, and that's why we're here," she adds. "This is the Microsoft story. We put our customers and partners central to everything that we do. And in the Defence and Intelligence industry, we never lose sight of the mission. It is what gets us out of bed in the morning. We are personally invested in it, because we believe in it. And we are so grateful to our defence customers for their dedication to the mission, and for their trust in us as a mission partner."
Read the full story HERE.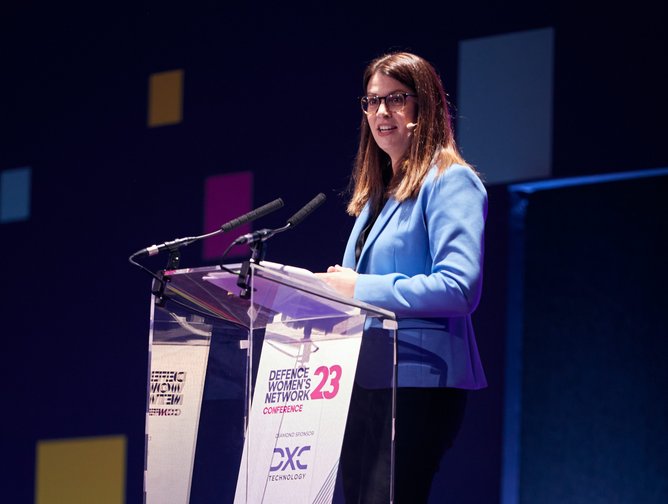 Kate Maxwell at the Defence Women's Network Conference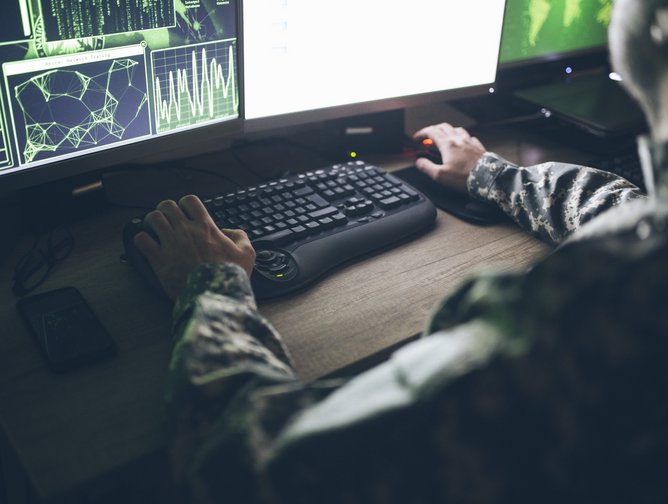 Computer
"We're now shifting to delivery, pivoting into working more in the battle space, and supporting our ambitions in terms of NATO.