Entertainment industry continues to sound out the metaverse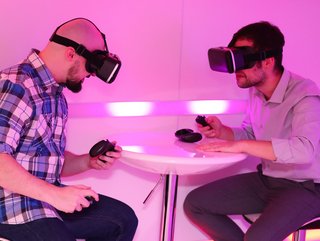 The world's biggest companies, such as Google, Apple, Meta and Microsoft, have each made significant metaverse investments
As interest in the metaverse continues to mount, entertainment events, from music to sport, are increasingly taking place in the virtual space
The 2018 film Ready Player One, which envisioned a future where people are connected to – and living in – the metaverse, may have been a work of fiction, but with the concept dominating the technology world's thoughts last year, could the film's 'Oasis' be closer than we think?
Interest in the metaverse is clearly on the rise. The world's biggest companies, such as Google, Apple, Meta and Microsoft, have each made significant metaverse investments. Meanwhile, according to McKinsey, in 2021, internet searches for the metaverse increased by 7,200%, and approximately 60% of consumers said they are excited about the transition of everyday activities, like shopping, dating, and working out, to the metaverse.
Prompted by COVID-19 and the absence of in-person gigs and concerts, the metaverse has made its presence felt in the music industry too. In April 2020, Epic Games' battle-royale video game, Fortnite, grabbed the music industry's attention when a lucrative virtual event starring an avatar of Travis Scott brought in 27.7 million unique players, while a digital gig by Lil Nas X on the Roblox platform attracted an astonishing 33 million viewers. Research conducted by Mastercard last year found that almost a quarter (23%) of people aged 16-24 have already attended a metaverse gig. A further step into this new domain was the 2022 MTV Video Music Awards (VMAs) debut of a new category for Best Metaverse Performance.
Entering the metaverse
Coined in 1992 by American science-fiction writer Neal Stephenson in his dystopian novel Snow Crash, the metaverse is a fully-realised digital space existing beyond the physical space in which we live.
"The metaverse is sometimes described as a unified space that combines multiple virtual worlds into a single, interoperable location that can be easily accessed by many users," according to Stan Sakharchuk, Co-Founder and CEO of software company Interexy. "The metaverse is an entertainment experience by itself, providing many opportunities for users to interact with virtual items and access a variety of events. The fact that it can help users feel like they are in the physical world and engage with unfamiliar, yet acutely familiar, surroundings is entertaining. That's why providers and developers should consider these capabilities to deliver content that users value and like."
The 10 layers of the metaverse
According to McKinsey, today's metaverse consists of 10 layers, which fall into four categories: content and experiences; platforms; infrastructure and hardware; and enablers.
In October 2021, Facebook rebranded itself Meta to capitalise on the emerging concept of the metaverse. Since then, from gaming to sports to music, brands like high-fashion giants Gucci, Louis Vuitton and Dolce & Gabbana, alongside the likes of Nike, Adidas and Coca-Cola, have embraced the concept of the metaverse.
The potential of the metaverse is clear
According to a report from the Capgemini Research Institute, while meaningful interaction in the metaverse is currently only possible in relatively small groups, the potential for mass interaction is clear.
While the strongest wave of interest for the metaverse comes from tech enthusiasts, who account for only 4% of Capgemini's survey population, the research also noted that 93% of adult consumers surveyed are metaverse-curious.
"The way people use the internet is going to change. The metaverse can be understood as a network of different platforms – such as Horizon Workrooms, The Sandbox or Roblox – where we will store, work, communicate, play and educate ourselves in the future," explains Matt Redman, UK Strategy lead at global business transformation company Valtech. "All this is made possible by digital avatars that we can use, enabled by virtual reality (VR) and augmented reality (AR) technologies, to interact with other users and enjoy immersive experiences."
Quarter of people to spend an hour a day in the metaverse
By 2026, 25% of people will spend at least one hour a day in the metaverse for work, shopping, education, social and/or entertainment, according to Gartner.
Last year's FIFA World Cup could be described as the first Web 3.0 World Cup, with fans in the stadium able to view live information from players' speed to heatmaps and possession percentage through the FIFA+ app. Meanwhile, the North American National Basketball Association (NBA), in collaboration with Niantic, the maker of Pokémon GO, has announced the launch of NBA All-World, which will overlay a video-game environment on a real-world map, using real-world basketball courts for virtual games and allowing players to choose any location.
Metaverse brings with it rights concerns
Well-known brands such as Nike, Tommy Hilfiger, Gucci, IWC, Dolce & Gabbana and Tiffany & Co. are becoming increasingly involved in digital fashion and experimenting with digital collectables or NFTs (non-fungible tokens). Nevertheless, there can be a natural tension between personality rights and copyright when it comes to digital avatars – especially when it involves a celebrity, explains Holly White, Head of Service Development at Rouse.
"We are expecting to see more and more issues arising from this as entertainment companies in the gaming and music sectors are increasingly utilising digital avatars to carry virtual concerts and events for fans," comments White.
"Personality rights refer to the right of an individual to control the commercialisation of their identity, and from their perspective, this would include digital avatars. This becomes more complicated because the personality rights of a celebrity are limited if that individual is under a contract with an entertainment company to fulfil a project. Further, a grey area arises if the contract is terminated early or ends at the intended date. When this happens, the question at hand would be who has ownership over the digital avatar."
Ensuring the safety of the metaverse
If the metaverse is considered to be a network of virtual worlds, safety and ethical aspects will be important to establish the sense of community that is central to its mass adoption. Whether for consumer or employee/workplace use cases, brands will need to address these concerns and have a way to regulate them before they create and deploy their virtual spaces, while also balancing privacy, security and data issues.
Based on a social media scan of over 180,000 conversations, research by Capgemini found that concerns around sexual harassment, personal safety, and privacy issues are top of consumers' minds.
"Regarding data privacy, the collection and use of consumer data are more important now than ever," White adds. "Data misuse or non-compliance pose big risks to businesses; they can significantly damage a brand's reputation and even the ability for a business to operate if licences are revoked. With creations like NFTs, non-compliance can feel inevitable because data stored in blockchain technology is not erasable. But it's vital that businesses understand where they have responsibilities and comply with the law."