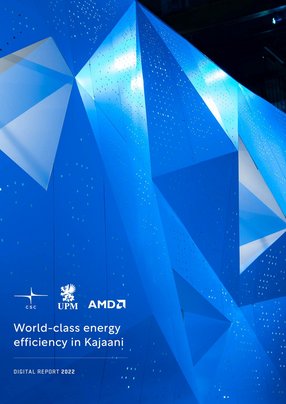 CSC/UPM/AMD: World-class energy efficiency in Kajaani
Jukka-Pekka Partanen, Hannu Havanka, and Andrew Dieckmann discuss their collaboration in Kajaani to create a safe, secure, and energy-efficient ecosystem
A celebrated pioneer in the sustainable development of ICT services, CSC is committed to promoting climate targets across its entire operations. As such, through supporting the green transition, reducing its carbon footprint, and achieving positive green growth, CSC aims to minimise the environmental impact caused by its activities.
The company is working in collaboration with UPM and AMD enhancing its data centre in Kajaani/Finland to offer world-class energy efficiency. "The key to energy efficiency is for all the energy consumed by data centres to be spent on meaningful activities i.e. computing power with low PUE. And the waste heat generated by the DC operator is used sustainably. This also lowers the energy cost significantly," explains Jukka-Pekka Partanen, Data Center Ecosystem Director in CSC - IT Center for Science.
A modern business park in Kajaani, based on an old UPM paper mill, hosts more than 40 customers including data centres. Kajaani Data Center Program has ambitions to further grow its customer base with both national and international clients.
"We want to create a synergy of benefits within the ecosystem for the data centres and the companies related to them. We also want to expand and deepen the knowledge on invocation of data, machine learning, and artificial intelligence (AI), as well as support Kajaani and the wider Kainuu region's visibility, reputation work, internationalisation and business," explains Partanen.

CSC
Founded in 1971, CSC - IT Center for Science is a Finnish centre of expertise in information technology. It is owned by the Finnish state and higher education institutions. CSC's mission is to provide high-quality ICT expert services – internationally – for higher education institutions, research institutes, culture, public administration, and enterprises.
CSC's Kajaani Data Center Program was created to attract new national and/or international data centre customers to Kajaani, as well as create synergy benefits as part of its ecosystem for the data centres; expand and deepen its knowledge on invocation of data, machine learning and artificial intelligence; and support Kainuu's visibility, reputation work, internationalisation and business.

UPM
Founded in 1996, UPM is a large Finnish forest industry company. UPM provides a variety of products made from wood. Due to the structural changes in paper making, many of the organisation's paper mill facilities are empty. UPM aims to implement new ways of operating on these premises. UPM Is dedicated to creating a future beyond fossils.
While its core business isn't real estate, after closing its paper mill activities, UPM has grown dedicated to developing its real estate into locations suitable for other usages.

AMD
Founded in 1969, AMD has driven innovation over 50 years in high-performance computing, graphics and visualisation technologies―the building blocks for gaming, immersive platforms and data centres.
AMD employees are focused on building leadership high-performance and adaptive products that push the boundaries of what is possible. Billions of people, leading Fortune 500 businesses, and cutting-edge scientific research institutions around the world rely on AMD technology daily to improve how they live, work, and play. For more information about how AMD is enabling today and inspiring tomorrow, visit the AMD (NASDAQ: AMD) website, blog, Facebook and Twitter pages.
Creating a safe, secure, and energy-efficient ecosystem
Working collaboratively, CSC has developed a strong partnership with UPM and AMD to develop a safe, secure and energy-efficient data centre ecosystem to Kajaani.
"AMD believes strongly in environmental sustainability and energy efficiency improvement efforts. We have announced an ambitious goal to achieve a 30 times increase in energy efficiency for AMD processors and accelerators from 2020-2025," says Andrew Dieckmann, Corporate VP & GM for the Data Center GPU Business Unit at AMD. "We are also dedicated to creating a future beyond fossil fuels. Sustainability is at the core of our company," adds Hannu Havanka, Vice President of Real Estate in UPM Kymmene Oyj.
As part of their joint efforts on this front, the three are supporting the EuroHPC Joint Undertaking, which harnesses and develops top-of-the-range supercomputers to boost Europe's scientific excellence and industrial strength, and to support the digital transformation of the EU's economy.
[VIDEO] - https://www.youtube.com/watch?v=gZrw58_Cu4g&feature=emb_title

One such supercomputer is located at Kajaani. "LUMI was ranked third on the Green500 list, published on 30 May 2022. The supercomputer was built on world-class environmental sustainability and cost-efficiency criteria. It helps the European ICT sector to drive the greener, more cost-efficient operations necessary to reach the EU's ambitious climate targets and pave the way for the green transition. With the smallest possible environmental burden and lowest cost for European taxpayers, LUMI is beyond compare," says Partanen.
The LUMI system leverages a coherent CPU and GPU interconnect using AMD Infinity Fabric™ technology, which offers high-speed, low-latency interconnect, a unified memory for applications and boosts efficiency.
"Applications using HPL code leverage this coherent interconnect to run the serial portions of the code in the CPU, with the parallel portions of the code on GPUs ensuring an efficient use of both the high performance of the AMD EPYC™ CPU cores and AMD Instinct™ GPU compute units. This also helps intelligently manage the data movement, thus simplifying programmability and easing the adoption of GPUs for HPC applications," explains Dieckmann.
He continues: "The LUMI system also has a downstream NIC directly attached to each of the Instinct MI250X GPUs that operates at 25Gbps, permitting low-latency messaging from GPUs to off-node, helping to overlap computation and communication, thus efficiently using the system and improving overall performance. These innovations are critical to deliver a system that can deliver 152PF of peak and 62.7 GFlop/W, achieving the #3 spots in both the Top500 and Green500."
Partanen adds: "The LUMI supercomputer is a really unique data centre investment in Kajaani. It is a top modern and efficient project that was completed in the agreed timeframe and budget. Kajaani is a proven location suitable for data centres and data centre ecosystems. As a proof, LUMI data centre has already won three international competitions in the most innovative project category."
Raising awareness of Kajaani and its capabilities
A unique data centre ecosystem with world-class solutions and services, CSC, AMD and UPM strongly believe in the capabilities of the Kajaani site and the opportunities it can provide to drive business growth.
"We have a proven data centre ecosystem at Kajaani. There is plenty of room for those in the data centre business sector to grow in our park facilities, where we offer world-leading speed-to-market delivery – thanks to the brownfield site – and a smooth permitting and planning process," says Havanka.
As both interest and visibility grow in the Kajaani area, CSC is dedicated to growing businesses related to its programme, finding new operators that can benefit from hosting a part of their footprint in the Kainuu region. Finland.

Such benefits and opportunities of operating in the Kainuu region include:
Cost efficiency - inexpensive electricity and reimbursement from waste heat utilisation.
World-class references - such as the LUMI EuroHPC project.
One of the most eco-effective data centres in the world - small carbon footprints and surplus amounts of renewable energy are in increasing demand.
Data - extremely effective connection.
Supply of HPC environments - CSC has strong knowledge alongside a track record of reliability and excellence in this area.

Unique ecosystem - offering professional partner expertise, dedicated education, and RDI.
"We want everyone to understand the opportunities and benefits that can be gained from housing their data centres at our base in Kajaani. Our data centre ecosystem with the LUMI EuroHPC supercomputer as its public reference significantly strengthens Finland's – and especially Kainuu's – role in the European and global high-performance computing ecosystem," says Partanen.
He concludes: "At the same time, it will strengthen the national and international status of Kainuu's ICT and Data Center services. Kainuu now has the opportunity to take advantage of the new prospects and build its data centre ecosystem to a new improved level. Now is the perfect time to attract new operators, to establish their presence as the world's best data centre location."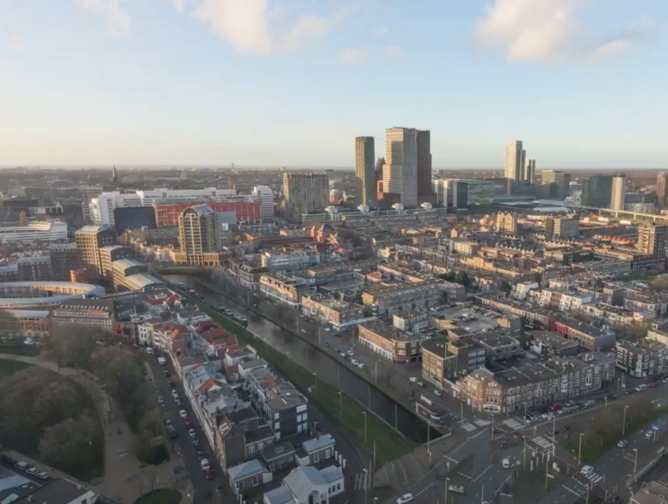 CSC/AMD/UPM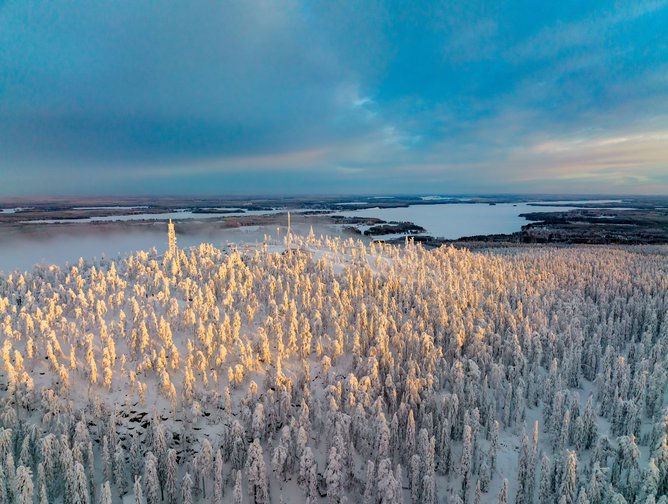 CSC/AMD/UPM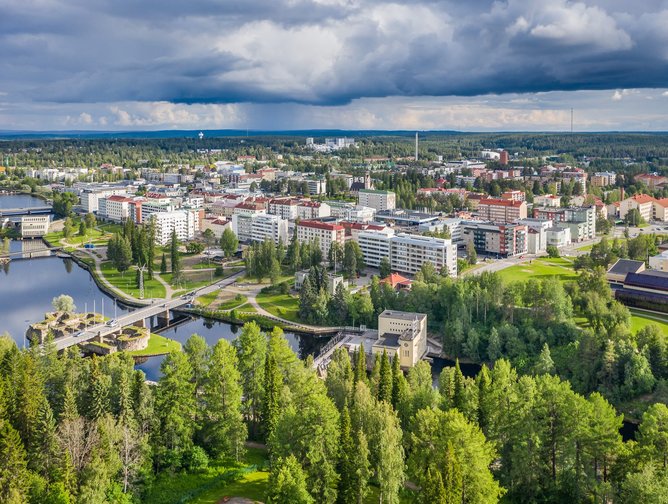 CSC/AMD/UPM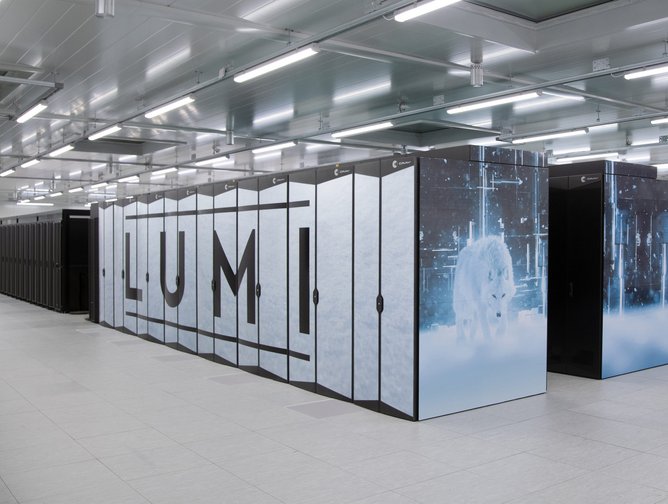 CSC/AMD/UPM