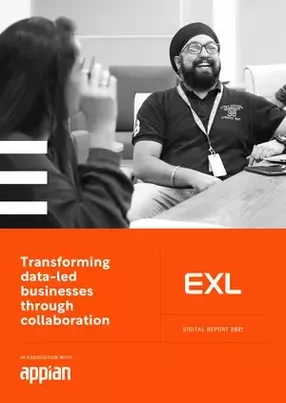 EXL: Transforming data-led businesses through collaboration
EXL supports its clients as they digitally transform their operations and as new technologies emerge, we explore how the company has adapted
As a digital partner, EXL is dedicated to continuous collaboration with clients. Understanding the rapidly changing nature of the technology industry, EXL constantly builds capabilities and leverages new technologies as they support customers.
Saurabh Mittal, Vice President and Digital Transformation leader for EXL Digital discussed the company and explained: "At EXL, we are very passionate about making sense of data and driving our client's business forward."
To ensure all of its clients receive suitable support, based on what they need, Mittal said: "EXL tailor the solutions that make most of the data for the client. We then show how the data enables them to make business decisions and drive more intelligence into their increasingly digitised operations."
With expertise in numerous industries, EXL can support organisations as they look to scale up the use of artificial intelligence (AI), help redesign operating models to be fit for the future and drive faster business decisions through the use of technology.
"Our expertise in the domain, digital transformation, data science, and change management helps make our client's business more efficient and effective, improve customer relationships and enhance revenue growth," Mittal explained.
He continued: "Instead of focusing on multi-year, resource and time-intensive platform designs or migrations, we look deeper at the entire business value chain and use our deep industry expertise to deliver the right transformation solutions that help our clients outperform the competition."
By looking through the entire business value chain, EXL is focused on the outcomes in order to drive businesses forward. To do this effectively, Mittal explained how the company urges its clients to "share their goals with EXL" so together they can leverage the data effectively.
Driving businesses forward with a range of personalised services
Founded on the core values of innovation, collaboration, excellence, integrity and respect, EXL ensures these values are present with every client they work with. By aligning themselves with the values the company was founded on, Mittal explained they are able to successfully "work together with clients to improve business outcomes, operations, and customer experience."
The company offers a range of services to drive its clients business forward. With EXL's deep domain expertise led operations management, Mittal said, "EXL caters to the unique challenges and opportunities of the industries in which we work."
These industries can be anything from insurance and healthcare to utilities, banking and travel and logistics.
With its extensive work in data and analytics, it comes as no surprise that EXL understands how data can be an integral part of business growth. Mittal explained: "Data is the lynchpin of better business performance and we can provide end to end data extraction, organisation, and analytics services."
"Whether you are migrating to cloud-based systems or implementing digital technologies, we help businesses modernise their information architecture and navigate immense amounts of data in complex systems, with a focus on doing advanced analytics to generate insights for business outcomes," he added.
Along with its deep domain and data expertise, EXL also supports its customers as they look to adopt AI solutions into their business models. By infusing AI and digital solutions across customer journeys, EXL is becoming a digital transformation partner of choice for its clients. 
Adding to this, Mittal said: "We look and go deeper to create a personalised set of solutions to increase speed to value with digital operations at scale."
Achieving hyperautomation with EXL
To adapt to new concepts and technologies, particularly in the AI space, EXL has developed a hyperautomation approach to accelerate its clients' digital adoption. Its enterprise-wide intelligent automation strategy helps its clients scale their existing automation programme to make it even smarter.
Discussing the approach, Mittal said: "EXL's Hyperautomation focuses on shifting business from people-intensive legacy OS to a future-ready, thin human-AI Operating System (AI:OS). Our approach combines the power of automation, AI and analytics, and orchestrates these levers on the cloud to accelerate digital transformation. It is a cohesive automation suite that marries different digital transformation tools with highly modular, cloud-enabled, pre-built accelerators and solutions. It helps organisations execute with speed for optimum business and customer outcomes."
There are numerous benefits to the adoption of EXL's hyperautomation approach, this includes:
AI-infused streamline of end-to-end data flows and business processes

The ability to orchestrate multiple technologies to design and deliver end-to-end business solutions

Delivery of 50%-100% higher returns when compared to traditional automation

The shift from infused-based commercial models to ROI-led modes

Enables clients to achieve scale and flexibility rather than relying on a single technology for automation purposes

Hyperautomation equips employees to focus on more value-added tasks

It improves collaboration through better access to data and seamless communication.
Ultimately for its clients, EXL's hyperautomation approach delivers significantly higher business outcomes. It shows a 20-30% higher year on year impact; a 3-4 times higher return on investment; provides 10-20 times more data available for advanced analytics and shows a 30-40% benefit on operations spent in a steady state.
Collaborating to effectively meet the needs of EXL's clients
Digital transformation and the introduction of new technologies is happening at a rapid pace. To ensure the company is meeting its clients' needs effectively, EXL introduced its Connected Intelligence Partner Program.
The program ensures specialised expertise, deep industry knowledge and leading-edge technology is harnessed and integrated seamlessly to push forward business transformation. Discussing the program, Mittal said: "We join forces with industry leaders and innovators to bring the best solutions and expertise needed to solve our client's most complex challenges."
Expanding on the different ways innovators have supported EXL in its mission to digitally transform businesses, Mittal explained: "Our collaboration with AWS (Amazon Web Services) is helping us operationalise and scale AI, analytics and automation within enterprise business processes to achieve the promise of the data-driven enterprise."
"Similarly, our joint partnership with Amelia, an IPsoft company, is helping infuse AI into every customer interaction at scale. Our conversational AI-led CX can be deployed across industries, hence building resiliency and solving customer problems while maintaining a human-like interaction experience," he added.
EXL is currently looking to build faster and more reliable methods to drive forward business growth and increase value. To do this, the company is leveraging Appian's enterprise software to build enterprise apps and workflows ten times faster than traditional methods. This is to ensure seamless dataflows which will, in turn, improve customer experience and operational excellence.
Mittal expanded: "With Appian, we're building enterprise-grade apps and workflows using process re-design by code approach. We're combining our domain experts, data and technology to build scalable cloud receiving centres that are fundamentally changing the operating model for our clients. From building a global common backbone for streamlining data flows from unstructured data sources to creating custom utilities for data-driven processing, Appian is helping EXL in transforming delivery even with legacy client infrastructure. 
"For one example, EXL is designing an AI-powered cloud "receiving centre" for a leading title insurance company to de-risk its technology transformation. EXL  simultaneously took on the dual responsibility of running the operation as well which enabled our client's operations to respond to their customers faster with a more cost-efficient and scalable operating model," he added.
This work with Appian and other partners aligns with the company's core value of collaboration and Mittal believes this is the driving force behind EXL's success.
He said: "Together with our partners, we believe we can collaborate on a differentiated and winning approach to deliver innovative solutions and services that outperform our clients' expectations, beat the competition and transform the marketplace."
Bold moves for the future
As with the companies EXL supports with their digital transformation, the company also has had to adapt to the ever-changing technology environment. Discussing this, Mittal said: "It's already been seen that different technologies are changing the way we operate ourselves. The biggest change we're seeing is with the newer generation that we employ, who are quite apt in using this technology themselves and have a good appreciation of them too."
"Essentially, what's happening is that this technology proficiency has elevated their role and customer outcomes. This is the biggest change that I'm seeing, as previously the majority of effort would have been on the bottom of the pyramid, low-value transactions. Today, by leveraging these technologies, my team is able to get a lot of proactive insights and do more complex work at an astonishing speed that otherwise wouldn't have been possible."
Mittal explained the company, despite being a driver for technological expansion, is keen to keep the human element when it comes to digitally transforming a business.
He explained: "The key thing is that it is not just technology that plays a part. We always top that with the human element to bring emotional acumen and spatial experience to drive subjective decision making, thus keeping customer experience at the centre of focus since everything cannot be rule based. This is because the company feels that collaboration between a human and a piece of technology is going to be a key game-changer in the future."
Looking at the company's goals for the future, Mittal shared what can be expected from EXL in the coming years, saying: "We're on an exciting journey and looking forward to playing a significant role in this decade of digital. You can expect us to be making bold moves in outcome delivery by leveraging our expertise in data analytics, AI and digital technologies coupled with human ingenuity."