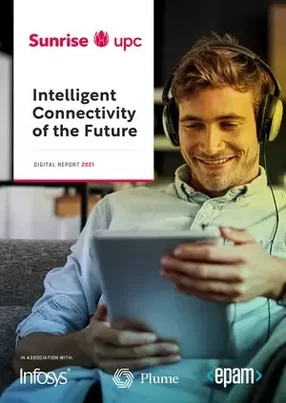 Sunrise UPC: Intelligent connectivity of the future
Merger of UPC and Sunrise ushers in a new dawn for seamless connectivity powered by 5G and fixed network infrastructure for millions of Swiss customers
How many connected devices are in a typical home? It may come as a surprise that on average a family of four has 30-40, from smart TVs to tablets and XBoxes that are used to stream, chat, and game - usually all at the same time - with every member of the household demanding seamless connectivity. 
"The race for speed is on", said Fabrizio Campanale, Senior Director of Entertainment and In-Home Connectivity at Sunrise UPC, speaking from his office in Zurich, Switzerland.
"People are looking for a seamless service, for streaming their favourite film to working from home, and many are becoming agnostic as to what network they use, as long as it is fast and reliable- which is what Sunrise UPC can offer".
In one of the largest mergers of two companies in recent Swiss history, UPC and Sunrise are now perfectly placed to meet the changing habits of their customers, who have adopted hybrid working due to the pandemic, and offer even more business power to the self-employed, SMEs and large-scale companies.
Sunrise and UPC complement one another perfectly as customers benefit from the fastest 5G network from Sunrise and the reliable UPC Giganet. The company is a leading provider of communication and entertainment with a focus on innovation, untethered connectivity, personalised entertainment, and digitisation. It offers a wide range of broadband, TV, mobile, and telephony services to its two million customers.
This includes an extensive range of TV channels, seven days of replay, and thousands of films and series available on-demand plus the MySports channel and online platform esports.ch which offer the best sports entertainment. 
Seamless connectivity for 'happy moments'
The man driving the connectivity for the Sunrise UPC audience to enjoy "happy moments" such as seeing their country lift the Euro 2020 trophy or the final episode of a Queen's Gambit on Netflix is Campanale. "We need to ensure that our users always have the best quality TV experiences in their connected home. 
"From one side, there is the planning and preparation for the evolution of technology - the innovation pillar - and on the other side, there is the project execution - the delivery pillar - and then there is the running and operating of the platform and infrastructure which is 24/7 to ensure the right quality", he said.
"What we learned in the last year is that it is not possible anymore to consider the TV service separated from the home connectivity service. The way customers consume content today is becoming network and device agnostic", commented Campanale.
"There are on average 30-40 connected devices in the home. From a smart TV, a set-top box, or a PC the customer expects a seamless and high-quality experience. We have learned that focusing only on broadband connectivity or the box is not enough. 
"We need to look at the KPIs that all contribute to the quality of the experience end-to-end, which is why we look at this as a unified platform not isolated to the TV, connectivity, or one modem. Today, we have to ensure our connectivity works perfectly, and only then our customers can enjoy the great product we put on the TV. 
Campanale predicts the number of devices per household is only set to rise and could reach a peak of more than 40. With the evolution of in-home connectivity going toward IoT, and you start thinking about virtual schooling, gaming, smart light control, and all the devices that are intelligently controlled, you will very easily reach this number of devices that need to be connected".
Fibre optic network
With Sunrise UPC's mobile and hybrid fibre network customers can do all of these things without experiencing a loss of performance.
The network has the technological advantage that it can increase the internet capacities to several Gigabits per second if needed – without any construction work being necessary - paving the way for future digital trends.
Power of Sunrise and UPC 
The combination of Sunrise and UPC will continue to expand the next-generation network structure, including 5G and future technologies, to be able to supply up to 90% of Swiss households with gigabit Internet during 2021. The speed will gradually be increased to 10 Gbit/s.
"The 5G and mobile superiority of Sunrise and a strong, fixed network infrastructure of UPC is the perfect combination for today's market," said Campanale. "Thanks to its fastest 5G network and the leading Giganet in Switzerland, Sunrise UPC offers 360° communication solutions for the digital, mobile, and secure workplace. 5G and IoT solutions increase the agility, innovative strength, and productivity of companies.
"It's an exciting moment because we are leading an incredible technology revolution combined with a radical change of our customer habits. We have in front of us a unique opportunity to offer better services tailored for the new habits and needs and, together with our new combined company, we have created a unique DNA confident, and willing, to provide these services to the Swiss market", said Campanale.
Race for speed 
Commenting on how Sunrise UPC responded to the challenges of the pandemic, Campanale said: "We were in the frontline to support the population during this terrible period of lockdown. At the first sign in February 2020, we started simulating and testing the boost of network bandwidth consumption and preempting what was going to happen. I am proud of how we responded to this emergency to ensure the constant, reliable service to our customers who were working from home or the families consuming entertainment or engaging with remote schooling.
Furthermore we provided a number of supporting enhancements for the customers due to the difficult situation: we quickly opened a few extra kids channels for free and we enabled higher upstream speed for the lower tier internet products.
Campanale pointed out that with a new hybrid working environment, he does not anticipate a return to normal life. "The race for speed is on. We are accelerating and investing to improve the service. We will go to the 10 Giganet and we will enlarge the pipe and the bandwidth so that you can have multiple utilisation.
"We will utilise our bandwidth and the Giganet, to ensure the network is stable and reliable and support the new way of working with the reliability, the quality, and the added value services that we will put on top.
"This shift of habits, such as smart working with video conferencing and downstreaming movies from Netflix or Disney or watching TV in the day, has accelerated our investment 
in the features, and the value of the services we are putting in, such as a strong push toward more apps and streaming".
Campanale pointed out Sunrise UPC is always anticipating a special event like the release of an update to Fortnite, or Call of Duty. "We watched very carefully to the point that we dabbled with the pipe for new series on Netflix. With everybody binge-watching at the same time you never know what is going to happen so we want to be ready.
"But a live event, such as the Euro 2020 final or Formula 1, is a little more dangerous as there is not so much time shifting from our perspective. Also, teenagers waiting for the precise moment of a gaming release creates a spike". 
Excellent user experience
Sunrise UPC is using the connected entertainment as a unit. "We are leaving the old way to operate the internet services where we were supporting the user experience, isolating the single element of the value chain, the network, the hardware, and the software. We try to look at this from end-to-end, and the KPIs which are relevant for users, and then we collect all of them from the modem, from the box and in the cloud, and then we utilise sophisticated analytics and Artificial Intelligence to improve this customer experience. 
"It could be by optimising the Wi-Fi through dynamic Band steering (switching automatically from 2.4GHz to 5GHz) or through Channel Optimisation" , said Campanale.
"We offload from the customer this with complexity and need of configurations, regardless of the complexity of the environment. We can warn customers through our digital app if the coverage is not good enough and ask them to please request a WI-FI extender or install the modem in a different place elsewhere as you are having poor coverage in this corridor. 
"We want to introduce mesh network topology so that we can add coverage in a house, which you will not have with a single device. All this is through this cloud-based managed service up to the point that we can preempt what is going to happen to the customer and call them to proactively support them. This will not only improve the customer quality but also will improve our investment, reducing the need for a technical swap of the modem where it is not needed. So we have this exciting possibility in front of us".
"We want to browse the web, stream, chat, and game – all at the same time. With Sunrise UPC's fibre optic cable network you can do all of these things without experiencing a loss of performance.
"In addition, with our network, we have the technological advantage that we can increase the internet capacities to several Gigabits per second if needed. And so we are ready for future digital trends".
Fixed-mobile convergence national champion 
Commenting on plans for the future Campanale said; "We want to fulfil the commitment to be the fixed-mobile convergence national champion. We will not be slowing down because of the merge, but we will keep accelerating. We will contain with our digital transformation, that we started as two independent companies, and since getting together has become more important. 
We intend to become a fully digital service provider, enabling our customers with personalisation with a choice of digital apps and our entertainment offers to become a more cloud-based service".
Citing the competitive edge of Sunrise UPC, Campanale said there were a number of key factors. "First of all, we now possess the perfect complementary combination and strengths of two companies. We have the 5G and mobile superiority of Sunrise and a strong, fixed network infrastructure that we offer at UBC. This is top, but we also have this scale and resources LGI, which offer opportunities for investment in innovation, not available for new incumbents and the small players. These factors give us the competitive advantage in the market".
Power of partnerships
Campanale commented on the importance of Sunrise UPC's partnerships with EPAM, PLUME, Infosys, and Huawei especially in relation to the end-to-end service of entertainment and connectivity in the home.
"If you look at how we need to analyse KPI's and interoperability of the multiple devices in the in-home connectivity, the only way is through a cloud-based managed service and third-party application. Our partners are key to this strategy. We have built that connectivity excellence centre in Liberty thanks to EPAM and PLUME. We are constantly improving cloud service-based management, thanks to these partners. We have a service platform built together with Huawei and products and support services with Infosys.
"The ecosystem is supporting infrastructure for in-home entertainment and connectivity.  Our ecosystem is built, conceived, and designed together with our partners, and we only choose the partners that are best in class", he said.
Liberty Global - investing in reliability
Liberty Global acquired the company in November 2020 for a reported $7.4bn in order to create a stronger challenge to incumbent Swisscom.
Mike Fries, CEO, Liberty Global, said the merger "marks another important step in our strategy of creating leading national fixed-mobile champions across Europe. 
"By bringing together UPC's leading gigabit broadband network and the most advanced 5G network of Sunrise, the combined company will provide seamless connectivity for millions of Swiss consumers and thousands of Swiss businesses".
Fabrizio Campanale, Senior Director of Entertainment and In-Home Connectivity at Sunrise UPC, welcomed the acquisition as the company has a reputation for investing in reliability and innovation.
"This is cascading in all the countries where Liberty is present," said Campanale. "We have the same objective and the same commitment toward our customers. We can benefit from the exchange of experience and improvements among all the countries to improve the product quality. 
We have a constant alignment and knowledge sharing and learning experience. This is extremely helpful and the cascading and the sharing information of being part of a large-scale enterprise.
"Liberty Global is like being part of a family as you always feel the most ambitious goal can be accomplished as everyone supports you. They have been constantly investing in infrastructure. From the early days of the deal and throughout the integration, the backup from the central corporation has been -  and still is - constant. We have had an enormous investment in technology, the product, and the strategic investment to keep the commitment we took at the beginning of the deal.
90 years of history
UPC has a long and proud history as a pioneer in the telecommunications sector. 
Over the past few decades, they have shown one thing: that they are - and have always been - able to react flexibly to change while constantly being ahead of their time. 
It all began in 1931 when they were called Rediffusion, and it still holds true today, as they continue to advance into the age of digitisation, entertainment, and technology.
In June 2017, they became the first provider in Switzerland to offer Mobile subscriptions with EU roaming included. 
In early 2000 the company was acquired by Liberty Global and in 2020 merged with Sunrise. The TV platform and the UPC TV app offer access to a broad OnDemand choice along with Netflix along with their own MySports TV channel. 
Their hybrid cable fibre network means customers are well connected at all times and can browse the web at a breathtaking speed of 1 Gbit/s – both in the city and in the countryside.
How will UPC continue to be agile to the needs of your customers?
"We will do this by measuring listening and adapting constantly to the user demands: through our customer services, our NPS survey and then investing in a better service every day".
Can you predict what the future of in-home entertainment is going to look like in three years?
"Cloud-based mesh network topology, digital and access device-agnostic, fully fixed-mobile conversion".
How have you seen a shift in habits towards in-home entertainment during the pandemic?
"We have seen an increase of upstreaming usage of at least 20% due to the home-office increase. Whereas a shift from prime time towards daytime consumption of entertainment contents for the downstreaming. Furthermore an increasing demand of reduced latency for gaming.   
Life outside the office
Fabrizio Campanale, Senior Director of Entertainment and In-Home Connectivity at Sunrise UPC
What is your favourite movie?
Gladiator and Interstellar.
Best box-set?
Game of Thrones and Vikings.
Music experience?
I like rock and jazz soul.
Favourite Xbox, PS5 or Nintendo Switch, computer game?
I remember with romanticism playing on the Wii.
Televised sporting experience you are most looking forward to this year?
All of them, but I have enjoyed Euro 2020 - as I am dual nationality (Swiss and Italian) it is interesting for me to watch.
Most memorable Virtual Reality experience?
When I was at Legoland I watched The Lego Movie with my kids which was a visceral reality experience.
Top app on your mobile phone?
YouTube consumes my content.
Best podcast?
German podcaster (Slow German mit Annik Rubens) who I listened to in the car to improve my language.
Favourite takeaway when relaxing in front of the TV?
Ice-cream.
Preferred drink when watching a top sporting event?
Corona with lemon in summer