We talk to Scott Conn, recently appointed CIO, about the challenges and rewards of placing technology at the service of an urban population
The more you learn about Modesto, California, the more attractive it seems as a place to live. Certainly its ideal climate and contented lifestyle were among many factors that brought its new CIO Scott Conn to the city in May 2022 as a key member of its 12-strong executive team. "Modesto is a very diverse, family-oriented community primarily involved in farming and ranching, for which the climate is well suited. It's located near the foothills of the California Sierras and it's the perfect place to raise a family: we have great values and endless opportunities, with sports facilities and a vibrant downtown area." And sitting less than 100 miles from San Francisco, he says, it's well placed to take advantage of the technological hotspots of Silicon Valley - he summarises it as 'an awesome and up-and-coming place.'
Modesto, on Scott Conn's watch, has recently been named among the top ten in the digital cities in the USA by the govtech.com Center for Digital Government - cities that elevated their municipalities' resilience while bolstering services and prioritising engagement with their residents. "This award recognises how we are leveraging technology to communicate with our entire community. The more we digitise, the easier it is for people to find information, the faster it is for them to find the information, and the more transparent the city itself becomes. When we know something, our citizens know it too."
Delivering the plan
When Conn arrived he joined a municipality nearing the mid-point of a well-thought out five-year strategic plan. "My task coming on board was to embrace that plan, see how far along we've come from a technology perspective, and then determine what are the priorities going forward." The largest part of the delivery still lies ahead, with three years of the plan to be accomplished.
And his priority is to bring Modesto fully into the community of Smart Cities - a process much of which has already been achieved. "Now everybody has a different definition for a smart city. It really comes down to again making the city more digital, more technology oriented and more online. For example you no longer have to come down to city hall to get a business permit. You can get all this done online from the comfort of your business or the comfort of your home. It's about things like understanding how parking meters are utilised in the city, which ones are available, which ones are not available, and sharing that information for people driving around looking for a parking spot. Or understanding traffic lights and whether it appears somebody is about to run a red light. We have AI running in the background that keeps the other lights red if we suspect somebody may run the intersection."
Things like this help cut the accident rate and are among the initiatives that the 33-strong IT department headed by Scott Conn is required to configure, design, implement and then support, taking Modesto further along the smart city route. Apart from that, the most important priority for IT is security of these digital assets. "We've taken great strides to beef up our security of all of our protected critical assets here, which includes all of those smart city systems. So our twin focus has been to support the smart city strategic plan and to secure the information that we collect and store here, and utilise to the benefit of all the residents of Modesto."
Conn comes in with an innovative mindset: "We don't want to be getting our ideas from looking at other cities and thinking we ought to do that too. We want to be the city that every city in California wants to emulate. And we're well on our way to becoming exactly that entity, along with a couple of other cities that I could name. We're leading the charge!"
His job is made easier by the support of the community, and the positive attitude of his fellow executive directors, the City Council members, and the mayor. The sense of community is strong, a good illustration being that a sales tax increase recently passed without opposition, virtually unheard of in the present economic environment. "The residents of our community see the value we're already providing, and they want it to go to the next level. And so our support here is tremendous, and from that support comes the leverage to be able to implement these new and innovative programmes."
With experience in both the public and private sectors, he appreciates the prudence with which his employers approach investment. "There are a lot of checks and balances built into the process, on purpose to make sure that taxpayers' dollars are being spent wisely and on the right priorities. So where it might take three months to get a new programme implemented in the private sector, in the public those three months turn into six to nine months because we need to get the necessary approvals and buy-in, which does demand more education of all involved or impacted.
Processes of partnership
The IT team has neither the scale nor the remit to develop software though it can execute interfaces and write small programmes, but there are specialist developers who do. "There are so many intelligent IT vendors out there that have already done these things. Our philosophy is to see what we can get off the shelf and implement within our own infrastructure." This is why Conn looks for the best developers and consultants to bring on board. The process he follows is to open the bidding to multiple vendors, whittle them down to the best three and then open negotiations with each. "We pick the one that offers the most value, not necessarily the least expensive - we're happy to pay the appropriate fee for the service."
Currently he is overseeing 22 active projects, including the search for a consultant on website design and ease of access. The process delivered an outstanding illustration four years ago with the decision to team up with CivicPlus and its selection as Modesto's website hosting vendor. "They went through a similar process, and they have done such a spectacular job for us that we have just renewed that contract for another four years. CivicPlus will be a key part of the process and will be helping to implement whatever redesign we come up with to help people to find their way, and improve the look and feel of the website.
"Our partners have turned out to be rock solid. Typically when you become a partner with the city of Modesto, you're here for many years, because if you're delivering good value there's no reason to change. While you may need to renew yourself every so often, every four or five years, the people who've been working with you understand what your value systems are as a partner and what you offer on a value-add scale. This has a tremendous impact on how you get rated and ranked compared to any potential new people out there. That's not to say that new vendors don't get full and fair consideration of course!"
Finally, he points out that the IT department can move fast to onboard new technology when required. When Covid struck, though employees may have used Zoom to some extent, it became necessary to quickly onboard more sophisticated Zoom features so that staff working from home could join meetings seamlessly. "Their services have been spectacular. Currently we are gearing up some conference rooms to 'Zoom Room' level. Our internal people and external associates really appreciate the one-touch instant meetings we are now able to set up. The other major platform we brought in was Microsoft Teams, which had not previously been utilised here. It was out of necessity, driven by the pandemic, so that employees could talk with each other, even though they were working from home."
We've mentioned the diversity of Modesto, and California in general. It's a multilingual environment, with Spanish speakers by no means the only major minority. So we needed to look for ways to make things easier for people for whom English is not their first language. After a search they discovered Wordly, which many people know as a word game but whose main platform provides AI-powered interpretation and translation at in-person, virtual, and hybrid meetings and events and works as an add-on to Zoom. It translates in audio or captions in more than 20 languages without the need for special equipment. "We were the first city in the USA to go live with this technology, though many others have since jumped on to it, following Modesto's example. Our residents love it, and its usage goes up with every council meeting we hold."
Brightest and best
Being within reach of Silicon Valley is one of the things that attracted Scott Conn to Modesto. He keeps a close eye on the developments that come out of there, whether it is to do with transport management, citizen engagement or general efficiency and safety for the residents. But the city has resources of its own, among them the residents themselves who are encouraged to communicate the improvements they would like to see. Among the most vocal residents are the young people. While the schools and colleges have their own administration structure, the city is very interested in providing opportunities close to home.
In the IT organisation itself, there are three current vacancies. "It's proving difficult to fill these, but one of the things we have had success with is actually going out and looking for those that are either still in school or recently graduated, and bringing them on board as interns. They may not be able to work full time, but they can work a smaller amount of hours, and be exposed to how we do business here at the city of Modesto, how we work in the IT department, our processes, the technologies that we play with and support here. Of the 33 staff in my department, six of them started out as interns, and are now full time employees. The educational system locally is vitally important, not just to us but to other city departments too, and we're very grateful for it."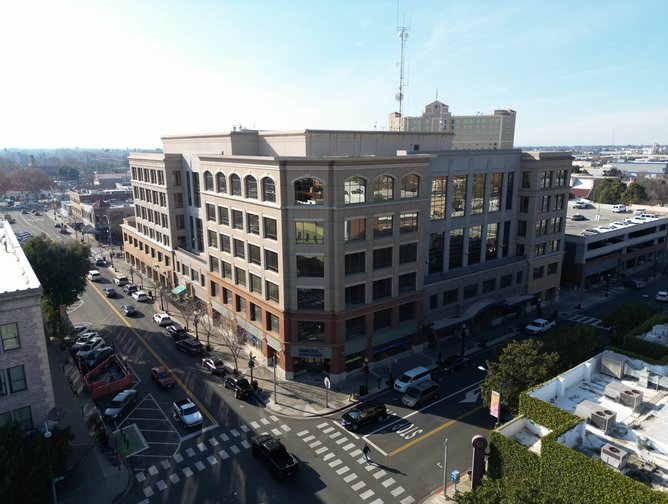 City of Modesto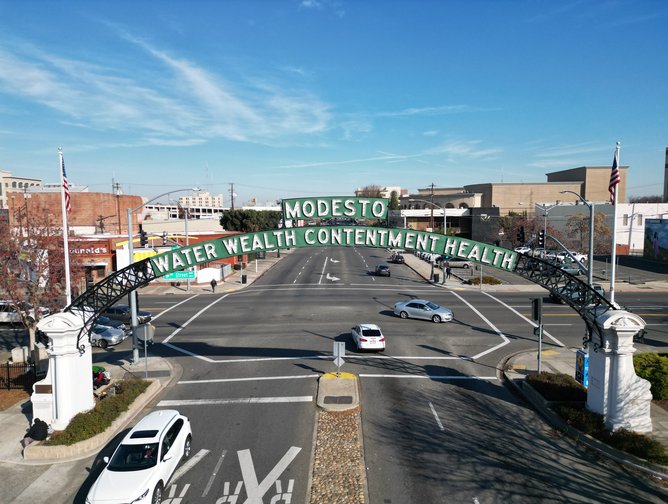 City of Modesto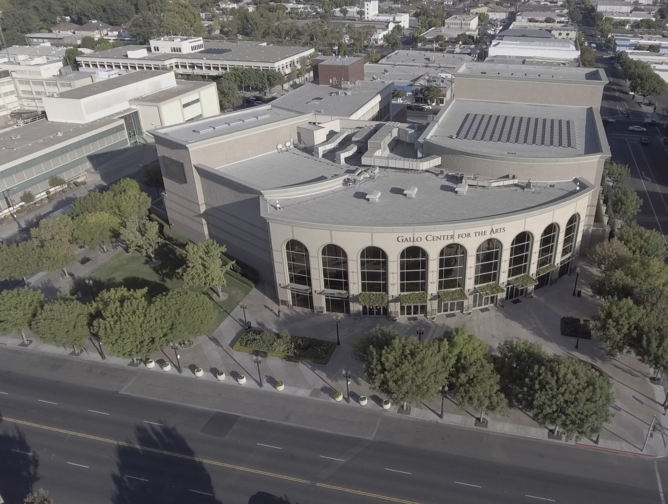 City of Modesto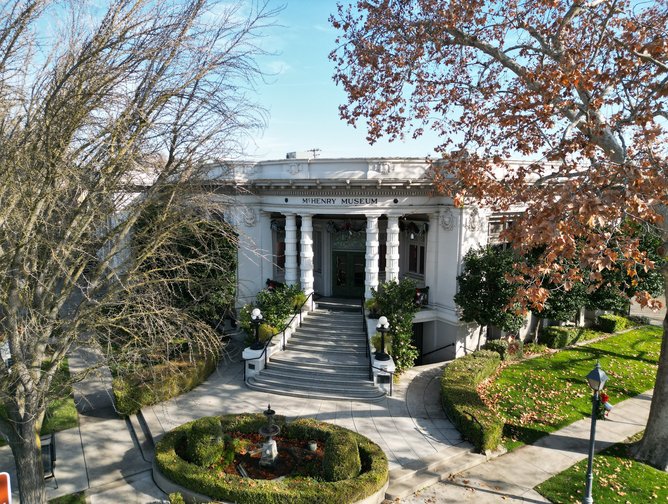 City of Modesto