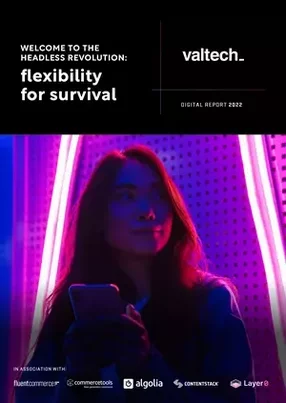 Valtech: Flexibility for survival through headless
Valtech SVP of Technology Strategy, Mihaela Mazzenga, explains how headless technology is revolutionising modern enterprise
Headless is part of a modern enterprise ecosystem, anchored by Microservices, APIs, and Cloud-Native SaaS - coined MACH - and together, this open technology standard is poised to drive value to organizations like never before.
It unlocks value in the three pillars of people, process, and technology; modernizing teams and ways of working, bringing back the true software engineering spirit of solving business problems with modern tools vs. restrictive suites or over-indexed bespoke solutions; allowing business users to operate critical system features; shaking up processes and allowing for fast iterations and innovation; while also breaking the old ideals of on-prem systems management and capped scalability, powered by the best of what the cloud has to offer.
You could also call this a revolution of Anything as a Service (XaaS), but XaaS is only a part of the picture, even as revolutionary as it is. Headless is the concept that ultimately provides direct value, enabling the expansion of customer experiences through modern architectures. The expectation is that XaaS, or more specifically Software as a Service (SaaS), will continue to grow and mature with products transformed into market-driven, pre-integrated, and commoditized offerings. 
Microservice-based software breaks apart monolithic systems and enables a focus on smaller components that can be designed, developed, and deployed independently. Long gone are the days of massive regression needs and large-scale risk; microservices localize risk by allowing smaller parts to fail and increase quality.
API-first solutions ensure that you have fundamental access to the entire platform via APIs; not that you've started to expose granular functionality iteratively, but that you've exposed all of the functionality from day one. APIs that are backed by elastic microservices are the gold standard. They allow you to seamlessly interact from anywhere.
Cloud-native SaaS brings microservices and APIs together, built natively in the cloud, utilizing elastic scale so that independent services access and consume resources relative to their footprints and apply updates automatically. You no longer have to wait months for system provisioning. Today it's as easy as clicking a 'free trial' button and you're off and running - infrastructure on demand.  Previously, not only did you have to wait for servers to arrive, you also had to wait for specialists to configure them, you had to make sure that they were in compliance with security standards, and lots of other different implications which cloud-native SaaS handles for you. 
Headless is an experience delivery approach, fully decoupling your frontend technology from your backend system. Contrary to the name, headless is meant to yield many heads, to open the world of possibilities and activate software everywhere and from any touchpoint. It allows you to reuse your core business logic, to compose the best solution for each channel, and delivers efficiency at scale. It is important to note that not all headless is created equal. The anchoring technologies - microservices, APIs, and cloud-native SaaS - are critical to the delivery of truly innovative, scalable, and flexible headless solutions where the quality of the composition and orchestration will often dictate success.
The world is changing at a massive pace, and at no other time has it been more important to transform your digital operations. Companies cannot afford to stagnate, they have to implement forward-looking strategies to harness technology for acceleration or risk losing touch with their customers.
With so much specialization of the technology tools, we continue to push the conversation farther into business enablement via technology - to discuss what's next vs. continuing to discuss the paradigm shift away from vendor-locked black-box solutions. We are now able to unlock enterprise bimodal capabilities, micro frontends, mandated transformations such as FHIR for the exchange of patient information, digitalization, experience architectures, and commerce everywhere via the power of MACH as a whole. The headless revolution has arrived, and will soon be infiltrating all of your digital channels and delivering on the total enterprise experience. It's time for your business to focus on real value generation - at scale - leveraged by composable solutions. 
The MACH Alliance
The API economy is now a foregone conclusion. One of the weaknesses of the API economy alone was a lack of a cohesive voice and holistic view of capabilities. Valtech, commercetools, and Contentstack, being founding members of the MACH Alliance, recognized this gap and realized that the most valuable story is written together, not in isolation. The MACH Alliance was the first attempt at presenting a unified and collective face, creating a collective vision that could guide global adoption. 
The MACH Alliance certifies the brightest cloud-native SaaS and headless providers in the world. While headless can be applied to any industry, it has been especially impactful in the ecommerce space, as can also be seen by the heavy amount of investment taking place.  The core members below provide a great example of a complete end-to-end composable commerce solution:
Together, they represent a dream technology stack and solution set; providing end-to-end ecommerce technologies, coupled with strong solutioning and delivery and ready to take on your legacy monolith or bespoke build. 
Everybody embraces "modern technology," but many vendors take liberties with its definition (most commonly to align with what they currently offer). The MACH Alliance vendors offer a concise definition and zealously enforce it. They're the bouncers controlling the velvet rope at the entrance of the Coolest Tech in Town Club. They boldly proclaim to carry the flag of a new order in enterprise experience tech. And the wind is at their backs. They're starting fresh — without the anchor of legacy products and customers. They're not corporate monoliths. They're more akin to corporate two-pizza teams operating as a loosely coupled ecosystem that can be integrated together. The debate over the MACH Alliance's policies is vigorous — especially the point that only companies can be MACH Alliance certified. Why? Because vendors' products need to conform to the criteria. The MACH Alliance stamp simplifies things for tech buyers and complicates things for vendors. What else can everybody agree on? That taking friction out of a buyer's journey is a good thing.
Joe Cicman, Senior Analyst,  Forrester - July 2021
These are all organizations that are comfortable as masters of their domains, and happy to share the spotlight when delivering best-in-breed solutions together. Interest in the alliance continues to grow; from just five members to 30 as of June 2021, along with an expanding ambassador program hosting top technology executives from brands such as Mars, Puma Group, Dawn Foods, and Sephora.
The Alliance's mission is to future-proof enterprise technology and to propel current and future digital experiences with open and connected enterprise tech. Collectively their voice represents the next generation of technology and business. The ultimate goal is global knowledge sharing and education of these value-driven solutions. One day, everyone will know what MACH is, and their mission will be complete.
Flexibility for survival 
These solutions really require a different mindset, one with flexibility at its core, and being comfortable working in the distributed cloud.  All end-users have begun to expect a personalized, seamless omni-channel experience within milliseconds on every device and in every online transaction. Forward-thinking companies will ditch outdated platforms for headless tech stacks that allow them to select best of breed technologies for each layer in the stack. This composable approach provides businesses the ability to innovate quickly based on metrics and customer feedback, be flexible as changes are required due to logistics challenges and provide a future-proof, scalable platform.
Valtech
Valtech ideates modern software solutions (including headless) while accelerating transformation initiatives for clients. This takes intimate knowledge about the clients' business domains, best practices in technology and commerce, and nurturing meaningful relationships with partners. Valtech sees it as their responsibility to bring the headless dream to life through these carefully crafted solutions. And it's not just about the technology, it's also about the people and process. Valtech's responsibility is not only to design and build the best solutions, but also to advise and craft the strategies that unlock value faster, so businesses can deliver the best experiences to their customers at record speed. Valtech understands that each client is unique and so are their technological landscapes. Different challenges require different solutions, which is where vendors like Contenstack, commercetools, Layer0, Algolia and Fluent Commerce, amongst others, come into play.
Contentstack
Contentstack headless CMS frees marketers and developers to work in parallel, instead of being locked into a cycle of interdependency. This MACH platform was built to handle enterprise-scale content needs with user-first design. Data, content, and logic can be shared across channels - whether classic ones like a website or app, or more innovative, like a VR experience or an audio-visual in-store display - ensuring businesses can maintain a consistent and always up-to-date content ecosystem even as their digital capabilities evolve.
commercetools
Modern commerce that's at the forefront of innovation — ready for today, tomorrow, and beyond. Our headless commerce solution gives you far more agility and speed to connect to any touchpoint you want now, as well as touchpoints developed in the future. We are challenging and changing the world of enterprise commerce software. By enabling brands to cross the Commerce Possibilities Chasm (TM), every new communications channel becomes a commerce possibility - from in-car, video content and A/R, voice, and IoT-enabled machines, to the devices of the future that we can only now imagine.
Layer0
Layer0's mission is to make the Web instant and simple. Layer0 is the first Edge solution that streamlines development workflows by integrating edge logic into application code, and offers sub-second page loads by extending the edge all the way to the browser. For businesses, sub-second websites deliver real results. Leading companies, such as Shoe Carnival, Kate Spade, and Universal Standard have boosted website traffic, conversions, and revenue. For builders, the Layer0 platform offers a suite of caching, productivity, and observability tools that enable teams to release up to twice as fast.
Algolia
Businesses are turning to Algolia's Search and Discovery platform to modernize their online user experience with a composable approach, allowing companies to quickly transform their sites and maximize ROI with a search plugin powered by AI. Algolia powered experiences enhance engagement, increase conversion rates, and enrich lifetime value to generate profitable growth. More than 10,000 companies including Under Armour, Lacoste, Birchbox, Stripe, Slack, Medium, and Zendesk rely on Algolia to manage over 1.5 trillion search queries a year.
Fluent Commerce
Fluent Commerce is focused on distributed order management and offers a highly flexible, extensible platform. Fluent Order Management supports agility so you can react quickly as market conditions change and includes the essential components for unified, headless commerce. Fluent Order Management allows you to track stock availability in near real-time, provides you with a single view of inventory to reduce overselling and underselling, the ability to sync inventory data across all systems, and optimization of order sourcing and allocation—by proximity, throughput, aging, markdowns, and more. Fluent Commerce works with global and regional brands such as JD Sports, L'Oréal, GrandVision, Aldo, Ted Baker and Marks & Spencer. 
Never has it actually been easier to let go of the past and to innovate on something new. Not only can you break down the walls of all-in-one systems, you get to leverage the best tools on the market to build your next software solution and reuse them across multiple digital channels. What this means is that our business logic can literally run from anywhere at any time. One of the core software engineering concepts is reuse, and headless delivers reuse at its best. 
Our world is exponentially more distributed and specialized, and of course the cloud had a massive part to play in that adoption. Now, headless and composable applications provide the perfect hybrid to bring all of us together and to focus on solving the real business problems