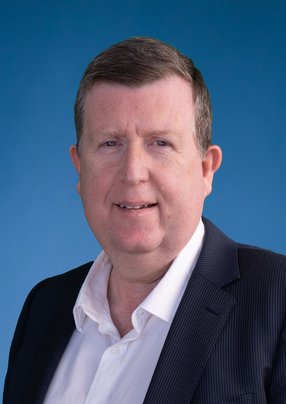 Noel Toal

Digital transformation is hard enough, but set against the backdrop of the pandemic, it's a mammoth challenge. How did DPV Health CIO Noel Toal succeed?
Everyone faced unprecedented challenges during the COVID-19 pandemic, but imagine those hurdles being amplified working in the healthcare industry in one of the most locked-down places on the planet. Then imagine implementing a company-wide digital transformation while simultaneously saving lives.
Noel Toal describes that situation as "change on steroids", and few could argue with that.
Toal is the CIO of DPV Health, a community health service across 20 sites in the northern suburbs of Melbourne, Australia. DPV Health offers everything from GP medical services through the whole range of allied health services, mental health services, dental and disability services.
Under Toal's leadership, DPV Health is using technology to improve the client experience and to improve the ability of its clinicians to deliver excellent care.
"I've spent the last four years having a lot of fun in a challenging environment, during the pandemic, but a really interesting time to help deliver excellent healthcare services," says Toal. "So it's been pretty exciting."
Toal is not your average CIO. As well as handling the ICT side of DPV Health, he also uses that expertise and experience to manage three teams responsible for client access. These teams handle call centre, interpreting and reception/administration, and Toal puts systems in place to make sure they run as efficiently as possible, while also leveraging technology.
And it's that approach that really helped DPV health not only survive the pandemic but actually improve the healthcare services it was able to offer its clients, in the most difficult and distressing of times.
"I think we were all shell shocked initially," admits Toal, "but the organisation grew its revenue by 65%. We had enormous growth, we are very busy, and we've retained some of that because a lot of it was organic – not just related to the pandemic-specific services we were providing."
Toal joined in August 2019 and as the new CIO his strategy was to roll out a controlled digital transformation – but most of that plan went quickly out of the window with COVID-19. Some of the elements of the plan, such as new equipment and Azure Virtual Desktop were accelerated to accommodate staff working from home, and DPV Health had to switch to providing telehealth services within two weeks.
With Victoria being the most locked-down state in Australia, and one of the most restricted in the world, it was even harder for people to access vital health services – which placed extra pressure on Toal and his teams.
"We were trying to drive the transformation while supporting all of these extra, urgent demands that were popping up as part of the pandemic response," recalls Toal.
"We were having to help setup and shift the services, acquire printers, laptops, iPads. A lot of the early part was getting our hands on equipment. We needed to make people more mobile. Luckily we had a good relationship with Microboss and that helped us to get all the equipment that we needed."
We all know that the pandemic accelerated digital transformation and that became in some ways a silver lining to a very dark cloud. Toal admits it was an enabler and helped DPV Health get things done quickly "because we had to".
And while the pandemic was a period of intense change, there is still more to come. Toal has completed the delivery of the digital transfromation and is now working through defining what the new ICT strategy will be, having fixed what he calls "technical debt".
The new strategy is all about being more engaged with people and leveraging the new systems that have been put in place, such as the new CRM, clinical grade network, cloud systems, omnichannel phone system, hardware, and making sure the company maximises the value of the significant investment from the last four years.
Read the full story HERE.
We've built some unique features into our insurance program specifically because we've listened to courier partners in every country