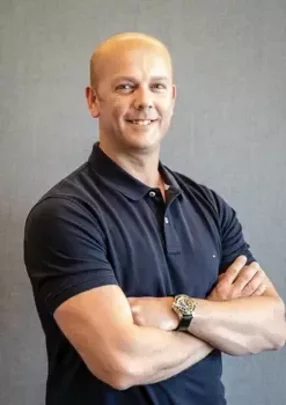 Steven Flockhart
Director of Cloud Engineering & Operations
Steven Flockhart, Director of Cloud Engineering & Digital Operations at NHS National Services Scotland, on his career to date
Steven Flockhart says he first "slid into" a technology role when he was working at a stockbrokers. The company was moving into a more digital space and appointed Flockhart to lead this transformation. This led to his role becoming much more tech-focused, and he realised he had a real interest in it. "I really saw my career moving in that direction rather than the business or financial side of things within that company," he says. 
After taking on a managerial role, he briefly moved overseas to set up a business with friends. When he returned, he joined the banking sector, and from here, his career became devoted to technology. 
Flockhart has held positions at the Royal Bank of Scotland, Lloyds Banking Group, Tesco Bank and Sainsbury's Bank, many of which revolved around managing data and data strategy. He also worked as a contractor for a number of years. "That took me to lots of different organisations and exposed me to lots of different things, people, and processes. You get a lot of experience on that journey," he says. 
He joined NHS National Services Scotland in March 2020,  a role with which he intended to move the organisation away from legacy infrastructure and embrace the use of the public cloud. 
Flockhart describes his approach to leadership as somebody who likes to be involved.  "I very much like to be a part of things. I'm not somebody who sits back and watches what happens. I like to take responsibility for things and drive them forward." 
This style helps him be a better manager by understanding the pressures his team are under and how he can help. However, he emphasises that he doesn't micromanage. "I like to let my team have autonomy and do the jobs that they need to do. We've got some very skilled people, and they don't need me sitting over them.  My job is to make sure they've got what they need to get their jobs done. If I have to grease wheels or open doors, I see that as my responsibility," he says.
Read the full story HERE