Amazon taps into augmented reality for shopping experiences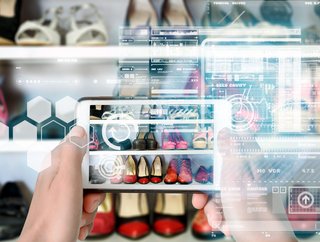 E-Commerce giant Amazon has launched a virtual try-on service for shoes, helping consumers use their iPhones to see how shoes will look on their feet
Amazon Fashion has launched Virtual Try-On for Shoes, an interactive mobile experience that uses augmented reality (AR) to help customers visualise how a pair of shoes will look on.
This is not Amazon's first leap into the AR world, shoppers can already virtually try on make up, different hair colours and even use AR to imagine the placement of new furniture.
Online shopping has been a growing market for the past few years, with the pandemic skyrocketing people turning to this option. The use of AR can allow shoppers a more personalised experience, without the need to physically try something on and also in turn reduce return rates.
Customers using the app on iOS can use Virtual Try-On for Shoes to visualise thousands of styles from brands including New Balance, adidas, Reebok, Puma, Superga, Lacoste, Asics, and Saucony. The app provides brands a new way to showcase their products and to make shopping for their styles easier and more interactive.
"Innovation and elevating consumer experiences are at the core of New Balance. We're excited to showcase our footwear selection in Amazon Fashion's Virtual Try-On for Shoes as we continue to look for immersive ways to engage our shared customer base," said Melissa Worth, senior vice president of North America at New Balance.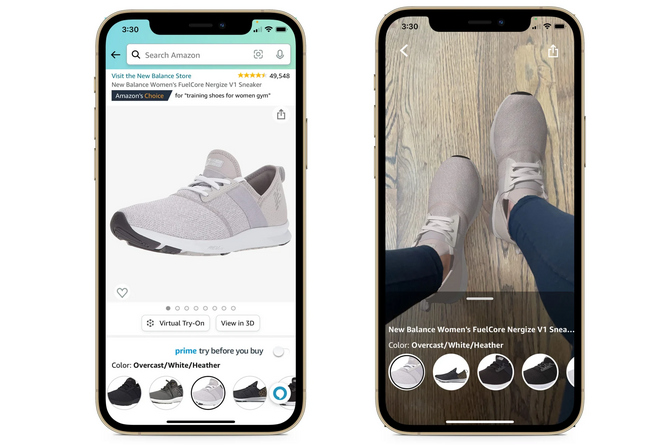 Creating new experiences for shoppers
Customers using Amazon's app can select a shoe, tap the "Virtual Try-On" button, and then point the camera at their feet to see how the shoes will look on.
They can also move their feet to see how the shoe looks from every angle and use the carousel to swap colours of the same style without needing to exit the experience. Customers also have the option of taking a photo of their virtual try-on experience and sharing the image with friends on social media by clicking the "Share" icon.
"Amazon Fashion's goal is to create innovative experiences that make shopping for fashion online easier and more delightful for customers. We're excited to introduce Virtual Try-On for Shoes, so customers can try on thousands of styles from brands they know and love at their convenience, wherever they are. We look forward to listening and learning from customer feedback as we continue to enhance the experience and expand to more brands and styles," said Muge Erdirik Dogan, president of Amazon Fashion.
The expanding use of AR across the eCommerce industry
In 2021, Snap reported that there are already more than 100 million consumers shopping with AR online and in stores. Most respondents said they considered AR a "toy" (for example Snapchat filters and Pokémon Go), but 76% said that they wanted to use it as a "tool" in their everyday lives.
Using AR is a great way for brands to incorporate it into social media, targeting a wide range of demographics. Consulting firm Accenture, released a report at the start of this year which predicted that the social commerce industry will grow three times faster than traditional e-commerce over the next three years.
According to the report, global social commerce sales are expected to skyrocket from US$492bn in 2021 to US$1.2tn in 2025. In the United States alone, social commerce is expected to more than double, reaching US$99bn.
Other brands using AR include Nike, IKEA, Apple and fashion retailer ASOS, just to name a few.