GE HealthCare helping OCINet deliver technology innovation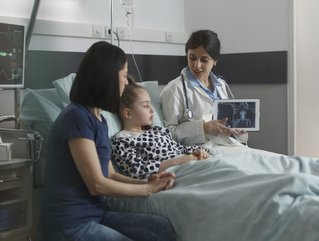 GE HealthCare helping OCINet deliver technology innovation
In a collaboration spanning 15 years, GE HealthCare and OCINet work with expertise and mutual trust to solve problems and create innovative solutions
GE HealthCare is focused on providing hospitals with new technologies and innovations to help them deliver a world that has no healthcare limits. As John Insko, Chief Commercial Officer for GE HealthCare's Solutions for Enterprise Imaging (SEI) business, explains, its work with the Ontario Clinical Imaging Network (OCINet) is no exception.
"We've worked with OCINet for over 15 years and have had the opportunity to grow together – building experiences and thought leadership," Insko comments.
"OCINet is a tremendously important customer to us," adds Mike Hamilton, President of GE HealthCare in Canada. "We've had a longstanding relationship with them in the area of digital imaging repositories (DIRs), and we're excited to continue to be part of this DIR evolution in Ontario."
The collaboration between GE HealthCare and OCINet started in 2005 with the building of the DIRs, and today, the repositories hold 185 million exams. With sights now turning towards consolidating these repositories, the long-standing relationship between these two organisations has enabled a healthcare transformation.
"Today, GE HealthCare is in a unique position because we play so broadly in the healthcare system that we can really impact in so many areas," Hamilton explains.
He adds: "If you look at where Ontario is going, we're probably ahead in the province in terms of digital imaging repository. OCINet is going is going to be a tremendous enabler to actually move forward in terms of healthcare as you start to integrate and give access to important information.
"The current work with OCINet is a proof of concept that we plan to replicate with other healthcare systems. It's exciting for GE HealthCare to be an enabler with OCINet, and to really demonstrate how we can create that world where healthcare has no limits."
GE HealthCare will continue to support OCINet's strategic goals, particularly around connected, convenient, patient-centred care. "We want to support OCINet on their journey towards both short and long-term goals, such as the further consolidation of the DIRs in Ontario, continuing to leverage Ontario health applications, and integrating independent health facilities," Hamilton concludes.
Looking forward, Insko says GE HealthCare will help OCINet continue to evolve and incorporate other specialties into the DIRs, exploring cloud and AI-enabled technologies.
"As to the future, we're excited about our ability to continue to evolve and continue to utilise these learnings and technologies."
Read the full OCINet report here