Manufacturing industry welcomes the warehouse of the future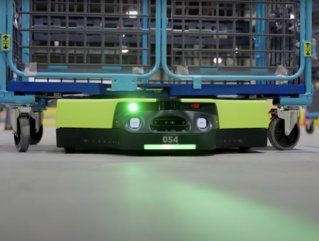 Artificial intelligence, machine learning and robotics are just some of the technologies that are going to transform and automate the humble warehouse
Just like many other industries, the manufacturing industry is going through an immense period of change.

Industry 4.0 and the introduction of new, disruptive technologies are, together, bringing about a number of opportunities for the industry, with many set to transform their warehouses to streamline processes and improve efficiencies.
These new technologies are crucial as manufacturers battle challenges to drive profit and improve efficiency. One key challenge is the trade-off between inventory accuracy – which is so crucial because it ensures that workers picking products from locations to fulfil orders are as productive as possible – and the costs needed to achieve that accuracy.
Cost is another important element for the industry to consider, because incorrectly fulfilling an order can be very costly due to returns, waste, chargebacks
and high reverse logistics costs.
"The 'warehouse of the future', as we're calling it, brings together the latest technology under one roof. It creates a logistics command centre that's driven by innovation," says Sandeep Sakharkar, Chief Information Officer at GXO, the world's largest pure-play contract logistics provider focused on helping businesses solve their supply chain challenges through expertise, advanced automation and a global network of warehouse space.
"There are a handful of key benefits that this warehouse of the future offers. First, it's significantly improving productivity and efficiency. Second, it's optimising the roles and contributions of our team members. And, third, by improving safety and ergonomics for our team members and leading to a higher level of engagement, it's helping them increase quality and productivity, creating a virtuous circle," he continues.
Sakharkar goes on to explain that this future iteration is improving throughput control and the ability to flex work processes for speedy adaptation in the face of rapidly changing demand, which benefits customers – particularly those that have the sort of demand peaks common in the fashion industry.
Securing the 'warehouse of the future' with technology
Additionally, the warehouse of the future is providing better real-time insights into processes and product movement, which enables intelligent decision making, according to the CTO. "The benefits from this approach aren't just in the technologies themselves, but also in the process and frameworks used for making investment decisions in technology. The time, effort and other resources needed for evaluation, R&D, piloting and operationalising are all critical factors, which means the process and criteria for selecting technology for evaluation become as important as the technology itself," comments Sakharkar.
"Today, technology innovations in a variety of areas unlock opportunities for improving operations and creating value, so no company can afford to ignore the potential. The procedures and objectives for pursuing technology innovations that are important to my company would be important to any large global company in any industry."
GXO is keen to be part of this transition to the warehouse of the future and has operationalised several innovative technologies.
"For example, we've deployed collaborative robots, or cobots; goods-to- person robots; layer pick and palletising automated guided vehicles, or AGVs; palm scanners; and vision technology," he shares.
"We have a very structured and active process for researching, evaluating, piloting and then operationalising new technologies. We're also continuously evaluating both emerging and maturing technologies in our innovation pipeline. For example, we're evaluating vision tech and autonomous drones for inventory and scanning; exoskeletons and movement-tracking to enhance safety and ergonomics; and further improvements to
ever-evolving bot technologies."
It is important, Sakharkar explains, that technology is not boxed off as just physical hardware as it goes beyond that, spilling into artificial intelligence (AI) and machine learning (ML).
"Through machine learning, for example, we use data and modern integration technologies to improve real-time insights and the speed of interactions across a diverse set of technologies," he notes.
IBM: automating the supply chain for warehouse success
The internet of things (IoT), among other technologies, is also key as the world becomes increasingly digitised. Looking specifically at manufacturing, IoT connects physical production and operations with smart digital technology, ML, and big data. In doing so, it creates a more holistic and better-connected ecosystem for those companies that focus on manufacturing and supply chain management.
"IoT is key to automation in factories and warehouses. In addition to tracking products through the supply chain in warehouses and for goods in transit, IoT can be used to automate factories," explains Janet White, Industrial Products Leader at IBM Consulting.
"Robots can be used to provide real- time information on the status of machines to support predictive maintenance and reduce downtime. Cameras capture images for AI algorithms to detect defects – all increasing efficiency."
IBM clients are already leveraging the power of IoT and AI with a personalised dashboard that automates the collection of information and analyses it to provide insights, which helps them anticipate risks, mitigate disruptions, and see opportunities previously hidden from view.
"Using this dashboard, they can do things like leverage predictive maintenance to stay ahead of machinery repairs in the field, reducing costs by 15-20% and extending the lives of assets by years," notes White.
Adopt a RaaS model for warehouse success, says Dell
Undoubtedly, those who opt not to automate their warehouse operations will massively lag behind and risk missing out on a number of opportunities for growth.
However, particularly when it comes to robotics and automation, it can be incredibly costly for smaller companies to invest in such technologies.
"Adopting a robotics-as-a-service (RaaS) consumption model means the organisation does not need to have any knowledge of robotics or invest in costly infrastructure. It, therefore, reduces the initial up-front cost commitment and accelerates time-to- value," explains Arash Ghazanfari, CTO, UK, Presales, at Dell Technologies. RaaS models enable organisations to focus their capital and human resources on further business improvement whilst continuing to deliver innovation and value to their customers.
"By adopting a RaaS model, businesses and organisations can focus their resources on strategically identifying the business outcomes they wish to achieve and what aspects of their operations they wish to automate, without having to expend valuable funds and resources trying to figure out how they are going to achieve it," says Ghazanfari.