Moderna and IBM explore quantum computing and generative AI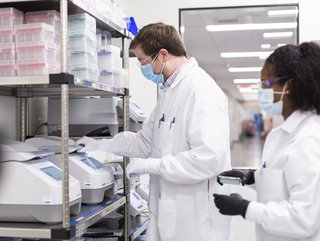 Moderna scientists will learn how quantum technology could be applied to previously intractable problems for classical computers. Pic: Moderna
Through a partnership with IBM, Moderna is exploring the use of quantum computing and generative AI technology in developing future mRNA medicines
Biotech company Moderna and IBM have announced an agreement under which Moderna will explore next-generation technologies such as quantum computing and AI to advance and accelerate mRNA research and science.
"Since our inception, we have always strived to be at the forefront of cutting-edge technology, leveraging innovations to deliver the greatest possible impact to people through mRNA medicines," said Stéphane Bancel, Chief Executive Officer of Moderna. "We are excited to partner with IBM to develop novel AI models to advance mRNA science, prepare ourselves for the era of quantum computing, and ready our business for these game-changing technologies. We are aiming for breakthrough advances with quantum computing, so we are investing now in building a quantum-ready workforce, to be fully prepared to harness the power of this technology."

Quantum computing skills development for mRNA medicine design
Quantum computing is a rapidly emerging and transformative technology that utilises the principles of quantum mechanics to solve problems too complex for classical computers. Moderna scientists will learn how quantum technology could be applied to previously intractable problems for classical computers.
Together, the companies will explore the potential application of quantum approaches to Moderna's scientific challenges.
Moderna will participate in the IBM Quantum Accelerator program and the IBM Quantum Network. Under the agreement, IBM will provide access to quantum computing systems, as well as expertise to assist Moderna in exploring cutting-edge life sciences use-cases powered by quantum technologies.
AI models for mRNA medicine design
Moderna and IBM scientists will apply MoLFormer, an AI foundation model that can help scientists predict a molecule's properties, and could help them understand the characteristics of potential mRNA medicines. Moderna's goal will be to use MoLFormer to help optimise lipid nanoparticles, which encapsulate and protect mRNA as it travels within the body, and mRNA, which acts as instructions to cells in order to fight disease. Under this initiative, Moderna and IBM will combine state-of-the-art formulation discovery with generative AI to design mRNA medicines with optimal safety and performance.
"IBM's purpose is to be the catalyst to make the world work better, perfectly exemplified by this partnership with Moderna. We are witnessing a revolution in the world of computing, driven by extraordinary advances in AI and quantum computing," said Dr Darío Gil, Senior Vice President, and Director of IBM Research.

"Moderna will be able to take advantage of our multi-year research efforts in generative AI for therapeutics that can allow scientists to better understand how molecules behave and may facilitate creating entirely new ones. We are also excited to work with Moderna to help prepare their scientists in the knowledge and use of IBM's industry-leading quantum computing technologies with the goal of accelerating the discovery and creation of new therapeutics."