Mohit Joshi: Infosys and the power of data & cloud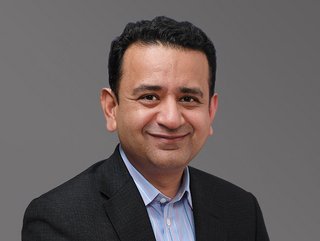 Mohit Joshi, President at Infosys, first joined the organisation in 2000
Since Mohit Joshi joined Infosys in 2000, the organisation has been through a transformation. Now President, he speaks about his career highlights
Please could you introduce yourself, and tell us about your role at Infosys?
My name is Mohit Joshi and I've been with Infosys since 2000. I live in London with my wife and two children. My role at Infosys is President, which means I am responsible for our Financial Services, Healthcare and Life Sciences businesses. I am also responsible for our own internal IT function alongside large deals sales training for our business and sales effectiveness.
Tell us about some of your highlights in your time at Infosys
I joined Infosys back in December 2000, when it was a US$180mn company. The company has since grown a hundred-fold from a revenue perspective, and the employee count has risen from around 10,000 to over 350,000.
We are now present in multiple countries around the world, and it's been a truly remarkable journey. A journey that has seen growth, client relevance and, for me personally, one that has given me the ability to work across multiple countries and continents.
During my time, I've also had the opportunity to work in the US, Mexico, and London. It's been incredibly exciting to have had the chance to meet people from all around the world, working with a range of cultures and clients. It's been nothing short of a truly international experience with Infosys.
Another highlight has been witnessing and playing a role in progressing the significant transformation that we've seen in both enterprise technology and within some of our global clients' businesses.
What are you most proud of in your career?
I'm most proud to be a part of this exciting growth journey that has seen the company grow from US$180mn to almost US$18bn. We've been able to transform many careers and play an instrumental role in the digital transformation of so many of our clients, which will always make me proud.
Everyone at Infosys has this deep sense of purpose and working collaboratively with such like-minded people has certainly been a high point in my career.
What technologies excite you most about the future?
All open-source technologies, all cloud technologies, and everything happening from a cybersecurity perspective is exciting me about the future. At Infosys, we're also particularly excited about the opportunity to scale digital solutions for our clients. When progressing this effort, we think carefully about customer experiences, and transforming customer and employee journeys. We think about the promise of data to drive hyper-personalisation, great insights and next-best actions for our customers.
Innovations such as IoT and vertical platforms also hold great promise, and I'm interested to see how these develop over the coming years. Cloud is another truly exciting technology that must not be forgotten. It has been exceptionally important in driving scale, costs and availability, as it drives speed for companies across the world.
Obviously, we are excited about the promise of AI and automation to really simplify landscapes and really drive value for businesses. Generally speaking, the world of technology is always changing so I'm excited to see developments in all areas, including the ways AI and automation can continue to simplify our lives and drive value for business.
Today we're discussing AI, but tomorrow it could be the metaverse – and blockchain always comes into it somewhere! Regardless of these changes, at Infosys, our deep understanding of our customers and their business context makes us relevant to them in being able to apply these new and exciting technologies to their business. That truly is the promise of Infosys.
What exciting plans do you have coming up as an organisation?
As an organisation, we've been doubling down on the digital as we've seen the huge promise this has for our clients. We're also doubling down on simplifying the legacy systems many of our clients use by using the power of AI and automation and simplification. We're also very focused on learning, building out significant physical learning centres in Indianapolis, India and elsewhere in Dusseldorf, but also leveraging our digital platforms to support the training of our employees. Finally, we're excited about the promise of localisation – becoming an even more global company by hiring in the markets in which we operate. I think Infosys is on a significant growth trajectory and we feel that the journey's just begun.