OpenText & Google Cloud help unlock power of data with AI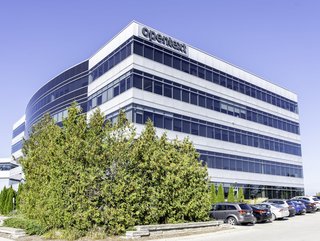 OpenText has expanded its partnership with Google Cloud to deliver a range of new tools, including generative AI applications
Expansion of OpenText's partnership with Google Cloud will deliver AI-led innovations, creating market changing technology for organisations of all sizes
OpenText has announced an expansion of its partnership with Google Cloud to deliver AI-powered integrations that will help organisations unlock the power of their data. The co-innovation of OpenText's information management solutions and Google Cloud's AI capabilities will accelerate how organisations of all sizes surface insights quickly, boost productivity and transform customer experiences.
"Information is the cornerstone of every business decision, and AI is the beacon illuminating the path to intelligent action. Today, we stand at the crossroads of a remarkable synergy – the fusion of AI and information – a combination that empowers businesses to work smarter and to chart a new course of growth," said Muhi Majzoub, OpenText's Chief Product Officer.
New advancements
New generative AI applications: co-innovations of new use cases utilising Vertex AI spanning R&D, application delivery, business support, sales & marketing and more.

OpenText Core for Google Workspace: integrated collaboration, content management and Google Cloud's Vertex AI-powered insights for seamless digital employee experience.

Accelerating the cloud migration journey for customers on mainframe infrastructure utilising solutions such as Google Cloud Dual Run.
"Our collaboration with Google Cloud spans the most cutting edge of co-innovation areas," Majzoub adds. "We are in a great position to help customers begin their AI journey leveraging OpenText Business Clouds, customer trusted data, and Google Cloud technologies. Our partnership with Google Cloud will allow us to apply our advanced technologies and information expertise to high impact industries of healthcare, financial services, climate, governments, and more."
"Generative AI has the potential to transform industries, helping businesses get more value from data and enabling their workforces to collaborate more effectively," said Kevin Ichhpurani, Corporate Vice President, Global Partner Ecosystem & Channels at Google Cloud. "OpenText's expanded capabilities will accelerate customers on their cloud journeys, with services that migrate critical workloads to our infrastructure and set them up to successfully adopt our data analytics and AI technologies."
OpenText transforming enterprise processes with Google Cloud generative AI
Generative AI can help large enterprises transform common and complex business practices to create significant value for their businesses. OpenText recently launched opentext.ai and is using Google Cloud Vertex AI and the Palm2 large language model (LLM) for a number of usecases, from transforming customer and employee support experience to accelerating omni-channel communications at scale.
"Our partnership across Google Cloud and our OpenText Application Delivery Management (ADM) team has led to the best industry thinkers working towards using generative AI to bring forth industry disruptive technologies for faster, smarter, and lower risk software delivery," said Tal Levi Joseph, Vice President, Products and Engineering at OpenText.
"OpenText ADM is announcing an early access version of our new generative AI capabilities on the ValueEdge platform, which will be generally available in the fall with our Cloud Editions 23.4 release. The opportunities where we can co-innovate with Google Cloud to deliver codeless quality to engineers is significant."
OpenText launching intelligent workspace for enterprises with Google Workspace
Last month, OpenText announced the general availability of Core for Google Workspace, the OpenText Content solution that is combined with Google Cloud's suite of collaboration tools. Google Workspace customers will now be able to explore their vast repositories managed by OpenText's content management platform. With the solution, employees will be able to easily access, manage, and edit documentation across repositories and applications for any business process (i.e., hire-to-retire for HR, procure-to-pay for Finance, design-to-market for R&D).
With Google Cloud Vertex AI, future AI capabilities of OpenText Aviator on the Content Cloud are in development. Example use cases include the ability to use conversational search via a chat assistant to engage, find, and retrieve needed answers and documents across multiple languages. Furthermore, the power of LLMs and generative AI are going to advance how quickly employees can access and understand documentation. These AI-led advancements have the potential to improve productivity and the employee experience significantly.
OpenText is teaming up with Tata Consultancy Services (TCS), a preferred partner, to help customers implement their Google Workspace and Core Content solution tailored to their specific needs. TCS is a Google Cloud Premier Partner with deep expertise in helping clients digitally transform employee experiences using Google Workspace. With the expanded partnership covering OpenText content services, it will enable smoother information flows through seamless integration of collaboration and workspace tools, helping clients manage their end-to-end processes better, driving up workforce productivity.
******
For more insights into the world of Technology - check out the latest edition of Technology Magazine and be sure to follow us on LinkedIn & Twitter.
Other magazines that may be of interest - AI Magazine | Cyber Magazine.
Please also check out our upcoming event - Cloud and 5G LIVE on October 11 and 12 2023.
******
BizClik is a global provider of B2B digital media platforms that cover Executive Communities for CEOs, CFOs, CMOs, Sustainability leaders, Procurement & Supply Chain leaders, Technology & AI leaders, Cyber leaders, FinTech & InsurTech leaders as well as covering industries such as Manufacturing, Mining, Energy, EV, Construction, Healthcare and Food.
BizClik – based in London, Dubai, and New York – offers services such as content creation, advertising & sponsorship solutions, webinars & events.