Threads: Meta continues digital growth subject to debate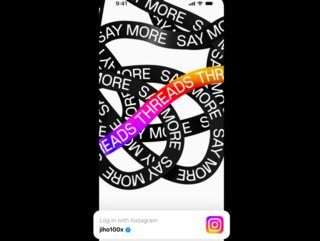 Threads is built with tools to enable more positive and productive conversations (Image source: Meta)
Dubbed as a new rival to the Twitter platform, Threads has already seen millions of people sign up to trial the platform, but is it as good as it looks?
Mark Zuckerberg has announced the initial version of Threads, an app built by Instagram with a feed of text-based posts, where people can have real-time conversations.
As stated in the announcement post, Threads aims to offer a new space for real-time updates and public conversations. Meta is also working toward making Threads compatible with open, interoperable social networks to better shape the future of the internet.
Meta's vision is to expand the capabilities of Instagram to text formats, creating a positive and creative space to express ideas. It allows users to follow and connect with friends and creators with like-minded interests, further expanding the digital world.
Real-time conversations online: A platform to rival Twitter
Threads is built with tools to enable more positive and productive conversations, keeping it safe and in line with Instagram's community guidelines. Users can control who they mention or reply to, as well as adopting some Instagram features like hidden words, filtered replies and restricted and blocked accounts. Any accounts you've blocked on Instagram will automatically be blocked on Threads.
"The vision for Threads is to create an option and friendly public space for conversation," said Meta CEO Mark Zuckerberg following the launch.
"We hope to take what Instagram does best and create a new experience around text, ideas, and discussing what's on your mind."
Since 2016, Meta claims that it has invested more than US$16bn in building up the teams and technologies needed to protect users, whilst remaining focused on advancing integrity efforts and investments to protect its online community.
There has been plenty of debate over if this new platform hopes to rival Twitter, which has received plenty of backlash in recent months. Now owned by Elon Musk, Twitter has caused recent controversy as the app has placed a temporary limit on how much content users can view each day.
Twitter also recently came under fire for its safety procedures, after it was revealed earlier in 2023 that the platform now limits its SMS-based 2FA services to 'Twitter Blue' users only. VMware's Scott McKinnon told Technology Magazine at the time that users were expressing concern, as "the majority of social media users are no longer guaranteed the peace of mind of encrypted security."
Compatible with interoperable networks: the future of the web
Meta is hoping to soon make Threads compatible with ActivityPub, the open social networking protocol established by the World Wide Web Consortium (W3C), the body responsible for the open standards that power the modern web.
This would make Threads interoperable with other apps that also support the ActivityPub protocol, such as Mastodon and WordPress and as a result, allow new types of connections that are not possible on most social apps today.
Users sign up to Threads via their Instagram accounts and keep the same username, password and account name, although they can edit their bio to be unique to Threads. Also optional is being able to import the list of accounts they follow directly from Instagram, making it easy to start using the app to its full potential.
However, it is not easy to leave Threads as users can temporarily deactivate their profiles, but it can only be fully deleted if users delete their Instagram accounts.
This has caused huge debate amongst users who have since raised concerns about what data Threads can collect from its users, including location, contacts, search history, browsing history and contact information.
With a platform so heavily powered by collecting data from its users, it will be crucial that Meta continue to invest in safety practices to ensure that this information is not breached going forward.