Trailblazer: Adam Markowitz, CEO of security platform Drata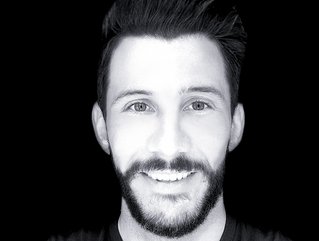 Drata CEO and Co-founder Adam Markowitz discusses his time working as an engineer on the Space Shuttle programme, and the importance of trust
Adam Markowitz is the co-founder and CEO of Drata, a security and compliance automation platform that ensures audit readiness.
Prior to Drata, Adam was the founder and CEO of Portfolium, an academic portfolio network for students and alumni to visually showcase their work and projects directly to employers, faculty, and fellow students and alumni.
He has also worked as an aerospace engineer designing, analysing and testing liquid rocket engines for NASA's next-generation space launch vehicle, as well as the Space Shuttle Main Engine.
You worked as an aerospace engineer on the space-shuttle programme, what led you to that and what did you learn?
Growing up, I always had a dream of being an astronaut one day. Having earned a Bachelor's degree in Aerospace Engineering, and with plans to pursue my Master's in Astronautical engineering, I landed the second best job next to being an astronaut, and that was as an aerospace engineer working on NASA's Space Shuttle programme.
The position was highly sought after, and, as a recent college graduate, I knew I would have to stand out in order to be selected for the job, so I brought a portfolio into my job interview to showcase my relevant work rather than listing it out in a resume. Landing the job and having the experience of a lifetime working on the shuttle programme reinforced the importance of taking chances, earning trust, and pursuing my dreams. After NASA retired the programme, I was inspired to explore on my own as an entrepreneur and start Portfolium based on that very interview experience.
What inspired you to create Drata?
Prior to Drata, I founded a company called Portfolium, an edtech startup that connected university students and recent graduates with businesses and employers by better visually presenting their academic work to prove their skills. Selling the software into hundreds of universities and handling the data of millions of students, it was critical that we were able to prove the effectiveness of our security program. SOC 2 reports quickly became the minimum bar requirement for our industry to help earn the trust of our customers and users that we were protecting their data. We experienced the pains of pursuing SOC 2 compliance manually firsthand –the time, cost, know-how, and slowing of sales cycles.
After Portfolium was acquired by Instructure, I – along with co-founders Daniel Marashalin and Troy Markowitz – started Drata. We sought to remove the burdens of compliance by using automation to streamline the journey for companies of all sizes. Fast forward to today, and thousands of companies now use Drata to continuously monitor their security controls, have a holistic view of their security posture by integrating the Drata platform with their tech stack, and maintain compliance over time to help them scale.
Now valued at US$2bn post Series C, Drata also became one of the fastest companies to achieve a US$1bn valuation – what do you attribute your success to?
The success of Drata can be directly attributed to its people – the culture and execution of this team is truly unprecedented. The culture is defined by the values and behaviour of the incredible people here and trust lies at the heart of it all. We brought on 100 customers in just 45 days after our launch, which quickly affirmed the need for a platform like ours in what was a relatively stagnant market. And, because we're a customer-obsessed company, we've continuously incorporated customer feedback and insights into the platform – it's imperative that we build products that solve real pain for the people using it.
What does trust mean to you? How important is it?
Trust has been our core value at Drata since inception – it truly is at the centre of everything we do, from how we interact with our customers and partners to how we build products, how we attract talented leaders, and everything in between. I believe, outside of time, trust is our most precious asset, earned in drops lost in buckets as they say.
We often refer to trust as our North Star as it guides our decision-making at Drata. For example, we didn't publicly launch Drata until we achieved SOC 2 compliance ourselves and used our own product to do it. Success can't be built without trust, and our vision for Drata is to be the trust layer between our customers and those they do business with.
What does the future look like for Drata?
Drata has rapidly expanded its platform, having started with SOC 2 compliance automation to now, offering over a dozen compliance frameworks and additional GRC products like Risk Management, enabling companies to identify, assess, and treat risk and compliance all in one central place. We will continue our customer-centric approach to product development as we quickly add new features and functionality to solve more problems for our customers for years to come.