Why should businesses be considering Web3 for the future?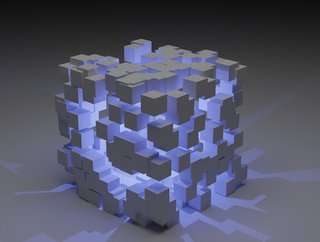 Web3 is inevitable, with research suggesting 88% of companies are already exploring new web technologies.
With Web3 being described as inevitable, research suggests 88% of companies are already exploring new web technologies, expanding how the internet works.
Bain & Company have compiled an infographic that provides greater context about how businesses are viewing Web3 to-date. It highlights how much of technology within businesses may not be ready for this rapid growth, suggesting that only 20% of organisations have a well-defined strategy in place for Web3. They indicate with their recent survey that businesses "lack confidence" in their abilities to deploy the new technology.
As Harvard Business Review surmises, Web3 is simply an "extension of cryptocurrency, using blockchain in new ways to new ends." These will become the replacement ways for users to manage their data. Yet it extends even further, especially since the COVID-19 pandemic, as more companies continue to adopt virtual or hybrid strategies and aspire to grow their talent pools.
A focus on user-based functionality will no doubt introduce 'the future of the Internet,' as AI technology continues to surge. Web3 has the potential to allow computers greater opportunity to analyse and learn interactions based on its encounters with the user. With these changes, McKinsey & Company advises that there are challenges and risks to address with Web3, but that this technology could have "potentially transformative effects." As chatbots and machine-learning algorithms would make analysing many types of data sets not only easier, but more tailored to user experience. There is no doubt that businesses must consider how to keep attracting consumers and brands to better direct their data.
So how would Web3 really affect businesses?
With Blockchain said to ensure complete data ownership, Web3 is already advocating for the importance of user control, which in turn allows for personal control over one's online identity and personal information. It appears that businesses are already alert to how greater freedom for online interactions is attractive to web consumers and businesses alike.
According to Bain & Company's research, about half of tech leaders already believe that Web3 could have a significant impact on their industries. Some of the benefits that Web3 can offer companies include potential future developments for biometrics and two-factor authentication. It has been argued that Web3 will provide increased data security, scalability and privacy for users, which may be attractive to large technology companies. This is particularly the case concerning protection against cyber attacks and improving privacy with personal and employment data, which companies may wish to consider.
As explained in a Technology Magazine article earlier this year, Matthew Moynahan, CEO of OneSpan, surmised that "to match their pace in Web 3.0, authentication and identity verification methods need to be continuous, but it needs to be more than MFA." Ultimately, it demonstrates that if Web3 were to grow, organisations would do well to embrace it long-term.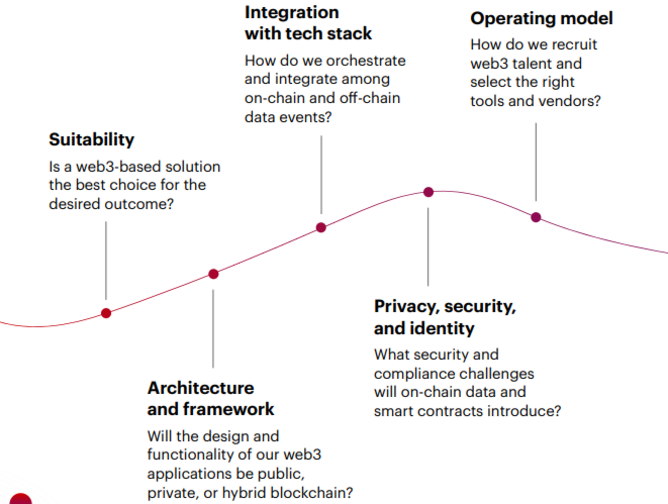 Infographic for web3: Questions for CIOs and CTOs
Do these freedoms come with risk?
Brian Clark from Ascend Bit spoke with Andrew Roth from McKinsey in March 2023, stating that they are "still trying to help people understand Web3 and why it should matter to them." There are inevitable anxieties to overcome, especially concerning how solid these security systems would be. One fear stems from the shift from web centralisation to decentralisation, leading to greater potential for fraud and more unregulated content, which could cause harm. A lack of moderation is a cause for concern, so it is clear that Web3 must be built with security being of paramount importance. Ultimately, changing the foundations of today's web will shake up public confidence, as parties will begin to interact differently with each other. Only time will tell if increased decentralisation would increase basic user complications.
What is also clear, is that Web3 would grow with time much like the metaverse. Another look at the metaverse has shown that 71% of business leaders are saying that it will open up new opportunities, with 65% already considering it. Yet, both the metaverse and Web3 at present are terrible for the environment with their extra energy output. With climate change being a huge issue, The Linux Foundation clearly argues that "Web3 must have sustainability at heart" with softwares already focused on reducing carbon consumption for existing and future products. If more environmental regulations were enforced worldwide, it is clear that Web3 would require even greater "standardisation" in order to be sustainable.
Amongst plenty of speculation, it is unclear as to how Web3 will take off, particularly when considering a potential loss of 'realness.' What is obvious, however, is by considering the potential future impacts on working culture and sustainability, businesses need to continue to get ahead of the game.