$8bn NortonLifeLock Avast merger to create cybersec giant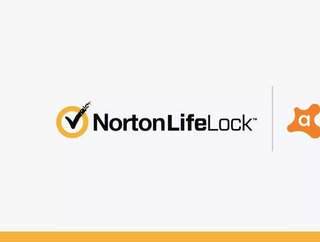 NortonLifeLock and Avast are to merge in a deal worth $8bn, creating an cybersecurity giant
NortonLifeLock and Avast are to merge, creating a company that could serve over 500 million users and net some $900 million in quarterly revenues.
NortonLifeLock will buy out the entirety of Avast's shareholding, to the tune of $8 billion, paying around a 20 per cent premium on the share price. The announcement caused a nearly five per cent spike in NortonLifeLock.
The deal would give NortonLifeLock/Avast a 25 per cent market share, making it the top dog in dedicated security software, though some question the future of such consumer software with baked-in security offered as standard on mainstream operating systems.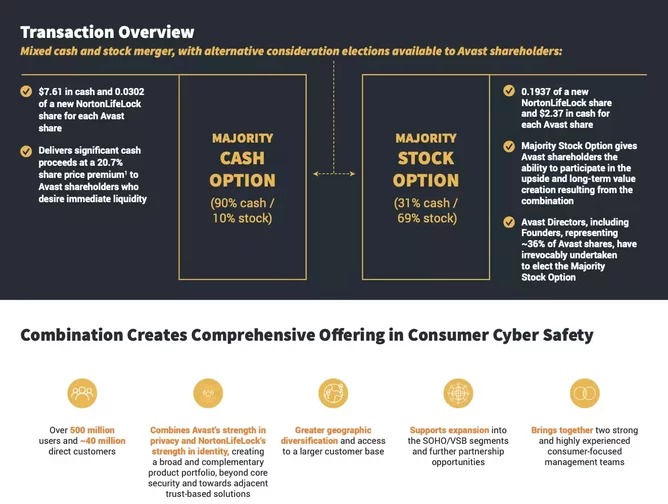 Vincent Pilette, chief executive officer of NortonLifeLock, said: "This transaction is a huge step forward for consumer cyber safety and will ultimately enable us to achieve our vision to protect and empower people to live their digital lives safely. With this combination, we can strengthen our cyber safety platform and make it available to more than 500 million users. We will also have the ability to further accelerate innovation to transform cyber safety."
Ondřej Vlček, chief executive officer of Avast, said: "At a time when global cyber threats are growing, yet cyber safety penetration remains very low, together with NortonLifeLock, we will be able to accelerate our shared vision of providing holistic cyber protection for consumers around the globe. Our talented teams will have better opportunities to innovate and develop enhanced solutions and services, with improved capabilities from access to superior data insights. Through our well-established brands, greater geographic diversification and access to a larger global user base, the combined businesses will be poised to access the significant growth opportunity that exists worldwide."
Strategic and financial benefits
Accelerates the transformation of consumer cyber safety with over 500 million users

Combines Avast's strength in privacy and NortonLifeLock's strength in identity, creating a broad and complementary product portfolio, beyond core security and towards adjacent trust-based solutions

Strengthens geographic diversification and facilitates expansion into the SOHO / VSB segments

Unlocks significant value creation through approximately $280 million of annual gross cost synergies, with additional upside potential from new reinvestment capacity for innovation and growth

Brings together two strong and highly experienced consumer-focused management teams
The Merger will also enhance the financial profile of the combined company through increased scale, long-term growth, cost synergies with reinvestment capacity and strong cash flow generation supported by a resilient balance sheet, and is expected to drive double-digit EPS accretion within the first full year following completion of the Merger and double-digit revenue growth in the long-term.
Organisation and management
Following the completion of the transaction, NortonLifeLock's CEO, Vincent Pilette, will remain CEO, NortonLifeLock's CFO, Natalie Derse, will remain CFO, and Avast's CEO, Ondřej Vlček, is expected to join NortonLifeLock as president and become a member of the NortonLifeLock board of directors. In addition, Pavel Baudiš, a co-founder and current director of Avast, is expected to join the NortonLifeLock Board as an independent director.
On completion of the merger, the combined company will be dual headquartered in Prague, Czech Republic, and Tempe, Arizona, USA, and will have a significant presence in the Czech Republic. The combined company will be listed on NASDAQ.