Comment from DXC Technology: Why enterprises should work on their core
By Chris Nøkkentved, CTO Enterprise and Cloud Applications, DXC Technology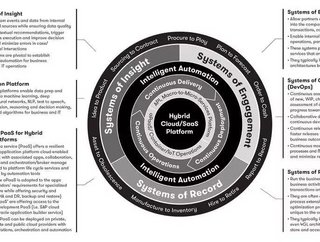 Why Enterprises Should Work on Their Core Ask a CEO which technologies are essential to digital transformation, and you'll likely hear much about adv...
Why Enterprises Should Work on Their Core
Ask a CEO which technologies are essential to digital transformation, and you'll likely hear much about advanced analytics and the IoT. While there are many other technologies with vital roles, these are the keys that unlock the door to value. But these technologies can't excel on the static, closed IT systems of yesterday, which are no longer agile or scalable enough to enable digitalisation. Realising value from these technologies requires a digital 'core' of pre-integrated yet loosely connected cloud applications that sit on top of elastic, resilient data platforms.
The digital core can serve as the engine that drives customer engagement and helps organisations access insights to support data driven decision-making. A digital core of applications further enables agile development and preventive operations on hybrid cloud platforms. Becoming a digital business is not a small, incremental change, and enterprises that treat it as such will fail to thrive (or even survive) in the digital era – a digital core will ensure enterprises can mitigate these risks.
How to build a core
At the centre of the core is a managed, enterprise platform as a service (PaaS) for hybrid cloud that offers a secure environment, provides APIs for access to the vendors' development platforms (SAP Cloud Platform, Oracle Application Builder Service, etc.) and can be deployed on private and public clouds. From there, the core includes all the systems of continuous change for DevOps; including continuous assessment, delivery, release and deployment, and monitoring and operations.
A digital core also needs an intelligent automation platform that prepares data for machine learning systems, neural networks, text to speech, decision-making, and other advanced applications and builds algorithms for business and IT. Next come the business applications – the systems of insights, record and engagement. These systems are the data foundation for machine and deep learning, therefore pivotal to establish algorithmic automation at the business process and IT operations layers. When all of these components of the digital core work together, it provides the right environment for experimentation and expansion into new markets and partner channels.
Don't forget the applications
Businesses building a digital core mustn't overlook the importance of applications. Treating ERP and other mission-critical business applications as if they are no longer needed means businesses risk hampering the organisations from scaling and innovating at speed. Core ERP processes will continue to be essential parts of any digital business platform, because the business processes for which ERP was designed are critical to successful deployments of digital initiatives. Core ERP, in this context, means a stable set of operational, iterative ERP end-to-end business processes that execute transactions and analytics designed to run the business.
However, though critical – large, monolithic on-premises ERP suites are not agile enough for digital business. A more flexible ERP foundation is needed; one that's designed to support commoditised business processes separately from the more innovative digital business initiatives, so those value-added activities always receive the resources they need. It is also necessary to adapt ERP strategy to better support a digital business platform that extends into the organisation's ecosystem. In a digital ecosystem – enterprises, competitors, customers, regulators and other stakeholders form a mutually beneficial, interdependent business network that shares standardised digital platforms.
Some organisations mistakenly believe establishing a B2B or B2C commerce site — or simply hosting their ERP applications in the cloud — makes them a digital business. Independent software vendors are adding to this confusion by pressuring organisations to move to a cloud solution, even though they can't define a clear business case or roadmap. The best option is to partner with vendors which have changed approach to become cloud-first operators, and have earned your trust. In the long term, a trusted/strategic partnership will win over high-pressure tactics and bullying.
Analyse this
A digital core gives enterprises the foundation they need to support the kind of advanced analytics – predictive and prescriptive – that is fundamental to customer, citizen and user engagement. Analytics underpin the value exchange occurring in growing digital ecosystems which are expanding with more IoT devices and physical products now acquiring digital footprints. From these devices, enterprises can channel new services and sources of revenue. This advanced analytics portfolio will likely include distributed and embedded analytics, as well as accompanying capabilities such as logical data warehouses and in-memory computing.
Digital business brings about fundamental changes, with new business models that involve major shifts in how an enterprise operates and interacts. A major component of digital business comes down to managing data. This cannot be sustained efficiently without a renovated digital core that includes stable and reliable core ERP processes executing standard transactions designed to run the business. Ultimately, a stable core is essential to any enterprise seeking to ensure its future.
Chris Nøkkentved is the Chief Technology Officer for Enterprise and Cloud Applications at leading IT firm DXC Technology