How Verizon Connect is helping customers run a smarter fleet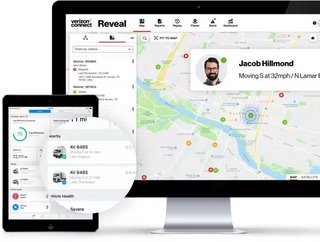 'Are my assets working to their best capacity? Are my employees acting safely? Is there any way the business can operate more efficiently or cost-effe...
'Are my assets working to their best capacity? Are my employees acting safely? Is there any way the business can operate more efficiently or cost-effectively?'
These are just a few of the daunting questions looming over today's fast-scaling businesses. As the competition ramps up, senior business professionals need to keep a vigilant eye on any opportunities or worse, any pitfalls, that could sway their operations. But what if the bustling venture you're overseeing includes a fleet of mobile workers and vehicles? How can you carefully monitor tens or even hundreds of mobile workers as they hurry to different ends of the country or even the world? Managing a mobile workforce can seem a near-impossible task for even the most seasoned logistics professional which can mean missed opportunities, poor productivity or unnecessary costs. This is where new technologies can offer a helping hand.
From advanced GPS fleet tracking software to driver education tools, technology now means you can immediately improve the productivity and efficiency of your fleet. During its short history, Verizon Connect (a subsidiary of telecommunications giant Verizon Communications) has made a name for itself in this field. One of the most popular products in its arsenal is its mobile resource management service (MRM). The next logical step for telematics, MRM combines traditional telematics and GPS tracking, with route optimisation and work order management. Essentially, this means businesses can monitor the exact whereabouts of their fleet vehicles with a near real-time GPS tracker. This, in turn, allows companies to offer an estimated time of arrivals (ETA), ensures that drivers don't take unauthorised detours and can even help to re-route mobile workers to new jobs as they emerge.
SEE ALSO:
With over a decade's worth of expertise clocked up at the firm, Sergio Barata, General Manager for EMEA, highlights that, in an age where tech disruptors reign supreme, fleet management is more important than ever. "With MRM, customers are looking for the ability to control, inform and manage their field resources more effectively," he says. "They're an extension of the business but there's a high level of expectation from customers receiving field services, specifically because of new benchmarks set by companies like Uber and Amazon. Whether you're competing or not, people are measuring their experience against the experience they receive from these disruptive providers." Operational decision makers seem to agree that mobile resource management is a key challenge that simply can't be ignored any longer. In fact, in recent research, Verizon Connect found that over three quarters (79%) of senior operational decision makers believed their organisations had to find a better way of managing their mobile workforce operation. On top of this, the majority of respondents admitted a degree of difficulty when it came to managing the field service management (70%), operations (65%) and fleets/assets (62%) elements of their organisation's mobile workforce.
MRM can take different forms depending on the customer: some businesses may want to start with telematics (a combination of telecommunications and informatics that makes GPS tracking possible) whilst others may already have some technology in place but are just looking to streamline last-mile delivery. By offering cloud-based, software-as-a-service (SaaS) platforms, Barata contends that the real benefit of Verizon Connect is that it allows businesses to scale when and how they want to. "A lot of traditional scheduling and routing platforms are very capital heavy and IT-centric," highlights Barata, pointing out how many firms don't get a fair return on investment. In contrast, SaaS and cloud-based solutions offer significant cost savings and give businesses the power to scale up and down as they see fit. "Whether they're looking for a SaaS-based scheduling tool or job visibility and workforce management solutions, we can help them generate additional value without a serious IT and capital commitment," he says. "Because we've built a platform, we have technologies that can stand alone. They can integrate with themselves, or they can actually integrate with third-party solutions as well — that's critical for our customers." Cloud computing has long been synonymous with agility and it's a similar story at Verizon Connect. For instance, with the right login details a worker — whether that's regular employees, contractors or even seasonal or casual workers —can access the same cloud platform easily. Barata argues that this gives firms the ability to "scale depending on the needs of the business very easily".
Founded in 2018, Verizon Connect combines three distinctive fleet and mobile workforce management software companies — Telogis, Fleetmatics and Verizon Telematics — under one unified brand. It is the culmination of more than $5bn in investments but for Barata, it's true competitive edge lies in the fact that it can offer end-to-end solutions. This means that, regardless of what fleet management tools a customer may need, Verizon Connect is essentially a one-stop shop. "If you asked 1,000 telematics companies what's unique about them, they'd probably say similar stuff: that they're 'best in breed' or 'world-class'," observes Barata. "I think our advantage is our focus on providing a holistic solution, not just across the vehicle-centric part of the business, but also the operations and the people part of the business."
From driving fuel efficiency and safety to reducing fleet expenses, the opportunities for fleet management are endless. Analysis of customers' vehicles can also provide useful data sets and benchmarks which can drive further business outcomes. "Customers can get greater operational visibility in terms of job execution where they can change behaviours, implement management and escalate issues but they can also get operational visibility in terms of data. Using valuable data resources, you could see which geographies are better at certain functions than others, for example." In fact, in its Data Driven Fleet Report, Verizon Connect found that reports on driver behaviour helped to substantially reduce speeding, idling and harsh driving.
Carrying out about 70,000 deliveries a week, Dixons Carphone – owner of Currys, PC World and Carphone Warehouse – is just one such market leader that has reaped the rewards of this technology. Implementing a full telematics solution, Dixons Carphone's managers were able to easily track their fleet from a single dashboard - allowing them to stay abreast of vehicle location and drive behaviour so that they could better respond to customer queries and complaints. In doing so, the firm says it has been able to improve its road risk management and efficiency with Chris Georgious, Head of Compliance UK&I Supply Chain & Operations, noting: "There is plenty of reason to be excited about the Verizon Connect system in terms of future accident reduction, better driver education and how we can present information to our drivers." Used from large retail giants and small customer-centric businesses alike, it seems that fleet management and telematics are here to stay. As such, Barata remains optimistic about the firm's future. "I believe that it doesn't really matter the size of the business – those fundamental needs still exist," he says. "I think Verizon Connect has got the right innovative solutions and the platforms to be successful in all those segments."