Sir Tim Berners-Lee auctions World Wide Web's source code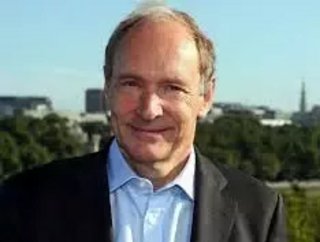 Computer scientist who invented the World Wide Web in the late 1980s to auction the original source code as a nonfungible token (NFT)
Computer scientist who invented the World Wide Web in the late 1980s to auction the original source code as a nonfungible token (NFT)
The auction for the World Wide Web NFT is titled 'This Changed Everything' and will be run by Sotheby's in London from June 23-30, with bidding starting at $1,000. Proceeds from the auction will benefit initiatives that Berners-Lee and his wife support, according to the auction house.
NFTs are digital assets designed to show someone has ownership of a unique virtual item, such as online pictures and videos - even sports trading cards. 
Digitally-born artefacts
This NFT includes original time-stamped files containing the source code which was written by Berners-Lee, an animated visualisation of the code, a letter written by him on the code and its creation and a digital 'poster' of the full code. All of these will be signed by Berners-Lee. It is the first time the inventor has been able to capitalise financially on what is widely seen as one of the most important inventions of our time.
Berners-Lee describes the invention as "a powerful tool for humanity" and praised the help of collaborators which helped make the World Wide Web a reality. He says while he "cannot make predictions for the future, he hopes its use, knowledge and potential remains open and available for continued innovation - and for the next technological transformation we can not yet imagine".
He adds that NFTs are the latest playful creations of this transformation, "an appropriate means of ownership" and an "ideal way to package the origins behind the web".
NFT sales: the figures rise and fall
In March, the South Carolina-based graphic designer, Beeple (real name Mike Winklemann), sold an NFT for a record $69 million at a Cristie's auction. And Jack Dorsey similarly sold his first tweet as an NFT for $2.9 million later that month. Total NFT sales reached a huge $2 billion in the first quarter of 2021, according to data from Nonfungible, which tracks the market.
But there are signs this bubble could be about to burst, with sales of digital collectibles falling in recent weeks. Overall sales fell from a peak of $176 million at the start of May to $8.7 million on June 15th, again according to Nonfungible. This means volumes are roughly back to where they were at the start of this year.