TECH LIVE LONDON: An overview of the hybrid technology show
By Tilly Kenyon and Tom Swallow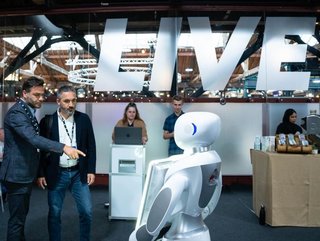 We take a look at the first day of Tech Live London with insights from technology leaders from companies such as IBM, Microsoft and Vodafone
Leaders, innovators and influencers have joined Bizclik Media Group in London for the TECH LIVE LONDON hybrid event.
Incorporating four zones; Technology & AI LIVE, Cloud & 5G LIVE, Cyber LIVE and March8 LIVE, the two-day conference and technology showcase is also available to attend virtually for viewers around the globe.
There are many inspirational speakers taking to the live and virtual stages, delivering inspirational keynotes, debating in roundtables or discussing trends in fireside discussions and Q&A sessions. Attendees can also experience the latest technology – including the chance to get behind the wheel of an F1 racing car.
We take a look at some of the highlights across the stages for day one.
Tech & AI stage
The Tech & AI stage played host to some passionate leaders, from those who have worked in technology for decades to the evangelists that will drive innovation in artificial intelligence (AI), data science and analytics, machine learning while contributing to the education and empowerment of a digital workforce.
There was a strong sense of empowerment and employee focus at this year's conference as the morning's panel discussion took place, covering topics revolving around the current use of technology post-pandemic and how this allows more individuals to work on a hybrid basis. However, almost a few years on from the onset of COVID-19, the landscape is changing and with adoption of remote working, it's not only leaving many feeling dissociated from their organisation but is proving difficult for some to collaborate.
Some of the issues raised in this session refer to the use of technology as a substitute for human interaction and whether it could be, and would be, achieved through the current digital systems or even the use of holograms.
"It's basically about going fully virtual. Fully immersed technology that would take care of brainstorming workshops [as well as] every other aspect of meeting in person," says Kreshnik Mati, Vice President Technology at Klick Health.
"We've tried virtual environments in the past. Could it work for a particular use case? Yes. But, from an organisational perspective you have to look at, commercially, what you are trying to [achieve]. Is it going to give you better benefits than you already have?" says Shubhi Rajnish, Group Head of Information Digital Technology - Corporate at BAT.
Throughout the day, attendees watched keynote presentations from other leaders in this space, including Gerant John, Vice President, Resilience at Interos, who delved into some of the approaches to supply chain risk management that could be used hand-in-hand with the application of data analytics to create streams of real-time data for contingency planning.
Towards the end of the day, Aaron Celaya, 364th Recruiting Squadron Commander, Artificial Intelligence & Human-Machine Teaming Researcher at the United States Space Force, gave a presentation to remember as he uses the popular film series, Star Wars, to explain his point about metacognition and its relevance in building trust in technology and AI, something is seemingly a huge step for businesses to take.
Cyber stage
Opening on the cyber stage we had a keynote presentation from Tammy Archer, CISO at Inchcape. Archer explained the various challenges CISO's are facing in the current changing climate. These included a rise in automated attacks and how attackers are becoming more motivated and knowledgeable.
"There are going to be times when you will face quite difficult circumstances, but I would say when it does come to that, you just need to take a step back and think about how you are going to approach the problem," Archer concluded.
This was followed by Lesley Kipling, Chief Security Advisor at Microsoft exploring the topic of zero trust, stating how trust should always be continuously assessed and is an ongoing journey. Kipling explained that zero trust is a framework, culture and philosophy, not a technical solution.
Other highlights included Richard Jones from Leidos discussing getting the basics right when it comes to cyber security, Eleanor Ludlam on cyber and data risks, and Andrzej Kawalec, Head of Cyber Security at Vodafone Business speaking on Extortion As A Service.
Cloud & 5G stage
A highlight on the Cloud & 5G stage was the exciting talk about robot-aided forestry management.
Ceren Clulow, who currently leads the Digital Connectivity Service in Nottinghamshire County Council, took to the stage where she explained all about the 5G Connected Forest.
This is the world-first project delivering 5G connectivity into a woodland area that investigates the role of 5G in delivering visitor attractions for all ages, protecting the sensitive forest environment through robotic environmental management and live monitoring.
She was joined on stage by Taufiq Asyhari who currently leads the Future Information Networks (FINET) Research Cluster at Birmingham City University, and also Dr Moad Idrissi, who is a Research Associate in the field of Smart Computing and Robotics.
Aiming to transform and uplift natural spaces within the locality, they use robotic dogs that are programmed to explore the forest floor using sensors to detect terrain and its overall health, as well as identify the volume of sunlight reaching through the trees. The drones, meanwhile, can fly above the canopy of trees and assess health ‒ from identifying symptoms related to lack of nutrients and poor sunlight to dehydration and disease.
The two dogs, Gizmo and Eric, also made a special appearance on stage - with even Eric showcasing a backflip!
March8 Stage
To start the day at Tech LIVE London, Alice Williams, Vice President of Strategy at Schneider Electric, took us through her journey as a female representative in seemingly very male dominated professions. Williams talks of her time in the military and her ability to defy the odds against her in an environment where male supremacy remains a concern.
She also explains how she succeeded in a world that is seemingly against women across many facets and includes a brief mention of how women are declared more at risk during a crash, despite all crash testing carried out using dummies that resemble males.
But, the main reason for Williams to speak at the show was to divulge the importance of women in science, technology, engineering and maths (STEM). For the most part, young girls are considered to be those who will take the lead in driving diversity in industry, but she explains that there are also many older women who hold valuable skills to excel in engineering.
Another highlight on the March8 stage was Eleanor Ludlam, Partner at DAC Beachcroft LLP, who gave an inspiring talk about the women in law. She expressed her own experiences of sexism and offered advice on how to overcome barriers.