How C3.ai uses AI for multi-industry digital transformation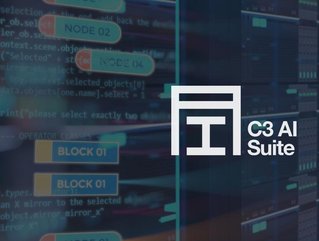 Enterprise AI software provider C3.ai is a specialist in assisting companies with digital transformati...
Enterprise AI software provider C3.ai is a specialist in assisting companies with digital transformation. 
Its C3 AI Suite allows for the construction of AI applications specifically built for enterprise. In-built AI applications include the likes of predictive maintenance, fraud detection, sensor network health, supply network optimisation, energy management, anti-money laundering and customer engagement, all of which are applicable across multiple industries.
Such industries include manufacturing, oil and gas, utilities, banking, aerospace and defence, healthcare, retail, telecommunications, smart cities and transportation.
C3.ai brings its expertise to bear on the manufacturing industry via data integration from enterprise systems, sensor networks and other external sources. Its machine learning models can then use that data to generate predictive insights into issues such as inventory stock reduction, waste elimination and the generation of economic value.
Applications relevant to the sector include inventory optimisation, predictive maintenance, energy management, sensor health and customer relationship management. Such applications can be applied to use cases such as the optimisation of supply networks, yields, prices and warranties.
Supply chains are notoriously complex beasts. Wrangling them is made easier with the application of AI, with the company's solution having a transportation focus to improve fleet management. For transportation and logistics companies, C3 AI provides solutions in inventory management and optimisation, predictive fleet maintenance, path optimisation and AI-enhanced pricing.
C3.ai's solution covers the entire spectrum from customers to pickup to transport and delivery. Using sensors attached to their fleets of vehicles, costumes can use the C3.ai suite to gain improved insight and make better decisions from maintenance to route planning.
SEE ALSO:
When it comes to the healthcare sector, C3.ai's AI Suite has the goal of improving health outcomes and the patient experience while reducing the cost of care. The C3 AI suite has applicable functions in such areas as patient engagement, early disease detection, addiction prevention, healthcare fraud detection and clinical workforce optimisation.
The solution can predict the failure of crucial sensors, vital in the healthcare environment. Aside from sensors, data useful to the solution stems from sources such as clinical, claims, pharma trials and EMR.
C3.ai offers solutions in both the utilities and oil and gas industries. For the former, its offering focuses on the enhancement of grid asset management and forecasting systems, as well as boosting energy efficiency. For the latter, the company's suite has capabilities in crucial areas such as improving reliability and safety while optimising production.
In the banking sector, the wealth of data available allows C3.ai to offer services to improve operational efficiency, increase customer engagement and mitigate risk. Aggregating multiple data sources into its machine learning models, customers gain access to predictive insights while being aided in their compliance.
From the analysis of pricing and promotion to liquidity management, asset pricing, the optimisation of securities lending, anti-money laundering and trade surveillance, C3.ai offers a comprehensive range of applications and use cases.
To find out more about C3.ai, head over to the C3.ai website.
Video and image source: C3.ai