Top 10 companies innovating healthcare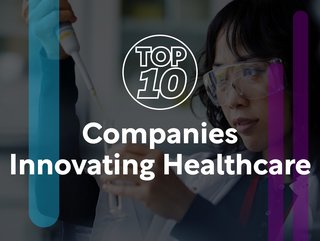 We look at 10 of the leading companies innovating in the world of healthcare
Technology Magazine looks at 10 of the top companies innovating in the world of healthcare through innovative tools and innovations
The fusion of advanced technologies and healthcare has brought a range of possibilities - from wearable devices monitoring our vitals in real-time to AI systems predicting disease outbreaks.
In this article we explore 10 of the leading companies innovating in the world of healthcare.
10: IBM
IBM helps drive transformation in the healthcare industry with a smarter architecture, modernised core systems, adoption of open standards and scaled data value. Designing secure platform experiences for data and AI needs across enterprises, IBM also offers advanced healthcare technology solutions to drive impact, services to digitally transform and the ability to implement at scale with a trusted partner.
IBM Cloud offers healthcare industry clients an open, secure and enterprise-grade environment, enabling them to accelerate research, inspire patient confidence with innovative customer experiences, and improve system uptime while meeting security and compliance standards.
9: Google Cloud

Google Cloud accelerates every organisation's ability to digitally transform its business. We deliver enterprise-grade solutions that leverage Google's cutting-edge technology.
Offering a range of solutions to meet today's healthcare needs, Google Cloud's healthcare and life sciences platform enables users to evolve the care paradigm, advance research at scale, and empower everyone in an organisation to innovate and transform.
8: AWS
AWS is the trusted technology and innovation partner to the global healthcare and life sciences industry, providing unmatched reliability, security, and data privacy.
Healthcare and life science organisations are reinventing how they collaborate, make data-driven clinical and operational decisions, enable precision medicine, and decrease the cost of care. To help healthcare and life science organizations achieve business and technical goals, AWS for Health provides an offering of AWS services and AWS Partner solutions, used by thousands of customers globally.
7: Microsoft
Microsoft Cloud for Healthcare provides trusted capabilities that make it easier to improve the entire healthcare experience.
With Microsoft Cloud for Healthcare, healthcare organisations can align to their clinical and operational needs, and then deploy quickly to empower their digital transformation and design a healthier future for their patients.
6: McKesson Corporation
McKesson Corporation is a diversified healthcare services leader dedicated to advancing health outcomes for patients everywhere. As a diversified healthcare leader, its solutions help patients access life-changing therapies, create a real difference for patients with cancer, and equip pharmacies, health systems and clinics with technologies to operate more effectively.
5: Philips
Royal Philips is a leading health technology company focused on improving people's health and well-being through meaningful innovation. Philips' patient- and people-centric innovation leverages advanced technology and deep clinical and consumer insights to deliver personal health solutions for consumers and professional health solutions for healthcare providers and their patients in the hospital and the home. Headquartered in the Netherlands, the company is a leader in diagnostic imaging, ultrasound, image-guided therapy, monitoring and enterprise informatics, as well as in personal health.
4: GE Healthcare
GE HealthCare is a leading global medical technology, pharmaceutical diagnostics, and digital solutions innovator, dedicated to providing integrated solutions, services, and data analytics to make hospitals more efficient, clinicians more effective, therapies more precise, and patients healthier and happier. Serving patients and providers for more than 100 years, GE HealthCare is advancing personalised, connected, and compassionate care, while simplifying the patient's journey across the care pathway.
3: Siemens
Siemens Healthineers pioneers breakthroughs in healthcare, for everyone, everywhere. As a leading medical technology company headquartered in Erlangen, Germany, Siemens Healthineers and its regional companies are continuously developing their product and service portfolio, with AI-supported applications and digital offerings that play an increasingly important role in the next generation of medical technology.
Siemens Healthineers also provides a range of services and solutions to enhance healthcare providers' ability to provide high-quality, efficient care.
2: Johnson & Johnson
For more than a century, with patients at the centre and in partnership with those on the front lines, Johnson & Johnson MedTech has harnessed the power of technology and breakthrough innovation to elevate new standards of care. In an increasingly digital world, the company is reimagining health – working to expand patient access, improve outcomes, reduce health systems costs, and drive value. In surgery, orthopaedics, vision, and interventional solutions, Johnson & Johnson goes beyond what's next to help save lives and create a future where healthcare solutions are smarter, less invasive, and more personalised.
1: Medtronic
From AI to connected care and beyond, Medtronic technology is building a bridge to better health for more people.
A leading global healthcare technology company that seeks to challenge the most serious health problems facing humanity, the company's mission - to alleviate pain, restore health, and extend life - unites a global team of 90,000+ passionate people across 150 countries. Medtronic's technologies and therapies treat 70 health conditions and include cardiac devices, surgical robotics, insulin pumps, surgical tools, patient monitoring systems, and more.
The company is committed to accelerating access to healthcare technology, advancing inclusion, diversity and equity, and protecting the planet.
******
For more insights into the world of Technology - check out the latest edition of Technology Magazine and be sure to follow us on LinkedIn & Twitter.
Other magazines that may be of interest - AI Magazine | Cyber Magazine.
Please also check out our upcoming event - Cloud and 5G LIVE on October 11 and 12 2023.
******
BizClik is a global provider of B2B digital media platforms that cover Executive Communities for CEOs, CFOs, CMOs, Sustainability leaders, Procurement & Supply Chain leaders, Technology & AI leaders, Cyber leaders, FinTech & InsurTech leaders as well as covering industries such as Manufacturing, Mining, Energy, EV, Construction, Healthcare and Food.
BizClik – based in London, Dubai, and New York – offers services such as content creation, advertising & sponsorship solutions, webinars & events.