"Serious risk" to UK's tech and science sectors as SVB falls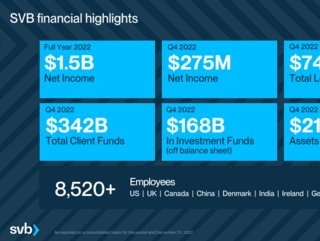 Credit: SVB Corporate Overview, January 2023
After a weekend of shocking developments, the UK's world-leading tech sector and scale-up ecosystem faces a week like no other, says Chancellor Jeremy Hunt
The entire UK technology industry faces an anxious countdown to a week of uncertainty following the collapse of Silicon Valley Bank (SVB) in California, according to industry experts and senior government officials.
On Friday, SVB was put under US government control, representing the biggest failure of a US bank since the 2008 financial crisis. Soon after, Silicon Valley Bank UK announced it will be put into insolvency from Sunday evening.
"The government and the Bank [of England] understand the level of concern that this raises for customers of Silicon Valley Bank UK, and especially how it may impact on cash flow positions in the short term," explains Chancellor Jeremy Hunt in an official statement issued earlier today.
"The UK has a world leading tech sector, with a dynamic start-up and scale-up ecosystem," he says. "The government recognises that, given the importance of Silicon Valley Bank to its customers, its failure could have a significant impact on the liquidity of the tech ecosystem."
Hunt says the government sees the issue as a significant priority, and discussions were conducted over the weekend between him, the Governor of the Bank of England (BoE), and the Prime Minister. He says the government is working on a resolution to prevent or mitigate damage to several of the UK's most promising companies and will introduce proposals to address the urgent operational and cash flow needs of Silicon Valley Bank UK customers.
"The Governor of the Bank of England has made it very clear that there is no systemic risk to our financial system, so people should be reassured on that basis," Hunt told Sky News on Sunday morning. "But there is serious risk to our technology and life sciences sectors, many of whom bank with this bank that most people won't have heard of, that happens to look after the money of some of our most promising and exciting businesses."
An official BoE statement posted to its website on Friday says: "The Bank of England, absent any meaningful further information, intends to apply to the Court to place Silicon Valley Bank UK Limited ('SVBUK') into a Bank Insolvency Procedure. A Bank Insolvency Procedure would mean that eligible depositors are paid out by the FSCS as quickly as possible up to the protected limit of £85,000 or up to £170,000 for joint accounts."
SVB UK's other assets and liabilities would be managed in the insolvency by the bank liquidators and recoveries distributed to its creditors, the statement continues. The BoE says SVB UK has a limited presence in the UK and no critical functions supporting the financial system.
Ticking clock counts down to Monday
"The ticking clock is a huge problem for companies," says Dom Hallas, Executive Director of Coadec, which acts as a policy voice for the UK tech industry. "Right now, the key concerns remain immediate liquidity for companies and functional access to banking services on Monday. We know that there's a need to come to a solution as soon as possible and we are pressing for one."
In a series of weekend emails, Hallas attempted to spread key information to the tech community, including how SVP UK customers should proceed. HM Treasury has requested affected startups send them the name of the bank's client company, the estimated amount of their deposit at SVB UK, and their monthly cash burn, if applicable, says Hallas.
The Treasury has also asked those affected to indicate if their firm solely banks with SVB UK or has access to other UK banking services, he says. This information can be sent confidentially to EST@HMTreasury.gov.uk, with 'SVB UK' in the subject line.