Snowflake opens new UK office amid strong momentum in EMEA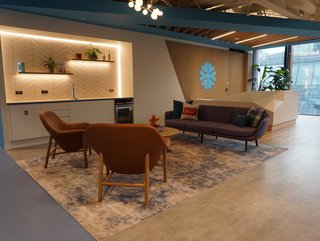 In FY23, Snowflake's product revenue in EMEA grew 72% YoY.
With Snowflake opening a new London office, Area Vice President Julien Alteirac spoke to Technology Magazine about what these changes mean for operations
Data Cloud company Snowflake has seen significant growth in EMEA in 2023. This was driven mostly by the launch of platform innovations, a focus on application development, and a collaborative growth of industry customers.
Julien Alteirac, Area Vice President UK&I and Benelux at Snowflake, recently spoke to Technology Magazine about the company's new city of London office, and how the move hopes to facilitate greater collaboration between Snowflake employees, customers, and partners. With greater customer adoption and consumption in the EMEA region, Snowflake aims to continue delivering developments and data innovations.
Shiny and new: A strong drive towards EMEA growth
Snowflake is a cloud-native company offering a cloud-based data platform that features a cloud data lake and a data warehouse as a service in addition to six other data workloads. Julien Alteirac has been working with Snowflake for six and a half years, since its inception, working across the UK and Ireland, as well as the Benelux region.
"We started out very much focusing on the database and the reimagination of the database in a world that was very much old-fashioned, legacy - organisations came to us and said they had challenges that linked to scale and cost," Alteirac said.
"Back in the day, when organisations were finding challenges around data silos and bringing all the information together, [especially] at the pace and speed at which data infiltrates organisations, that was a real challenge."
In FY23, Snowflake's product revenue in EMEA grew 72% YoY, as well as the company itself expanding its team into the area by 68%. Recently, Snowflake announced availability on Azure, in addition to the already available AWS and GCP regions, which have been hailed as a key milestone driven by high customer demand for local data residency both in the private and public sector.
"Over the course of the last six or seven years, the platform has evolved into a data cloud. And again, addressing some of the very big challenges organisations face, it is customer-led. Thanks to the feedback from customers over those years, it is all down to flexibility, cost, and scalability in the challenges that organisations face in the modern world."
Snowflake prides itself on always adopting a customer-first ethos. Alteirac expanded on this approach, saying that: "We [now] have a brilliant customer experience centre where we hope to bring customers and prospects into, and really give them a flavour of what Snowflake is all about and how we can add value into their day-to-day business and organisation.
"We've got a fantastic space, state of the art technology, lots of room for hosting large groups. That is really giving back to our customers and keeping them front of mind and customer first."
"Snowflake was born in the cloud for the cloud."
Speaking of the new office, Alteirac stated: "When I think back six and a half years ago, we started out in a WeWork office for six employees. So, we've come quite some way.
"The opening of our new office is testament to our growth in EMEA and demonstrates our long-term goals in expanding our activity in the UK market, and supporting Snowflake's sustained and continued growth in the coming years.
"[Snowflake is now] spread over the two floors, with plenty of meeting rooms, and a customer experience centre. There is plenty of space for collaborating and working together which we do a lot of in this industry. We are super excited and super grateful."
The new UK office occupies 3,434 square metres in the heart of the city of London, close to Liverpool Street, and is doubling in size in terms of capacity. Sustainability is also at the heart of the new office, with the building being clad with a terracotta facade that has a low carbon emissions rating, and ensures the cooling and heating systems of the building remain both balanced and highly efficient. Heating efficiency is also maximised through the use of a shared energy centre.
Speaking on the potential for future achievements and even further growth stemming from the new office, Alteirac said: "We are a data cloud and what we help organisations do is so significant that the longevity of what we're doing is going to span for quite some time. That's reflected in the growth of the company and the team across the globe.
"For the UK, we've gone from six employees in the first year to north of 150 today, which is really quite substantial. We see that growth and whilst it would have slowed naturally, it will continue hopefully for many years to come."
As Alteirac concludes, the London presence is very important for Snowflake. "London is one of those absolutely key cities or key regions. When we look at the verticals and sectors that we cover from FSI, to media & entertainment, and retail and CPG - we are very fortunate to be working with some of the most well-known organisations across the globe based out of London."
Snowflake's company vision for 2024 is to focus on offering new vertical offerings and helping customers drive maximum value from ESG reporting data.