Exec Q&A with Marieke Flament, CEO of the NEAR Foundation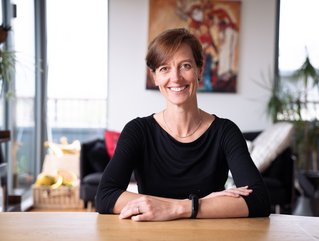 Flament helps NEAR deliver community-driven innovation through simple, secure, and scalable technology to help millions invent and explore new experiences
Marieke Frament is the CEO of the NEAR Foundation, a non-profit foundation headquartered in Switzerland. They have three missions: to raise awareness with education program, to support with grants and funding, and to provide governance.
NEAR Protocol is a shared, proof-of-stake, layer-1 blockchain that is simple to use and scalable. NEAR is also a certified carbon neutral blockchain. The ecosystem sees over 100,000 transactions per second - it is a growing network of over 400,000 international community members and 1,000 active developers working on more than 500 projects and 300 DAOs.
With the growing clamour for decentralisation and web 3.0, Frament and NEAR are leading the charge to a new way of thinking, where people can take back ownership and be better rewarded.

Frament tell us more...

What is your point of difference as a business?
A crypto non-profit organisation is not your typical business! We know that we need to overcome the current barriers to web3 adoption, and we're thrilled to be doing this through our simple, secure, and scalable technology. There are plenty of successful dApps which are already use our blockchain as a force for good, such as Open Forest Protocol, which transparently measures, verifies and funds forestation projects and NFT minting platform Mintbase - which allows anyone to create NFTs without worrying about technical complexities.
What technology are you most looking forward to using more of?
The first, I have to say, is blockchain, specifically the NEAR protocol! The opportunities it presents to transform the way we live and organise our lives are truly incredible.
Then also, DAOs - the decentralised autonomous organisations that refer to member-owned communities that operate using collective instead of centralised leadership. It's a safe way to collaborate and commit to a cause with others, and I genuinely believe they will change the world in ways that most people can't begin to even imagine right now - some examples of DAOs we are building include SailGP, Unchain Fund, and OrangeDAO.
What has been your career highlight prior to your current role?
There have been several. The highlights are often people, and often my career highs have been when I'm part of a movement, creating something great alongside those I admire. At Mettle, Circle and Expedia, I was lucky to have the opportunity to work with fantastic people. I love it when work is fulfilling, exciting and rewarding.
Before joining NEAR, I was proud to pioneer turning niche blockchain products into globally recognised brands, scaling Circle from zero to two million users in less than two years and helping to launch the popular USDC stablecoin.

What has been your highlight in your current role?
It's the best role I've ever had. Every day is a new fulfilling day, with lots of fantastic people and builders. It is a privilege to be part of such an ecosystem and a nascent technology.
NEAR's vision is to create a world where users own their data, their money, their creations, their journeys. A world where all can engage and participate, a world where new business models can be invented, where creators, developers and users can be better rewarded. Our mission is to bring this OpenWeb / Web3 vision mainstream, and I'm honoured to be working with the entire NEAR Foundation team and the NEAR ecosystem to help achieve that vision.
What is your leadership style?
The way I lead is defined by my core beliefs. First, I believe in setting a clear vision and providing clarity of path so that everyone knows and deeply understands their goals and is held accountable to those. This is achieved through strong communication, which is related to my second point.
Perhaps because I've been raised in different countries and cultures, I've seen how languages frame the way we see the world and relate to each other. We all speak different languages (not just literally but also figuratively - for example, finance language is different from technology language). As a leader, it's my role to help people understand each other, and as best as I can, try to translate or help others to interpret and better understand one another.
This helps to bring about my final point which is that I strongly believe in aligning on mission. It's much easier to achieve exceptional work that way. Basketball has played a huge role in my life and career, and there are countless parallels that I see between coaching a team sport and how we manage in the workplace. Fundamentally, having an aligned mission means that we are a team and we're here to support each other on our way to our agreed destination.
What exciting plans do you have coming up as an organisation?
A lot! First of all, we were selected by Orange DAO, a crypto collective created by Y Combinator alumni for backing Web3 startups, as its preferred layer 1 blockchain. Orange DAO is currently made up entirely of YC alumni, including our co-founder Alexander Skidanov. After starting with just a few dozen YC alums, Orange DAO has expanded in recent months to include over a thousand YC founders.
Also, in the sporting world, we signed a strategic partnership with the global sailing league SailGP, started by Oracle Chairman Larry Ellison, to create the world's first 100%-owned decentralised autonomous organisation (DAO) for international sport. This means that fans can be owners of sports teams and will be able to engage and experience the sport in entirely new ways.