FrontDesk's comprehensive platform for queue management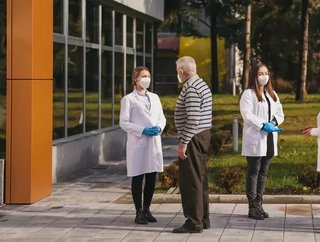 Leaders in queue and appointment management, FrontDesk, has been supporting countries with people flow management during the COVID-19 vaccination rollout
With over 10 years of experience with queue and appointment management, FrontDesk has helped cities, regions, universities, health centres and other large organisations with managing their appointments and customer flow.
The company has eliminated wait times for millions of people and is dedicated to constant innovation to develop useful software solutions to minimise idle time. FrontDesk's platform, FrontDesk Suite, seeks to remove all unnecessary waiting time at the point of action.
Founded in Denmark by Lasse Rydberg in 2011, to provide the city with a queue management platform, FrontDesk now serves over 10 million citizens, students and businesses in the Nordics, Germany and North America. 
FrontDesk's comprehensive platform for queue management
As a leader in queue and appointment management, FrontDesk's platform, FrontDesk Suite, improves customer service for its clients.
This comprehensive platform has been designed based on feedback from clients to provide the best possible service and is the preferred platform for the public sector. It supports its clients with both online bookings and walk-in management.
By digitalising manual processes for the public sector, FrontDesk has proven its value for both staff, management and citizens.
With its innovative and complex scheduling system, the FrontDesk Suite is customisable in order to fit the needs of all its clients. The intuitive booking platform spreads the customer's visits throughout the day, eliminating both wait time and peak hours.
Supporting Canada's vaccination programme
Following its success in Denmark, FrontDesk expanded its operations into Canada in 2019 and now supports many areas in the country as they accelerate their digital transformation.
Working in the City of Windsor in Canada, FrontDesk has supported the city with its vaccination programme, highlighting the effectiveness of its platform. The company had previously worked with the city to improve their appointment and citizen flow so working together to create this for the mass vaccination sites in the Windsor-Essex region was quickly executed.
"I must say, their [FrontDesk's] ability to respond and make improvement tweaks to the system has been impressive. They have been super easy to work with," said a Senior Manager from the City of Windsor.
This process for the vaccination programme was built in collaboration between FrontDesk's Consultants and various stakeholders from Windsor-Essex. 
Overcoming challenges to manage citizen flow
To support the vaccination programme in the area, the FrontDesk Suite guides citizens through the mass vaccination sites, a large hockey arena with multiple rinks needed for vaccinations.
From check in to recovery, FrontDesk's platform allows for a finely managed system where, with a few clicks, the entire experience and citizen flow can be configured based on real-time data.
The FrontDesk Suite, and all its comprehensive features, gives staff a complete overview of the citizens on site. This can be anything from their arrival to how long they have been waiting in the 20-minute recovery area.
"Our team is able to adapt on the fly as the situation warrants. The system is easy to configure/customise and the hardware is versatile enough that we are never limited by the physical space. FrontDesk has enabled us to optimize our site's customer service experience and reduce the strain on staff with managing traffic," said an IT Site Lead at the City of Windsor.
Undoubtedly, the COVID-19 pandemic has posed a challenge for all businesses and organisations, FrontDesk being no exception.  With experience from helping Canadian cities with their day-to-day operations and its innovative and comprehensive solution, FrontDesk has also successfully managed the citizen flow for one of the largest vaccinations campaigns in our lifetime.