How intelligent workflows change the oil & gas industry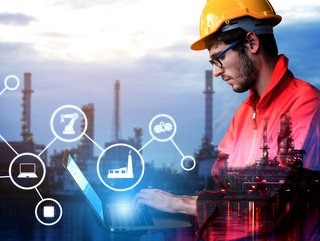 With so much volatility in this sector, acutely felt by many western consumers, how are intelligent workflows enabling the shift towards alternatives?
As defined by EY, Intelligent automation (IA) refers to the integration of robotics with multiple components from different emerging technologies. These software robots operate as virtual employees, reliably automating manual, repetitive tasks at scale.
EY adds that 'when robotic, intelligent and autonomous systems are integrated, the result is intelligent automation, widening the scope of potential tasks and processes that can be automated. This powerful combination brings transformation across the whole spectrum of emerging technologies such as artificial intelligence, blockchain and the internet of things.'
Within the Oil & Gas sector, data-driven analytics are driving safety and productivity improvements, but businesses face an uphill challenge to implement automated artificial intelligence (AI) workflows based on a standardised data model in a manner that is integrated with standard work processes.
Silos and data sets are seen as the main barriers within organisations and across the energy industry at large, which has led to such initiatives as the Open AI Energy Initiative (OAI), a first-of-its-kind open ecosystem of AI solutions involving Shell, C3 AI, Baker Hughes and Microsoft.
To add more perspective on this initiative, Dan Jeavons, General Manager – Data Science, who has led the initiative's development, and Christophe Vaessen, General Manager Commercial – EMEA, who leads commercialisation efforts of Shell's intellectual property (IP) to third parties, spoke about technological advancements in their industry.
Vaessen told shell.com: "Digital technology is a key enabler to facilitate the way we are doing business. As an energy company, we have to adapt to remain at the forefront of this transformation. The three previous industrial revolutions have demonstrated that not only the most advanced industries were successful, but the ones that were able to partner, develop and work together effectively were the ones that often stood out. In the OAI platform, we are building an open environment that enables all parties to work together toward a common ambition."
The OAI is an open platform where companies can plug in and commercialise their apps. This includes not only international oil companies but also different sectors, such as cement or mining companies, that are running large operations and looking for digital tools to help with predictive maintenance.
As industrial facilities require robust and supportable applications, C3 AI provides a series of apps which provide predictive maintenance and reliability capabilities, while Microsoft provides the base platform.
Dan Jeavons added that Shell is "committed to working as part of an ecosystem – bringing multiple players together to move forward in the AI space because no one company can solve the world's AI problems".
"Furthermore, speed is paramount – the energy transition is forcing us to change more quickly and the digital transformation of society is also accelerating. Our view is that alliances are critical to accelerating our progress and enabling AI deployment at scale."
As founding members of the OAI, Shell takes a leading role in developing a curated ecosystem of integrated solutions and creating fair value exchange for the companies that build on top of the platform.
"The nearest analogue to what we're trying to do with the OAI is to create an Apple App Store for the process industry," added Jeavons.
"We have a standardised data model based on open standards. We have a platform that creates consistency, scalability and supportability to drive adoption. And, on top of that, we are aiming to build solutions that respect expertise and create fair value exchange".
Shell is focused on further developing predictive maintenance solutions that can help plant operators take preemptive action to avoid shutdowns based on equipment failure, according to Vaessen.
"In the medium term, we would like to expand the offer by making it more integrated and include offerings to assist plant optimisation, inspection and sustainability. We want to bring in other elements in the value chain and therefore offer a full ecosystem for plant operations.
"Partnership for the OAI will be incentivised by the solutions offered, and today, Shell is providing a first wave of solutions. As the platform gains more adopters, its offerings will increase over time. Through collaboration and sharing technology, we are aiming to build an ecosystem where adopters will, together, be developing a fully integrated solution," said Vaessen.
Data and analytics: a true partner to businesses at BP
Franziska Bell is SVP, Digital Technology, a role that involves heading BP's data and analytics discipline, which covers everything from data science to artificial intelligence, data engineering, data analytics and data management.
At BP, the applications for data and analytics are immense, working on everything from energy production, shipping, refining, commodities trading, and the sale of BP products to suppliers and customers.
Beyond the impact such work can have on BP as an organisation, Bell is particularly passionate about the impact that BP can have on the planet overall.
"Data and analytics will have a significant role to play in helping the world get to net zero. It's a core part of BP's ambition to become a net-zero company by 2050 – or sooner.
"All of this means that my teams are laying the digital technology foundations that will be crucial to rewiring the world's energy systems," she said.
At BP, collaborating with colleagues to build the technologies and systems that accelerate BP and their customers towards net zero is something that makes Bell particularly proud.
"I am excited that data and analytics is a true partner to our businesses at BP. We collaborate closely with the organisation to co-develop data and analytics strategies and develop data-driven products. For example, we have developed a data-driven algorithm that can be used to recommend where best to place EV charging points as BP aims to increase its global EV charging network to 100,000 charging points by 2030.
"My team is also developing a fleet decarbonisation tool with BP's regions, cities & solutions business. The tool is intended to analyse fleet data and recommend the most cost-effective decarbonisation package and pathways," said Bell.
BP can then help simplify the complexity behind the transition to a low carbon economy through designing fleet packages for our customers that consider things like total cost of ownership, operations, country-specific policies, and emissions at a granular level.
Harnessing BP's breadth of knowledge, the fleet decarbonisation tool allows customers to make decisions on optimal fleet composition and choose less carbon-intensive fuel types.
"We are also investing in data and analytics tools and platforms to increase development speed and user experience for our internal data and analytics users. For example, the data and analytics platform team developed a Machine Learning DevOps framework in collaboration with Amazon Web Services, which received the DevOps industry award for 'Best DevOps Tool/Product 2021".
Skyrocketing costs are a persistent challenge in the Oil and Gas sector
OpenText optimises asset maintenance and manages critical information and operations within the Oil & Gas sector. Companies in upstream oil and gas production, midstream transportation and downstream refining operate in a highly regulated, constantly evolving environment.
With ongoing challenges, such as fluctuating oil prices, mergers and acquisitions and data silos, OpenText helps rein in costs, improve decision-making and uptime and achieve the desired ROI through peak operational excellence and profitability.
Phil Schwarz, Industry Strategist for Energy & Utilities, OpenText, reiterated that "the energy and utilities industry has faced huge volatility in the last 18 months".
"As a result, companies are working hard to extend the life of existing assets and deploy new ones on time and within budget while keeping risks as low as possible."
In his mind, intelligent automation is key to helping the entire industrial process industry become more adaptable. This is especially true for the utilities sector.
"To transform into a smart and augmented utility company, organisations should focus on enabling their customers to transition to sustainable energy consumption and on new businesses, such as renewables and beyond the metre.
"However, they must be pragmatic and maximise ROI by re-engineering processes before they are implemented. Finally, they must curate the culture and mindset in which these technologies complement the workforce's skills".
Schwarz adds that "cloud adoption will also be key" – a notion supported by research, which shows that 74% of Utilities plan to spend more on cloud technologies by 2025.
"This will break down information silos, giving team members and suppliers the right information at the right time to ensure sufficient energy supplies and service levels."