Snap: On a mission to reinvent the camera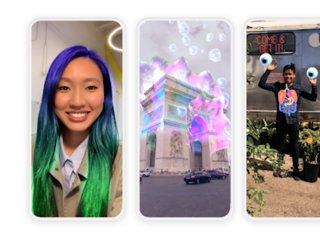 After delivering its first quarterly profit, we take a look at Snap and how it is using augmented reality (AR) to enhance consumer experiences
Snap, the owner of Snapchat, a multimedia smartphone app people use for sharing images, videos, and news, reported its first quarterly net profit, and beat analyst estimates for the fourth quarter on earnings, revenue, and user growth.
The company reported adjusted earnings of 22 cents a share on revenue of $1.3 billion. Analysts expected Snap to report earnings of 10 cents on revenue of $1.2 billion. It's the first time Snap has shown a quarterly profit, with revenue increasing 64% to $4.1 billion in 2021, compared to the prior year.
"2021 was an exciting year for Snap and we made significant progress growing our business and serving our global community," said Evan Spiegel, CEO. "The strength of our core business has enabled us to accelerate our investments in augmented reality, transforming the way that the Snapchat community experiences the world through our camera."
Bringing shows to Snapchat
Snap has recently extended content deals with three major media companies. The companies will continue their collaboration with Snap through extended agreements to provide their current shows on Discover and individually plan to bring more shows to Snap in the future.
Disney Media and Entertainment Distribution will continue its show offerings on Discover, providing Snapchatters with content from brands such as ESPN and ABC News, with additional brands to be added at a later time.
Snapchatters currently have access to the following shows: SportsCenter on Snap, SC Now, ESPN MMA Show, College GameDay, ESPN College GameDay All Access, Undefeated On the Yard, Hoop Streams, Localish, What Would You Do?, and Marvel Becoming.
The collaboration between Disney and Snap resulted in ESPN reaching over 26 million Snapchatters during the 2021-2022 football season.
Snap and ViacomCBS have expanded their Stories content offering to include CBS content as well as content from Paramount+ and existing ViacomCBS brands including MTV, AwesomenessTV, CMT, and VH1. ViacomCBS will also distribute episodes of new shows each year that have not previously been distributed on Discover based on their linear and Paramount+ properties.
Snap and NBCUniversal have expanded their Stories content offering to include more from NBC, Bravo and other NBCU-owned networks, including Peacock. NBCU will also distribute episodes of new shows each year that have not previously been distributed on Discover based on their linear networks and Peacock. NBCUniversal reached 74 million Snapchatters across 20 Shows in 2021.
Since joining Discover, these companies have amassed huge audiences on Snapchat, over 100 million Snapchatters watch entertainment content on Discover each month.
Shopping with augmented reality
Snapchat is known for its augmented reality (AR) lenses, which place overlays on users taking a selfie, or distort the live image in many different ways. People can try on products using snapchat's camera, rom clothing and accessories, to makeup and shoes, Snap's Lenses make the shopping experience more accessible through augmented reality.
With thousands of products to check out virtually, Snapchatters can express their style, try-on digital versions of real-life products, click through to purchase them, and even share their shopping adventures with friends. Snapchatters are now engaging with AR more than 6 billion times per day, and 93% of them are interested in using AR for shopping.
The company has recently announced the launch of Shopping Lens so Snapchatters can easily swipe through multiple products in one place. They'll see details on pricing, colour, sizing, and similar items, right from the retailer. Lenses from Ulta Beauty & MAC Cosmetics are the first to use this new capability and in the coming months, Snapchatters will be able to shop using even more of these Lenses made by brands they love.