Top 10 autonomous vehicle companies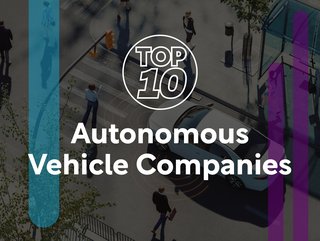 Technology Magazine looks at 10 of the top autonomous vehicles companies
Technology Magazine looks at the leading innovative players in the autonomous vehicle industry that are shaping the future of transportation
Promising to change the way consumers experience mobility, autonomous vehicles could make transportation safer, more comfortable and even more enjoyable.
With McKinsey suggesting that autonomous driving could create US$400bn in revenue by 2035, it is no wonder that companies ranging from start-ups to automotive giants like Ford, GM and Toyota have begun to explore a self-driving future.
Some of the key benefits of autonomous vehicles include:
Improved Safety: Autonomous vehicles have the potential to significantly reduce traffic accidents caused by human error, which is a leading cause of accidents today. Self-driving cars can constantly monitor their surroundings, make split-second decisions, and react faster than human drivers, leading to safer roads.
Reduced Traffic Congestion: Autonomous vehicles can communicate with each other and traffic infrastructure, optimising traffic flow and reducing congestion. This can lead to shorter commute times and reduced stress for drivers.
Increased Accessibility: Self-driving cars can offer greater mobility to people who are unable to drive due to age, disability, or other reasons. This can improve the quality of life for those who rely on public transportation or assistance from others.
Energy Efficiency: Autonomous vehicles can be programmed to operate more efficiently, reducing fuel consumption and greenhouse gas emissions. This can contribute to environmental sustainability and combat climate change.
Productivity: Commuters can use their travel time more productively in autonomous vehicles, such as working, reading, or relaxing, instead of focusing on driving. This can lead to increased productivity and work-life balance.
Here, we look at the leading companies in the autonomous vehicle market to learn more about those who are driving the industry forward.
10: May Mobility
Autonomous shuttle vehicle startup May Mobility was founded in 2017, aiming to build the world's best autonomy system.
In total, the company has delivered more than 335,000 autonomy-enabled rides to date, in several public transit applications across the US and Japan.
With key strategic partnerships including some of the world's most innovative automotive and transportation companies, such as Toyota Motor Corporation, May Mobility aims to achieve the highest standard in rider safety, sustainability and transportation equity.
9: Pony.ai

Founded in late 2016, Pony.ai is a Chinese developer of self-driving vehicle solutions that aims to bring safe, sustainable, and accessible mobility to the entire world.
Based in Beijing and Guangzhou, China, and Silicon Valley in the US, Pony.ai has been a pioneer in extending autonomous mobility technologies and services at a rapidly expanding footprint of sites around the world.
In August the company announced it would form a joint venture with Toyota to jointly advance the future mass production and large-scale deployment of fully driverless robotaxis.
8: Nvidia

Tapping into its decades-long experience in high-performance computing, imaging, and AI, Nvidia has built an end-to-end, software-defined platform for the transportation industry that enables continuous improvement and deployment through over-the-air updates, delivering everything needed to develop autonomous vehicles at scale.
The company has a number of partnerships with automotive manufacturers such as BYD, Hyundai Motor Group, Jaguar Land Rover, Mercedes-Benz, NIO and Volvo Cars, offering a range of hardware and software solutions to drive future autonomous vehicles.
7: Zoox
​​​​​​​Zoox was founded in 2014 to make personal transportation safer, cleaner, and more enjoyable. An independently operated subsidiary of Amazon since 2020, Zoox is applying the latest techniques in automotive, robotics, and renewable energy to build an autonomous, symmetrical, bidirectional, battery-electric vehicle that solves the unique challenges of autonomous mobility.
In 2023 its robotaxi took its first, completely autonomous, voyage on open public roads: marking the first time in history that a purpose-built robotaxi - without any manual controls - had driven autonomously with passengers on open public roads.
6: Baidu

The world's largest robotaxi service provider, Baidu has accumulated more than 40 million kilometres of Level 4 autonomous driving test mileage and 3,477 autonomous driving patent families, holding the world record for number of autonomous driving patents for four consecutive years.
In December 2022 it received the first license to test autonomous vehicles with no safety operator on board in Beijing, paving the way for launching a paid fully driverless robotaxi service in China's capital city after the success of its Apollo Go service in the cities of Wuhan and Chongqing.
5: Tesla

Pioneers in the EV realm, Tesla's solutions have been on the market for years and continue to develop as the team works to build autonomy into its cars.
The company has developed a self-driving software platform which is a deep learning-driven improvement of Tesla's baseline advanced driver assistant system (ADAS). Known as 'Autopilot', this Level 2 automation system leverages various features, including cruise control, self-parking, lane centring, and highway navigation.
4: Motional
Formed in 2020 as a joint venture between Hyundai Motor Group and Aptiv, Motional is today developing Level 4 autonomous vehicles for ride-hail and on-demand delivery.
For over five years, Motional has operated a public robotaxi service in Las Vegas on the Lyft network, conducting over 125,000 autonomous rides in the process. In December 2022, Motional began conducting autonomous rides for Uber passengers in Las Vegas. Starting in 2023, Motional's ride-hailing services with Lyft and Uber in Las Vegas will become fully driverless and will begin scaling to other major US cities.
3: Cruise

Founded in 2013 and acquired by US automotive giant GM in 2016, Cruise began offering taxi services via entirely autonomous means in 2021 - becoming the first company to complete a fully driverless ride in a major US city. By February 2023, its AVs had collectively driven one million driverless miles - a distance equivalent to more than 40 laps around the planet - almost entirely in San Francisco.
Cruise has received US$10bn from well-respected companies and investors, including GM, Honda, Microsoft, T. Rowe Price, and Walmart.
2: Mobileye
Twenty years ago, Mobileye revolutionised driver-assist with a simple radical idea: that a single, inexpensive sensor, the camera, could be the basis for life-saving technology. Today, the company is one of the pioneers of today's most revolutionary driving technologies. Mobileye has helped develop driver assistance solutions for over 125 million vehicles in its efforts to transform the industry into a fully automated system.
In March 2023, Mobileye was named the leader in autonomous vehicle technology by two industry reports – Guidehouse Insights Leaderboard: Automated Driving Systems and the first-ever ABI Research Autonomous Vehicle Platforms.
Working with more than 50 auto OEMs, the company has built an AV that is seamlessly integrating into traffic in cities around the world including Munich, Paris, Detroit, Jerusalem, New York and Tokyo.
1: Waymo

Beginning life as Google's internal self-driving vehicle project, Alphabet-owned autonomous driving specialist Waymo was created in 2009 as a business to bridge the gap between self-driving cars and robotaxis.
As of March 2023, testing one of its autonomous EVs on the streets of Austin, Texas, to showcase the first prototype of its Waymo Driver – the Firefly.
The Waymo One ride-hail service is already available to the public in Phoenix, Arizona, and San Francisco, California. In August the company announced it had received its driverless deployment permit from the California Public Utilities Commission (CPUC), the final step in a robust process with regulators before it could offer a paid fully autonomous ride-hailing service in San Francisco. Following this, Waymo said it would begin charging fares for rider-only trips in the city and gradually welcoming some of the 100,000 riders on the waitlist into the service.
******
For more insights into the world of Technology - check out the latest edition of Technology Magazine and be sure to follow us on LinkedIn & Twitter.
Other magazines that may be of interest - AI Magazine | Cyber Magazine.
Please also check out our upcoming event - Cloud and 5G LIVE on October 11 and 12 2023.
******
BizClik is a global provider of B2B digital media platforms that cover Executive Communities for CEOs, CFOs, CMOs, Sustainability leaders, Procurement & Supply Chain leaders, Technology & AI leaders, Cyber leaders, FinTech & InsurTech leaders as well as covering industries such as Manufacturing, Mining, Energy, EV, Construction, Healthcare and Food.
BizClik – based in London, Dubai, and New York – offers services such as content creation, advertising & sponsorship solutions, webinars & events.
​​​​​​​