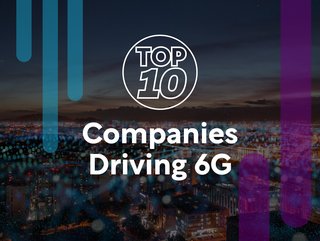 The Top 10 companies driving 6G
We explore 10 of the leading companies driving the next generation of networking, 6G, which promises to dramatically increase speed and capabilities
6G networks may be some years away - experts predict they will begin to appear in around 2030 - but leading experts globally have already begun the process of researching the next generation of networks.
According to predictions from the University of Sydney, 6G networks could achieve speeds that are up to 100 times faster than 5G – even reaching speeds of 1tb per second. But, while network speeds will, naturally, improve markedly with the deployment of 6G, this new era of connectivity also promises to usher in a wealth of new technologies.
This week Technology Magazine looks at 10 of the leading players in the race to 6G.
10: Apple
There are signs that Apple has started its own research into 6G: the company has previously hosted a number of job listings indicating that it is hiring engineers to work on 6G technology internally - offering the challenge to work 'on challenges that no one has solved yet'.
It has offered prospective engineers the opportunity to 'craft next generation wireless technology that will have a deep impact on future Apple products'.
Apple has joined the industry group 'Next G Alliance' to help research and develop the future of 6G.
9: Orange
Leading telecommunications operator and digital service provider Orange is actively contributing to the design of 6G.
Orange is actively involved in several 6G collaborative research projects and leading initiatives, including the European flagship Hexa-X project, the NGMN Alliance, and the IOWN Global Forum.
The company has outlined its vision for 6G in a whitepaper published in March 2022.
8: AT&T
American telecommunications leader AT&T is among those leading the path to 6G. It believes that although 5G technology has just begun delivering benefits for consumers, businesses, and governments, it is not too early to prepare for what comes next.
AT&T is at the centre of R&D and standards development related to Beyond 5G technologies. The company is a founding member of the Next G Alliance and supported the launch of the 6G research centre at the University of Texas in Austin.
7: Qualcomm
Semiconductor company Qualcomm's goals are to fully deliver on the vision of 5G Advanced and make 6G a reality in 2030 and beyond.
Beyond enhanced communication capabilities, the company believes 6G will also fully unleash the synergistic potential of AI, integrated sensing, and novel green technologies. 6G, it says, will build on the evolutionary, technical foundation established by 5G Advanced and usher in revolutionary technologies to become the unified innovation platform for 2030 and beyond.
6: NTT DOCOMO
NTT DOCOMO, Japan's leading mobile operator with over 86 million subscriptions, is one of the world's foremost contributors to 3G, 4G and 5G mobile network technologies and beyond.
DOCOMO has been progressing research and development of 5G Evolution, and today is advancing 6G R&D. The company has been presenting conference papers on Beyond 5G since 2017, and released the first edition of the DOCOMO 6G White Paper in January 2020.
It launched a 6G collaboration with Nokia in June 2022, with the aim of jointly defining and developing key technologies for the next generation of networking.

5: LG
Technology leader LG has partnered with various companies and organisations to demonstrate its commitment to 6G.
Last year it successfully tested the transmission and reception of 6G THz data over a distance of 320 metres outdoors, while leveraging its mobile communications experience and expertise to develop 6G core technologies with academic institutes.
Dr. Lee Ki-dong, assistant vice president at the Research and Standards Lab, LG USA, is chairperson of the Next G Alliance's Applications Working Group - a collaboration of more than 100 companies with the aim to actively accelerate the 'NGA Lifecycle to 6G'.
4: Samsung

Samsung's researchers are leading efforts to standardise the next-generation of communication technologies.
Samsung's vision is to combine the expertise in communication technology with Samsung Research's SW and AI capabilities to strengthen 5G businesses and create new business opportunities in the 6G era by shaping the future of communication technology.
In October 2022 the company announced that a new research group, focusing on developing technologies for 6G networks and devices, would be established in the UK, forming part of Samsung's global 6G development project.
A whitepaper published last year, titled '6G Spectrum: Expanding the Frontier'. discusses ways to obtain the spectrum needed to achieve the company's 6G vision.
Holding a total of seven officials in the 3rd Generation Partnership Project (3GPP) - a group which has united telecommunication companies and organisations around the world, including Samsung, Qualcomm, Apple, Ericsson, Nokia and Huawei - Samsung has prepared a solid foundation for 6G, which will be created in cooperation with 3GPP member companies for commercialisation around 2030
3: Huawei

Commencing investing in 6G research in 2017, Huawei envisions that 6G will enable the transformation from connected people and things to connected intelligence.
The company believes 6G will go far beyond just communications, serving as a distributed neural network that provides links with integrated communication, sensing, and computing capabilities to fuse the physical, biological, and cyber worlds, ushering in an era of true Intelligence of Everything. Building upon 5G, 6G will continue the transformation from connected people and things to connected intelligence.
The company has published a whitepaper, 6G: The Next Horizon, containing a view of its 6G vision, exploring 6G key capabilities, new use cases and requirements, new building blocks, and paradigm shifts in air interface and network architecture designs.

2: Ericsson

Ericsson enables communications service providers and enterprises to capture the full value of connectivity.
A leader in 5G, having delivered 5G Core solutions to more than 110 customers globally, Ericsson delivers market-leading and cost-efficient software solutions that make networks high performing, automated, highly programmable and monetisable.
The company believes the core elements of 6G will form one seamless system with all the capabilities necessary to empower the vision of ever-present intelligent communication connecting a cyber-physical world. With a foundation of trustworthy systems and a highly efficient compute fabric with built-in cognition capacities, the networks of the future will deliver limitless connectivity for upcoming applications and services. This will make 6G a broad platform for innovation and the information backbone of society, leading to the creation of a fully digitalized and programmable physical world.
"From our perspective at Ericsson, we have determined that creating the 6G networks of 2030 will require major technological advancements in four key areas: limitless connectivity, trustworthy systems, cognitive networks and network compute fabric," it says.
The company has particated in a number of research collaborations, including the Hexa-X project, IMT-2030 and the Next G Alliance, exploring potential technologies to enable the cyber-physical world and limitless connectivity.
1: Nokia

As a trusted partner for critical networks, Nokia is committed to innovation and technology leadership across mobile, fixed and cloud networks. It creates value with intellectual property and long-term research, led by the award-winning Nokia Bell Labs.
Nokia has taken the lead in defining the fundamental technologies for the 5G era and beyond. To make 6G a reality in the industry before 2030, Nokia is leading Hexa-X, the European Commission's 6G flagship initiative for research into the next generation of wireless networks.
Apart from being part of numerous 6G research initiatives, Nokia is also a founding member of the Next G Alliance, a drive to advance North American mobile technology leadership, and RINGS, an NSF-led initiative in the US that will accelerate academic research jointly with industry in areas with potentially significant impact on Next-Generation (NextG) networking and computing systems.
Nokia Bell Labs expects 6G to launch commercially by 2030. Standardization phase 1 will likely start from 2025, leading to the first 6G specification in 3GPP Release 21 by 2028. It will be followed by commercial deployments around 2030.
******
For more insights into the world of Technology - check out the latest edition of Technology Magazine and be sure to follow us on LinkedIn & Twitter.
Other magazines that may be of interest - AI Magazine | Cyber Magazine.
Please also check out our upcoming event - Cloud and 5G LIVE on October 11 and 12 2023.
******
BizClik is a global provider of B2B digital media platforms that cover Executive Communities for CEOs, CFOs, CMOs, Sustainability leaders, Procurement & Supply Chain leaders, Technology & AI leaders, Cyber leaders, FinTech & InsurTech leaders as well as covering industries such as Manufacturing, Mining, Energy, EV, Construction, Healthcare and Food.
BizClik – based in London, Dubai, and New York – offers services such as content creation, advertising & sponsorship solutions, webinars & events.