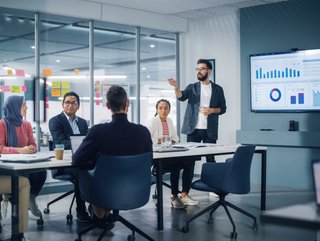 We look at 10 of the top CIOs in Europe
Driving digital transformations and implementing innovative technologies, we look at 10 CIOs making a difference in the European business landscape in 2023
In today's rapidly evolving business world, the role of the Chief Information Officer has become more critical than ever. With companies facing an increasing need for digital transformation and innovation, the CIOs leading the charge are playing a crucial role in helping their organisations stay ahead of the curve. With Europe being a hub of technology and innovation, it's no surprise that there are many talented CIOs leading the charge in the region.
As we move further into 2023, Technology Magazine takes a closer look at some of the CIOs who are leading the charge.
Chris Hicks
Role: Group Chief Information Officer
Company: McLaren Group
Location: England
Since joining the McLaren Group in January 2020 as its Director of Technology Services, Chris Hicks has led several major initiatives such as the rapid rollout of remote working in the COVID-19 pandemic and of Darktrace AI cyber capabilities.
Appointed CIO in 2021, prior to joining McLaren he held a number of leadership roles at GfK and aviation and aerospace company AJW Group.
Sarah Haywood
Role: Global Chief Information Officer
Company: Carlsberg Group
Location: Denmark
Sarah Haywood is the Global Chief Information Officer at Carlsberg Group, where her primary focus is to lead the company's transformation programmes. With demonstrated experience in the fast-moving consumer goods (FMCG) industry working for the likes of Cadbury, Mondelēz International, and Kraft Food Groups, Haywood has a strong background in programme management, team leadership, and enterprise resource planning (ERP).
Haywood graduated with First Class Honours in her Master of Chemistry from the University of Manchester and then spent five years with Mondelēz International as the Senior Director Information Systems of Global Sales & Marketing, before joining Carlsberg Group.
Mattias Ulbrich
Role: Chief Information Officer
Company: Porsche AG
Location: Germany
Global technology leader Mattias Ulbrich is CIO of Porsche AG and CEO of Porsche Digital, where he is involved in tackling new challenges, developing digital products and thinking digital with a focus on the customer,
Joining Porsche in autumn 2018, Ulbrich had previously been CIO at Audi AG from 2012 and worked in various positions within Volkswagen Group. Among other things, he was responsible at VW for IT for the customer order process and IT services, and as CIO was in charge of the Organisation and Systems area at Seat in Barcelona.
Rob Cowan
Role: Group Chief Information Officer
Company: Rolls-Royce Group
Location: England
Rob Cowan is the CIO of the Rolls-Royce Group, for which he develops and delivers strategic digital transformation strategies. His specialisms include IT and business strategy alignment, data and analytics, process automation and agile IT innovation. Prior to joining Rolls-Royce, Cowan also held CIO and VP roles at Unilever, where he spent 14 years.
Craig Bright
Role: Global Chief Information Officer
Company: Barclays
Location: England
Renowned as a business and technology leader, Craig Bright holds extensive experience in the financial services sector in investment, business and retail banking across Australia, Europe, Asia and America. His remarkable career which has spanned 30 years has brought him to his current role of Group CIO at Barclays.
Before joining Barclays, Bright was Group CIO at Westpac, and was earlier Chief Technology Officer, Global Consumer Bank at Citigroup. He also held senior roles at National Australia Bank and EY.
Gianni Leone
Role: Global Chief Information Officer
Company: Sephora
Location: England
Global CIO for beauty giant Sephora, Gianni Leone is a business transformation executive with a range of experience spanning the retail, fashion, pharmaceutical and healthcare and consumer goods sectors. His expertise spans the digital transformation space, having led global transformation programmes and operations management at a worldwide level.
Before joining Sephora in 2021, Leone held roles at Walgreens Boots Alliance as its CIO, and was Group CDO at Miroglio Group.
Florian Roth
Role: Chief Digital & Information Officer
Company: SAP
Location: Germany
Florian Roth is SAP's Chief Digital and Information Officer and has worked for the software development leader for the last 17 years. Within his position, Roth is responsible for SAP's IT strategy and its execution and focuses on deploying technological innovation, accelerating SAP's cloud transformation and helping it become a leading intelligent enterprise.
Roth joined SAP in 2005 and has held various executive and leadership roles across finance, service and support and global business operations departments. A thought leader in the field of digital transformation, Roth is a frequent keynote speaker and active advisor to political institutions.
Alisa Choong
Role: CIO, Information & Digital Services and Operations
Company: Shell
Location: The Netherlands
Having held roles in accountancy to leadership roles in transformation, Alisa Choong now currently works as the Chief Information Officer and Senior Vice President of Shell.
In her current role as CIO of Information and Digital Services & Operations, Choong is responsible for delivering robust, reliable, and secure IT operations to ensure first-class end-user experiences for the international energy company's employees and contractors, globally. In doing so, Alisa is cementing the foundations of Shell's digital transformation in place.
Prior to joining Shell in 2007, Alisa spent her career working for a number of Fortune corporations, including IBM, PETRONAS, KPMG, and the National Bank of Australia.
Hanna Hennig
Role: Chief Information Officer
Company: Siemens
Location: Germany
Hanna Hennig, Siemens' Chief Information Officer, has a passion for technology that allows her to drive the company's digital transformation and lead its global IT organisation. Appointed in 2020, one of Hennig's first challenges was ensuring that Siemens' over 300,000-strong workforce could work remotely, with global lockdowns quickly coming into force upon the outset of COVID-19.
With more than 25 years of experience working across industries such as energy, telecommunications, and information technology, Hennig is able to draw on her extensive experience to ensure the execution of the company's business strategy and goals.
Sam Kini
Role: Global Chief Information Officer
Company: Unilever
Location: England
Sam Kini has worked extensively across the technology industry with a strong focus in the telecommunications sector. Between 2010 and 2016, Sam held various roles within Virgin Media and ended her six-year career with the telecommunications giant serving as the Director of Development and Delivery, Technology, and Transformation. In this role, she overlooked all IT Applications across Virgin Media, including TV, portals and app development, sales, customer service, billing, OSS, and enterprise/ERP.
After her career at Virgin Media, Kini moved to the Belgian media, telecommunications, and entertainment services provider Telenet, assuming the roles of Chief Information Officer and Executive Board Member, where she was fully accountable for all IT, digital, and data systems and services across the combined Telenet group.
Her current role as Global Chief Information Officer at Unilever has her overseeing the company's enterprise architecture as well as the development and delivery of applied technology across all applications and platforms.