Facebook launches news service in UK, first outside US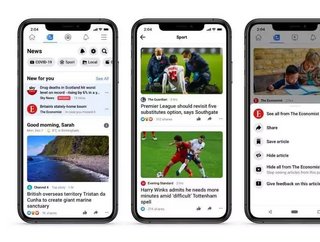 Facebook News feature provides news content by paying UK publishers to display their articles...
Social media and technology giant Facebook has made its available in the UK.
Previously available only in the US, the Facebook News feature provides news content by paying UK publishers to display their articles, with users able to personalise stories, topics and sources. Facebook, which has over 50 million users in the UK, will also have a team of its own journalists selecting stories that appear on the news tab.
In the UK, the company is partnering with the likes of The Economist and The Guardian. Alongside the launch, it announced it was further partnering with Channel 4 News, Daily Mail Group, DC Thomson, Financial Times, Sky News and Telegraph Media Group.
A boon for newsrooms?
Facebook framed the feature as an aid to the ailing journalism sector, with from Jesper Doub, Director News Partnerships, Europe, saying: "We've been partnering with news organisations for many years and our goal has always been to work out the best ways we can support the industry in building sustainable business models. This product is a result of those conversations. As we invest more in news and pay publishers for more content in more countries, we will work with them to support the long term viability of newsrooms."
Despite the development, Facebook's Vice-President for Global Affairs and Communications Nick Clegg that Facebook was not a publisher, and that it should not face the same regulations.
The future of news
"Our aim is to build on our efforts to sustain great national and local journalism and create more value for publishers," continued Doub. "We'll continue to learn, listen and improve Facebook News as it rolls out across the UK and into other markets, including France and Germany, where we are in active negotiations with partners."
The announcement comes at a tricky time for Facebook, which has faced criticism for purportedly enabling the spread of disinformation, notably of the US' recently inaugurated President Biden.
(Image: Facebook)