Top 10: AgriTech companies
By Maya Derrick and Amber Jackson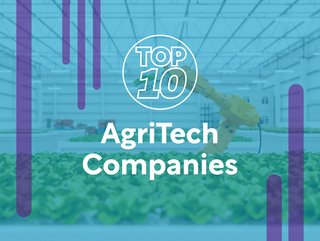 Agricultural technology or agrotechnology (AgriTech) is the use of technology in agriculture, horticulture and aquaculture
Technology Magazine considers innovative companies that are using technology to help transform future of food, through methods like automation and robotics
Agricultural technology or agrotechnology (AgriTech) is the use of technology in agriculture, horticulture and aquaculture with the aim of improving yield, efficiency and profitability. Using technology to aid agriculture and other processes within food production ultimately services to progress crop yields, productivity on farms, work to maintain plant and animal health, as well as offering an opportunity for greater sustainable practices like waste reduction.
From start-ups to globally renowned organisations, Technology Magazine considers some of the most innovative companies that are committed to improving agricultural technology processes and products.
With a goal to empower farmers to grow their fodder produce faster and cheaper with less waste, less water, less carbon emissions and no agrochemicals, World of Farming (WoF)'s FodderTech aids the mitigation of food security challenges and negative environmental impacts by providing sustainable and energy efficient technology solutions. This is achieved through LED lighting, controllers, and vertically-stacked racks, which cuts water usage by up to 85%, uses over 90% less land, and allows the harvesting of 80% more produce.
With Indigo Ag's integrated sustainability platform - which leverages science and technology to turn sustainable agriculture into value across the supply chain - farmers can maximise their profit through biological products, crop premiums, and verified carbon credits.
Indigo says it is the only company offering corporations high-quality carbon credits and Scope 3 emissions reductions at scale. Indigo Ag's biological and digital products integrate across the supply chain to optimise how essential crops are produced, sourced and distributed.
FarmInsect provides a machine and IoT system that enables the automated production of insects alongside a continuous supply with young larvae for fattening of farm animals, rather than importing soy or fishmeal. This method enables a circular economy where farmers can reduce their costs by up to 30% and save more than 50% of their CO2 emissions as well as increase animal health.
Enabling sustainable farming through world-leading Measurement, Reporting and Verification (MRV) - which it says is key to enabling sustainable supply chains - Agreena allows any platform, institution or corporation to commit to being part of a solution to green regenerative agriculture globally. Last year, Agreena raised US$22.5m for its platform, assigning carbon credits to farmers for turning their land into carbon sinks, which absorb carbon dioxide from the atmosphere.
Through the study of high-definition images of fields used for agriculture, ecoRobotix enables smart management of crops. Its ARA, managed via a tablet which it says is the most precise sprayer on the market, increases efficiency while reducing the use of crop protection products. ARA technology recognises dozens of different crops and several weeds and is compatible with pastures, field vegetables, large crops, lawns to name a few.
Mori is an anti-waste food technology company that works to keep food fresher for longer. Formerly Cambridge Crops, the company manufactures an all-natural protective layer to slow down the spoiling process of food. In particular, silk protein is used using naturally derived silk protein. Ultimately, it aims to create a protective layer that slows down three key mechanisms that cause food to spoil and prevent processes like dehydration, oxidation and microbial growth.
CropX is an easy-to-use and powerful agronomic farm management system that connects farm data, real-time conditions and agronomic knowledge to provide guidance for successful and sustainable farming, while collating agronomic farm data in one place for easy tracking and sharing. The CropX system creates data from soil to sky and transforms it into useful information and works to help farmers monitor the health of fields and crops. The company prides itself on its information being easy to access and provides a holistic overview of field conditions.
AgroStar is one of India's most prominent AgriTech start-ups, which aims to offer the largest and most impactful agri-solutions platform to provide end-to-end solutions for Indian farmers. The company's solutions are powered by data and knowledge on agronomy that is disseminated through its state of the art tech-enabled platform. AgroStar's accessibility has enabled it to reach millions of farmers across the country and provides farmers with access to domestic and global markets for their produce, helping them increase crop yield and grow better quality output.
DeHaat is currently one of the fastest-growing start-up companies in the AgriTech sector and provides end-to-end solutions and services to the farming community in India. The company is also building AI-enabled technologies to help revolutionise supply chain and production efficiencies within the farming sector.
DeHaat currently operates in twelve Indian states with an extensive network of 11,000 centres that serve more than 1.8 million farmers. It also provides AI-enabled crop advisory services to farmers in regional languages. In 2023, DeHaat announced partnerships with global biological input companies, Global BioAg Innovation (GBI) and Aussan Laboratorie.
Syngenta is a global market leader in products that protect crops, working to create value for all stakeholders, including farmers, employees, suppliers, food chain partners and communities. The company is well-known for its significant investments into the scientific side of the industry and driving advances in agritech that help farmers meet global demands surrounding sustainability and growth.
The company, based in Switzerland, is also a provider of agricultural science and technology, including seeds, pesticides, insecticides, corn, soya and biofuel. It has previously been named one of the best performing chemical companies worldwide.
******
For more insights into the world of Technology - check out the latest edition of Technology Magazine and be sure to follow us on LinkedIn & Twitter.
Other magazines that may be of interest - AI Magazine | Cyber Magazine.
Please also check out our upcoming event - Cloud and 5G LIVE on October 11 and 12 2023.
******
BizClik is a global provider of B2B digital media platforms that cover Executive Communities for CEOs, CFOs, CMOs, Sustainability leaders, Procurement & Supply Chain leaders, Technology & AI leaders, Cyber leaders, FinTech & InsurTech leaders as well as covering industries such as Manufacturing, Mining, Energy, EV, Construction, Healthcare and Food.
BizClik – based in London, Dubai, and New York – offers services such as content creation, advertising & sponsorship solutions, webinars & events.