How artificial intelligence applies to apparel manufacturing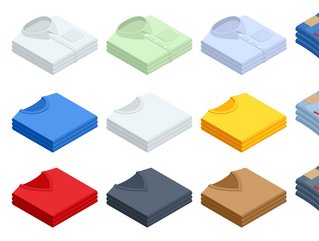 The rising demand for apparel is one thing economic forecasters acknowledge. Devin Partida looks into how AI is transforming the clothing industry
The worldwide need for clothing will propel the apparel industry from US$1.5tn in value in 2020 to US$2.25tn by 2025.
The growth of the human population and its demand for clothing is a foregone conclusion, but the ability of manufacturers to meet expectations without overextending themselves is not. Like every other industry, apparel and textiles must learn to serve a growing population while remaining aware of the planet's finite resources.
Leveraging artificial intelligence (AI) to meet demand without exceeding the available supply is nothing new. How does it apply to apparel manufacturing?
1. Improving material grading
The human eye is a remarkable instrument, but it is fallible. One area of apparel manufacturing where AI improves quality control (QC) is grading yarn and other base materials.
Applying artificial intelligence to this area results in cost savings and more precise gradings of the fundamental materials used in apparel manufacturing. In other words, AI can uphold a higher and more consistent standard for materials than humans can alone, thereby raising the average quality of finished garments.
2. Automating data-gathering and asset management
Distribution centres (DCs) are primary sources and beneficiaries of operational data. DC managers have many information sources that can help them optimise their current task load, from historical data on consumer and vendor trends to real-time insights into market fluctuations.
Artificial intelligence can turn distribution centres into a nexus of data concerning:
Current inventory
Historical and real-time demand
Workforce trends and future needs
Raw material availability and prices
In addition to gathering and disseminating data relevant to each party in the supply chain, AI can also optimise the movement and allocation of personnel, material and other assets within facilities.
One way is through smart, autonomous robotics. Manufacturers and distributors of all kinds are propelling automated guided vehicle (AGV) growth from US$2.1bn in 2020 to US$6.23bn in 2030.
There are considerable benefits when AI powers automated material-handling assets in clothing factories and distribution centres. Even the ability to automate the transportation of raw materials from one area of a factory to another – from storage to packaging, for example – could deliver considerable time and safety benefits.
The ability of AI to work alongside humans and engage in safe path-finding throughout modern facilities can enhance business productivity, efficiency and productivity in numerous ways:
Incident-free, safe transportation throughout warehouse spaces
Reduced time-to-completion for critical tasks
Damage-free transportation of raw materials and finished goods
Reduced likelihood of safety incidents and damage to facility structures
Faster movement of goods and more efficient operations overall
Artificial intelligence has also proven itself a boon in workflow and workforce management. When balancing current and future work with the available labour pool is more challenging than ever, AI helps managers create shifts and processes that meet present needs and anticipate future ones.
3. Reducing errors in final product inspection
Machine learning and computer vision have reached a point where they can even discern whether a piece of fruit is bruised beneath its skin.
Applications in textile and apparel manufacturing are equally inspiring. Algorithms paired with specialty illumination systems can appraise the condition and salability of newly made and previously worn garments. Measuring the level of transmitted and reflected light lets AI see in a single glance whether the density of a piece of fabric or a finished garment meets current quality standards.
In a test of human visual acuity in a manufacturing setting, researchers demonstrated a 17.8% and 29.8% likelihood, respectively, of Type I and Type II errors. The former error type involves false positives, while the latter involves inspectors missing real defects.
Every garment-making operation is different, but experts see AI-powered automated inspection software as a noteworthy way apparel manufacturers can keep costs and errors down. Something as simple as identifying substandard yarn early in the manufacturing process can deliver value all the way down the economic chain.
Artificial intelligence: tailor-made for the apparel industry
This barely scratches the surface of what AI offers textile and clothing manufacturing.
Sustainable and customised manufacturing is another area where AI is ready to shine. Modern imaging techniques let end-users make 3D renderings of their body to facilitate cheaper and less resource-intensive custom clothing manufacturing.
Generative design is another technology making waves in the apparel industry. Designers and engineers use an AI algorithm to choose material and performance constraints, then instruct an AI to generate product designs meeting those criteria. The result is a wider variety of workable designs and a substantial reduction in time and material waste.
Market prognosticators are busy predicting the economic impact of AI for the apparel industry and manufacturing in general. One estimate says the value of manufacturing AI products will reach US$16.7bn by 2026. With applications like these throughout the apparel sector, it's easy to see why.