How AI in Human Resources is tackling The Great Resignation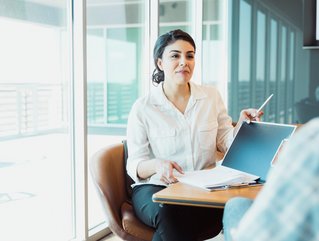 In the wake of The Great Resignation, how is HR using AI to bridge the employment gap and make better long term hiring decisions? We asked the experts
Just a few months ago, the UK alone faced a record-high number of 1.1 million job vacancies just a few months ago, creating a sizable HR task that companies are increasingly looking to solve through technological means, and in particular, the use of artificial intelligence (AI). The term AI was first coined in the 1950s, but it is still very much in its infancy, falling short of many promises and claims of human-level AI.
According to Chris Underwood, MD at executive recruitment and leadership specialists, Adastrum Consulting, it's important not to over-estimate its sophistication or intelligence: "AI requires massive amounts of data to turn a narrow set of tasks into predictable outcomes. Its binary responses are only as good as the quality and parameters of the dataset it uses to solve what is essentially a mathematical problem and it is important to understand that it is incapable of understanding the complexities of the human personality."

Adoption of AI now widespread in recruitment
Any HR professional will know that in pre-screening, recruiting and onboarding new staff requires huge volumes of data to be processed. As a result, it can be easy for bottlenecks in the hiring funnel to emerge, especially when there are large numbers of applicants or vacancies. AI brings such benefits as automated communications between candidates and employers, real-time hiring process alerts and document tracking.
As Underwood puts it: "Through emulating human actions by using a computer just as a human would, only virtually, software robots can take on much of this manual work allowing HR teams to focus more time on interviewing or supporting new starters."
UiPath are world leaders in Robotic Process Automation (RPA). Managing Director for Northern Europe, Gavin Mee, recalls the initial impact of the COVID-19 pandemic, resulting in one of its clients needing to quickly hire 100,000 new warehouse and delivery workers to keep up with a sudden increase in demand for online shopping. This project required the processing of nearly one million job applications.
"To ease pre-screening pressures, ten unattended software robots were introduced into the workforce to check if the applicant was a former employee, ensure that they were eligible for rehire and to kick off background checks as required. This significantly increased the efficiency of the pre-screening process and ensured that HR teams were quickly presented with the applicant information they needed to push forward the urgent hiring programme," said Mee.
Mee cites the software robots that lend a helping hand to HR staff with the onboarding process by taking over repetitive, manual tasks, and eliminating error. Specifically, they can verify a candidate's information, fill in and process new hire forms, transfer new hire information into the company's database and send notifications to new employees.
"A global IT company found that the new hire setup process, which involved high-volume manual work, was costly and had a high error rate due to data being manually copied and pasted. It took 30 minutes for an employee to go through the process—not including the time necessary to review and correct errors later on. With a combination of attended and unattended UiPath robots, the company was able to reduce the process time to 3-4 min per new employee. The increased accuracy of the automation also eliminated the time previously necessary for reviewing and correcting errors. The solution proved to be easily extensible during higher volume hiring times, and by monitoring the automated process, the company was able to improve data input, allocation of resources and error handling," said Mee.
In a world where working from home has become the norm, Mee says that some firms are even using automation to request new IT equipment from suppliers to ensure that employees can get off to a flying start on their very first day with the correct IT setups.
"In short, if a task requires data to be processed, a software robot can likely help. If robots can undertake a significant volume of the manual work required within the recruitment process, then prospective employees can be identified and onboarded efficiently."
Counteractive to efforts for hiring diverse talent
Shashin Mishra is Director of Data Science and Analytics at digital consultancy Publicis Sapient, and his colleague Sray Agarwal is the Associate Director of Data Science and Analytics and co-author of the business book 'Responsible AI: Implementing Ethical and Unbiased Algorithms'.
Agarwal believes that companies tend to hire in their own image and much work is required to ensure more diverse candidates are hired.
"There was a case where a top technology firm was using AI for screening applications and the system taught itself that male candidates were preferable for a particular role, thus ending up penalising applications that included the any female applicant, any applicant with words related to females, and all applications that came from universities that had "female" words in their titles (so, for example, anyone who attended St Mary's University, or St Hilda's College, Oxford, would be eliminated). Finally, the tech company edited the AI application and made it free from stereotypical patterns. The problem was not with the AI system itself, but with the data that enabled the model to learn human stereotyping behaviour."
Bias against job applicants and employees based on gender and ethnicity, introduced by historical data, can in turn be learned by machine learning models. This can lead to bias becoming systemic because of an AI model's partial or full dependence on the machine to make decisions, according to
Can recruiting algorithms ever be free of bias and discrimination? Yes they can, according to Mishra, who said that "freedom from bias and discrimination is not a standing goal post, but an ever-moving target, as our own awareness of existing biases and discrimination grows. The evolution of recruiting algorithms needs to match pace with the evolution of our own awareness. It also needs to bring in local flavour to address high priority issues that may have more significance than elsewhere, within a local context."
There has also been an increase in people writing CVs specifically for AI, something that should be discouraged, according to Underwood: "Especially for management and leadership roles. While the computer may rank their CV highly, it often creates a poorly written document and ultimately reflects poorly on candidates."
The future of AI in recruiting
Agarwal states that the future of AI in recruiting will change the way people are hired: "I envisage that the future of recruitment is an AI-assisted human audited process, where AI will be used to screen applications without bias and stereotyping. The screening will be followed by a few rounds of AI-led discussion with the candidate, with AI being used to verify the identity of applicants, and to assess any quantifiable skills needed for the job. Moreover, AI will be able to track any human bias and raise the flag if that happens during any part of the process that is manual," he said.
Barry Stanton is Partner and Head of Employment at law firm Boyes Turner. He insists that AI is set to grow in the recruitment process, even if it can't avoid inevitable issues around discrimination and doubts as to whetehr it can secure the best candidates.
"If initial interviews are conducted using chatbots, this allows candidates to be sourced more widely and will save significant time, provided the appropriate cues are used to help resource the issue. Using chatbots can help eliminate unconscious and not so unconscious bias, if the background data on which it is based is not skewed. Conducting interviews through the use of chatbots may, for some, be impersonal and dehumanising. If the initial selection process is made using AI and chatbots, managers may need to spend more time with candidates getting to know them and showing the personality of the business."
According to James Brook, creator of TalentPredix, a next generation of talent assessment technology, it is important for recruiters and business leaders to remember that candidates should be treated with the utmost respect, dignity, and fairness at all times.
"Emerging technologies such as machine learning, video screening, gamification, predictive assessments, and data analytics can all enable and improve your strategy and processes, however, they need to be sourced, implemented and evaluated in a robust and considered manner that prioritises the candidate experience," he said.
One of the biggest mistakes businesses make, according to Brook, is to purchase the latest Applicant Tracking System, video interviewing application, AI-based candidate screening tool or other recruitment technology without getting the basics right first.
"It is crucial to start by reviewing gaps in your current process, what you'd like the future process to look like and your specific recruitment technology needs. This includes internal stakeholder and candidate feedback, time-to-hire stats, cost-per-hire, retention rates, internal progression rates, performance of new hires, and DEI (diversity, equity, and inclusion) data. Only once you have created a strategy for achieving your desired future state and defined your sourcing criteria, should you proceed with building your tech stack to improve recruitment and retention."